Brittney is a fellow staff member of Little Red Book, UGA's fashion magazine, and I have long admired her eclectic style. It seems that she can wear any outfit with confidence and poise.
With the weather on campus getting slightly cooler, girls all around the Classic City are breaking out their layers and cute fall accessories. Brittney's outfit is the perfect of example of what to wear for the changing season. Read on to find out how she's taking fall in stride!
Brittney 101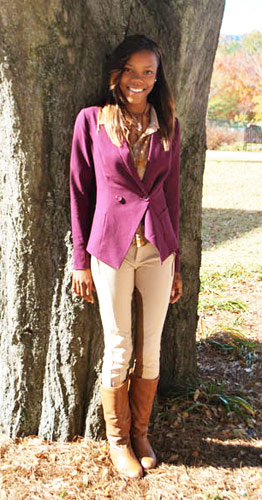 Name: Brittney
College: University of Georgia
Year: Freshman
Major: Public Relations
Let's Talk Fashion
Who or what inspires your style? "Because I love fashion so much, it's safe to say that I am inspired by almost everything. There's an artist by the name of Zoe Bradley, and she is my fashion inspiration. I really look up to her."
Where do you like to shop? "I like to shop at thrift stores, H&M, Zara, and Madewell."
How would you describe your sense of style? "I'd describe my style as Brittneytastic. My style is really me, it changes, it's not consistent, and I don't stick with one style. I'm always changing and my style is too, so my style is very me!"
Why did you choose this particular outfit? "I love the colors of this outfit, they fit in with fall, but I also have a little pop in the blazer. Also, I find the outfit to be very comfortable which is always important."
What are your favorite trends right now? "I'm currently obsessed with blazers. There are so many styles, colors, shapes, and lengths! I can't get enough. I think I've bought a new blazer once every weekend for the last three weeks."
Do you have any favorite fashion designers? If so, who? "A favorite designer… that's tough, there are so many! I love Tory Burch, Jason Wu, and I'm LOVING Rachel Zoe's new line."
What do you do for fun – do you have any unique hobbies or interests? "I actually like to act on the side. I've been on a few TV shows but I haven't done much since I've been in college because of my busy schedule. However, I have been on two auditions since I've been at UGA."
If you could raid anyone?s closet, who would it be and why? "Kourtney Kardashian! I love her style. I don't think she gets enough credit for her tastefully stylish apparel. She is always looking great in my opinion!"
Elements of Brittney's Outfit
1. Plum Blazer and Paisley Shirt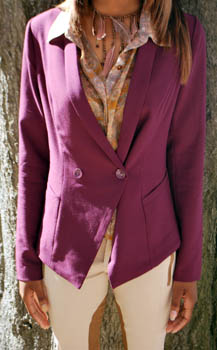 I fell in love with this richly colored blazer as soon as I saw it; the angular construction is simple and chic, while the matching buttons add an elegant touch. Paired with the orange and brown tones on the paisley print blouse, the jacket stands out even more. Both items were Forever 21 purchases that work very well together and are perfect for fall.
2. Beaded Feather Necklace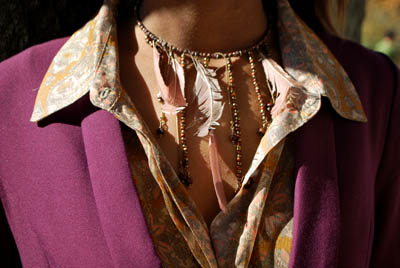 This beaded necklace, another Forever 21 find, adds a fun flair to Brittney's classy attire and acts as a focal point for her ensemble. The necklace is also an interesting interpretation of the growing feather trend that has become popular this season.
3. Tan Riding Leggings and Tall Brown Boots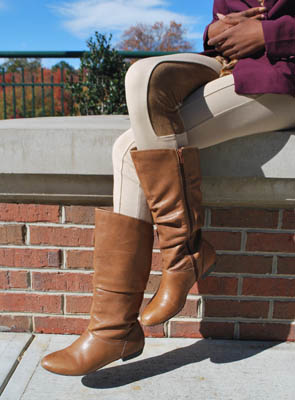 Although very simple, Brittney's equestrian-inspired leggings are my favorite part of her outfit. I love the brown insets on the inner thighs because they add detail without being overwhelming. I also love her flat boots – they are stylish for fall and perfect for walking around campus.
What do you think?
Do you like Brittney's outfit? Do you love her plum blazer as much as we do? How would you wear her tan jeggings? Have feathers joined your wardrobe yet this fall? Let us know with a comment!