With the continuous cool and breezy spring weather up north, Syracuse University students are still bundled up in their favorite jackets and sweaters. While Brittney was completely covered in her black coat, I couldn't help but notice her stylish flare jeans – I haven't seen someone don that style on campus in a very long time!
After spotting Brittney's trendy pants, I immediately approached her and complimented her bohemian-inspired style. Little did I know that she was all dressed up underneath her dark, heavy coat!
Brittney 101

Name: Brittney
College: Syracuse University
Year: Sophomore
Major: Selected Studies in Education
Let's Talk Fashion
Who or what inspires your style? "People on the street inspire my fashion style. When I see my friends wearing something I like, I get inspired. Clothing stores also inspire my style. I never buy things that everyone else is wearing; I like to be unique, and so when I see something at a store that isn't as popular, I get inspired. "
Where do you like to shop? "I love Urban Outfitters, however lately I've been finding great things at Forever 21 that I don't even see on their website, so I've been having some luck there. I also tend to shop at a few small boutiques back at home on Long Island and in Manhattan."
How would you describe your sense of style? "I never really thought about this but I guess I would describe my style as hippie meets dress-up girl – so, I guess sort of like Carrie Bradshaw mixed with a bohemian style. I love dressing up and constantly wearing heels – you'll never catch me without them when I go out at night. But I'm also into more laid-back clothes like knitted vests, flared jeans, chiffon cardigans, and head wraps, etc."
Why did you choose this particular outfit? "Although it's the usual bipolar Syracuse weather, and it may be gross and rainy, I never let the weather stop me from wearing a cute, stylish outfit to uplift my day. I chose this outfit because these are my signature pants – I always get compliments while wearing them and they help elongate my body especially with the heels. (I'm only 4'11".) I also love wearing this top – it is actually a leotard, which makes it look sleek when tucked into pants. I also incorporated my own personal jewelry line, which is called The Alyse Collection – J Michael on Marshall Street sells it. My bracelets and necklace are all made of semiprecious gemstones."
What fashion advice would you give to other students looking to improve their style? "Accessories truly help any outfit! Accessories like jewelry are extremely important, whether they're dressing an outfit up or making it more causal. It isn't about constantly buying more and more clothing. Utilizing accessories and mixing and matching will help make the clothes you have look brand new."
What are your favorite trends right now? Do you have any favorite fashion designers? If so, who? "My favorite trends right now are knitted vests, flared jeans, '90s style high waist denim shorts, and wide sleeve flowy tops. I also love colored jeans, but I'm saving those for the summer on nice warm days!"
What do you do for fun – do you have any unique hobbies or interests? "I really love making my jewelry for my brand (The Alyse Collection); I'll always find myself lost for hours while making my pieces. I also love acting – this summer I'm getting back into it, and I cannot wait!"
If you could raid anyone?s closet, who would it be and why? "Hmm that's a tricky one. This is what everyone says but I'd love to raid Carrie Bradshaw's closet for her shoes. I would raid Blair Waldorf's closet for her winter styles and then Miley Cyrus' and Nicole Richie's closets for their summer styles which are very hippie-like."
Elements of Brittney's Look
1. Unique Bracelets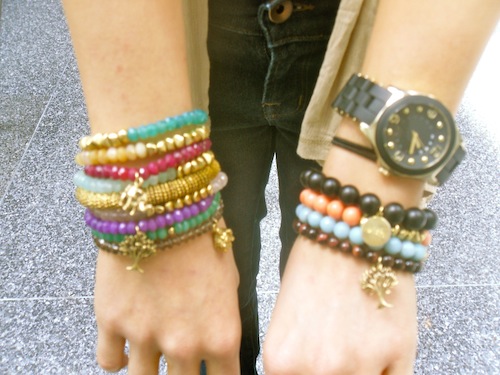 Brittney's bracelets are to die for! The semiprecious stones look enchanting and delightful when combined together. I also love the adorable charms adorning each one. Combined, Brittney's bracelets bring out the color in her simple, yet unique outfit.
2. Flared Pants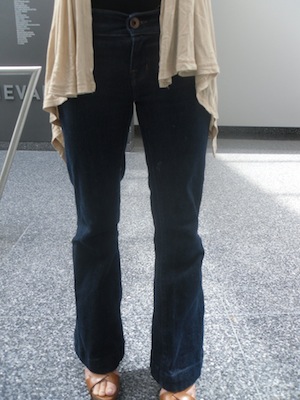 In a room filled with ladies wearing skinny jeans, you can't help but notice Brittney's flared pants. Not everyone has the confidence to pull off this style, but she was able to do it perfectly. Flares are slowly regaining their popularity, so get inspired and lead the trend like Brittney does!
3. Wedges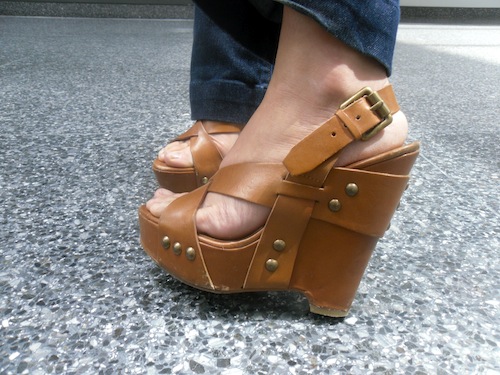 I admire people who can walk in heels or wedges around the Syracuse University campus. It takes sheer dedication and passion for fashion to put style first and rock a sky-high wedge on campus. Brittney's wedges are perfect for pairing with boho pieces during the summer months. And like she said above, they give that perfect boost of height!
4. Leotard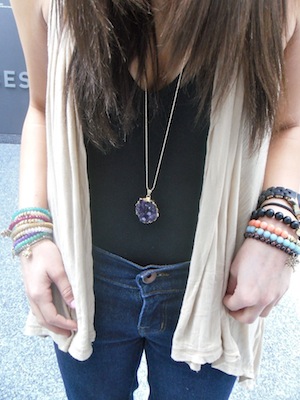 At first glance, Brittney's top looked like a sleeveless shirt tucked in under her pants, but to my surprise, it was actually a leotard. Now that's what you call creativity.
Leotards are great to have since they work well with puffy or long skirts, flared jeans, and short shorts. They're the perfect substitute for tucked-in tanks – after all, who wants to worry about their top coming untucked or riding up when rushing to class? I also love how Brittney paired her leotard with a loose cardigan and cool pendant necklace for extra fashion points.
5. Gold Earrings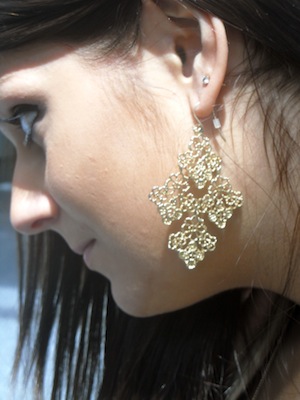 Lastly, earrings are always a fabulous way to keep your outfit looking young and fashionable while you are covered in thick winter clothes. Brittney's gold ones are great because they're intricately detailed but still simple enough to work for daytime.
What do you think?
What do you think of Brittney's outfit? Would you wear something similar this spring? Would you rock flared jeans? Let us know with a comment!