Springtime is in the air! The weather has finally started to heat up here in Iowa, and it's the perfect time for us to break out the clothes we've been dying to wear all winter. Brittany's outfit, which I spotted on a weekend, had a simple, yet fashion-forward vibe. Her outfit is an inspiring reminder that simple looks can still stand out – it's all in the details.
Brittany 101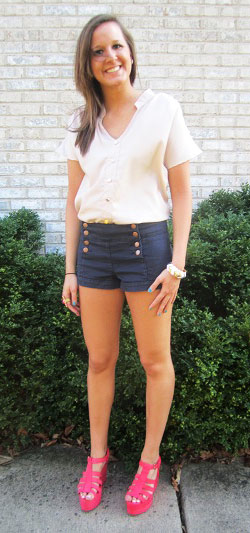 Name: Brittany
College: University of Iowa
Year: Sophomore
Major: Nursing
Let's Talk Fashion
Why did you pick this particular outfit? "I recently bought these wedges from H&M and I wanted to wear them so badly. So when I picked out my outfit today, I based it around the shoes! Shoes shouldn't have to be the last thing you add when you're getting ready."
If you could raid anyone's closet who would it be and why? "I would raid Lauren Conrad's closet. I like the way her clothes are always trendy, but have a sense of simplicity to them. Her clothes are cute but casual, which is how I like to dress."
What are your favorite trends right now? "I just bought a bunch of sheer tops from Forever 21! I also really love statement necklaces and colored belts. This spring, there are lots of fun, vibrant colors I want to play around with. My favorite color for this season is definitely coral."
What is one accessory you couldn't live without? "Earrings! You can always wear earrings with anything. You can dress up any outfit with the right earrings. Even small studs can make a statement. There's so much variety with earrings that other accessories can't compare."
Elements of Brittany's Outfit
1. High Waisted Shorts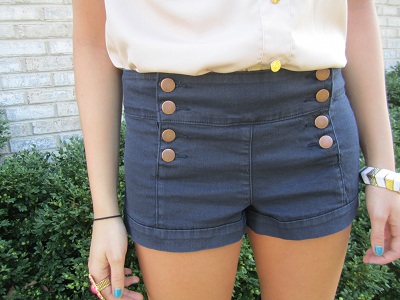 As you know, we recently did an article on how to wear high waisted shorts. Brittany pulls the look off flawlessly by tucking her sheer beige blouse into her navy shorts. As a bonus, the four bronze buttons on the sides of her shorts add a nautical feel that's perfect for spring.
2. Ring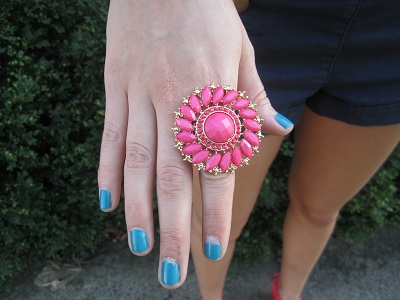 Cocktail rings are beloved accessories year round, and Brittany's ring makes a big statement, contrasting beautifully against her teal colored nails.
3. Shoes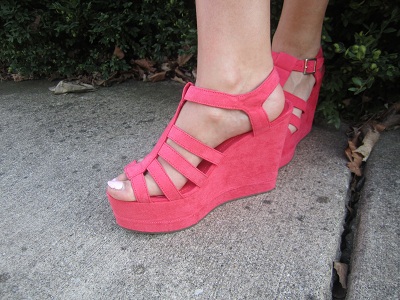 Springtime is the best season to pull out your brightest, boldest wedges, like Brittany's trendy ones from H&M! I love the pop of color Brittany adds to her neutral outfit with these statement-making shoes. She proves that sometimes the outfit can be inspired by the shoes, instead of the other way around.
What do you think?
What do you think of Brittany's outfit? Have you tried out the high waisted shorts yet? When you plan outfits, do you pick out your shoes first or last? Let us know with a comment!