If you're not spending the summer relaxing or taking extra classes, you've probably started work at your summer job or internship. So when I saw Brittany, I immediately thought her "smart casual" outfit would be perfect inspiration for your summer work looks! While jeans may not be appropriate for all offices, her look could easily be re-worked with office-appropriate trousers. Read on to check it out!
Brittany 101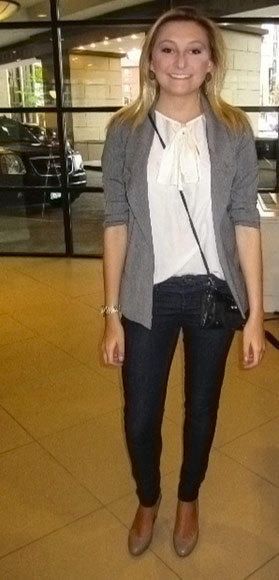 Name: Brittany
College: University of Iowa
Class Standing: Senior
Major: Political Science and Journalism
Let's Talk Fashion
Do you have any favorite fashion designers? "I like girly designers, like Kate Spade and Lilly Pulitzer. But I also like Marc Jacobs and BCBG. I usually shop at places like Urban Outfitters and BOP and love local boutiques."
Who inspires your style? "People watching! If I see a great outfit or trend I'll try to make the look my own. You never know where you'll be when you run into someone wearing a great outfit!"
If you could raid anyone's closet, who would it be and why? "Betty Draper from Mad Men. Even though the show is set in the '60s, I would absolutely wear everything she wears today. From her headbands and scarves to the dresses and high-waisted pants, her look is timeless."
What are your essential items for dressing professional or business casual? "A watch! Watches are such a classic way to accessorize, and of course, they're functional. I also like bold accessories, like bright flats or big earrings to add spark to an outfit."
Elements of Brittany's Outfit
1. Tied Blouse With a Grey Blazer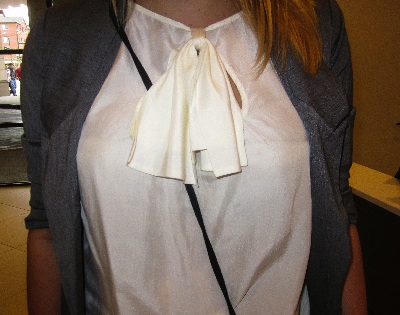 I love the look of bright colors, but there is also something amazing about a simple, neutral ensemble. Brittany has layered a grey blazer over her white bow blouse, which is a perfect look for an office environment, especially if the AC is running. It's still okay to layer during the summer, despite the weather, because you never know what temperature the office will be.
2. Earrings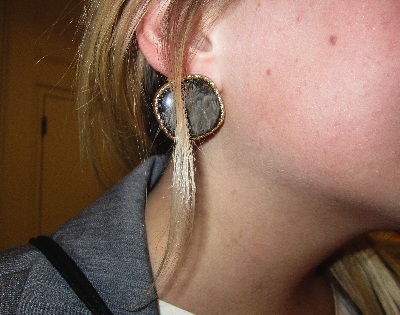 Brittany's earrings are beautiful! They were actually the first piece of her outfit that I noticed. Cool earrings like these can easily make any outfit look chic, and would also likely work for more casual office environments.
3. Nude Heels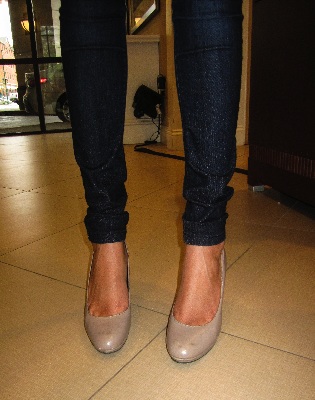 Nude heels (in a shade that's close to your skin tone) are a must for any fashionable college student. You can pair them with anything, from jeans to a little black dress. We recommend investing in a quality pair that will last. Also, it's important that they are comfortable, especially if you're going to be on your feet in the office all day!
Share Your Thoughts!
What do you think about Brittany's look? Do you own a pair of nude heels? Do you rock all-neutral outfits? What will you wear for your internship this summer? Let us know with a comment!