Brittani doesn't let the stifling North Carolina heat affect her sense of style. On a warm, summery day, I ran into her on my way to class and I couldn't help but notice her ability to rock bright colors and bold patterns. (I especially loved her turquoise nail polish.). Read on to learn more about Brittani!
Brittani 101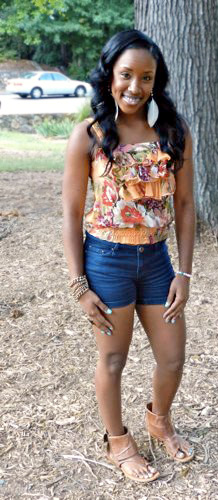 Name: Brittani
Hometown: Winston Salem, NC
Age: 21
Year: Senior
Major: Communication Studies, African American Studies minor
Hobbies/Interests: "Sports and Entertainment Law, dancing, shopping and studying"
Let's Talk Fashion
Describe your style: "I like to wear big prints and simple colors. I have a somewhat eclectic sense of style because I like many different types of clothing."
Who or what inspires your style? "Rihanna inspires my style. I like to look at the outfits she puts together because they are very unique."
Where do you like to shop? "Urban Outfitters, Forever 21, H&M, Topshop"
Who is your favorite fashion designer? "I don't really have a favorite designer for clothing but Steve Madden is my favorite 'designer' for shoes."
What are your favorite upcoming trends for fall? "My favorite trends for the fall are bold accessories and stripes. I also think that vintage-inspired clothing is becoming a bigger trend now which I absolutely love."
What fashion advice would you give to other students looking to improve their style? "I think it is important to be true to yourself and wear things that make you feel wonderful as a person."
Why did you choose this particular outfit? "I chose this outfit so that I could be comfortable in the warm weather. I like wearing floral prints so the tank top went well with the dark denim shorts. I also like to wear [unique] accessories to spruce up all of my outfits."
Elements of Brittani's Style
1. Floral Crop Top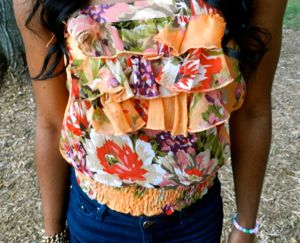 I love that this top is feminine and bright. Its flirty ruffles and bold floral print make it a perfect complement to Brittani's dark wash, high-waisted jean shorts. Featuring bright colors in your wardrobe doesn't have to stop when fall rolls around (especially if it's still nice outside). Numerous designers have featured a variety of bright colors in their runway shows for their fall collections.
2. Feather Earrings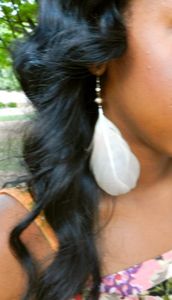 I love the way Brittani's natural, soft, Native American-inspired feather earrings contrast with the boldness of her crop top. They also pair excellently with her chunky gold chain bracelet and canary yellow ring.
3. Fold-over Leather Sandals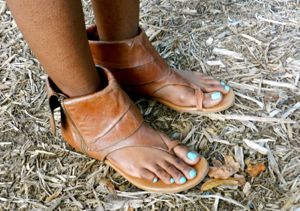 These sandals are a great everyday shoe with a twist. I love the way the top part folds over, as well as their chunky gold zippers and rich caramel color.
What do you think?
Do you like Brittani's outfit? Do you love floral print as much as she does? Have you bought feather earrings or added a feather hair extension yet? Would you wear fold-over sandals? Let us know with a comment!