Dreary and and chilly weather conditions can put a damper on people's moods, and, by extension, their outfits. But thank heavens for the south, and the gorgeous sunshine we've had lately in Savannah! When I saw Bridget, she looked comfortable and put-together for a day of class. Read on to learn more about her simple and pretty sense of style!
Bridget 101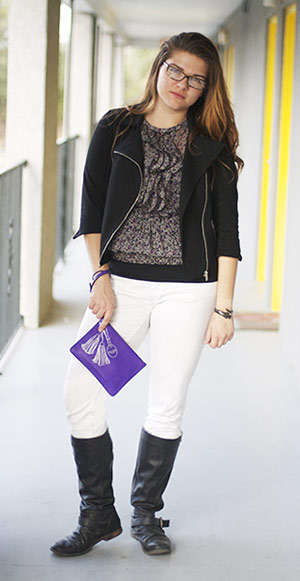 Name: Bridget
School: Savannah College of Art
Year: Junior
Major: Photography
Let's Talk Fashion
Who or what inspires your style? "I like functional and fashionable. I try to think as if I am a business card. What do I want to say about myself? What do I want people to know about me? I like pops of color, lots of neutrals, and simple and comfortable pieces. I believe that every piece should have a purpose."
Where do you like to shop? "I love going to thrift stores; I try to recycle pieces. For mainstream stores, I like Express, but I also like Target and Kohl's, as they have similar pieces for less."
Why did you choose this particular outfit? "I wanted an outfit that was professional and polished. I felt that this particular outfit showed individuality, and I thought it would make an impression."
What fashion advice would you give to other students looking to improve their style? "Don't necessarily go straight for comfortable clothes (e.g. sweats), but do choose clothes that make you feel comfortable (e.g. classic jeans). Dress how you feel. If the outfit makes you feel both comfortable and confident, wear it! Also, dress for what fits your body."
What are your favorite trends right now? "I liked snake patterns this past fall. I always like layering, especially with sheer blouses."
Do you have any favorite designers? "If I had to pick, I would say Michael Kors."
If you could raid anyone's closet, who would it be and why? "I kind of like my own. I know it all fits me, and I'm comfortable in it!"
Elements of Bridget's Outfit
1. Snake Bracelet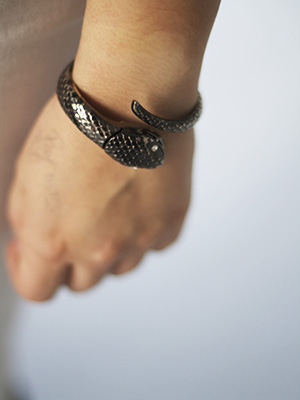 Bridget kept her accessories minimal, allowing the print of her top, the contrast between the neutral colors, and her bright clutch do the talking. However, she did throw in a pop of interest on her wrist. Her bracelet immediately draws in attention, especially when she opens the head of the snake to reveal a watch!
2. Black Leather Boots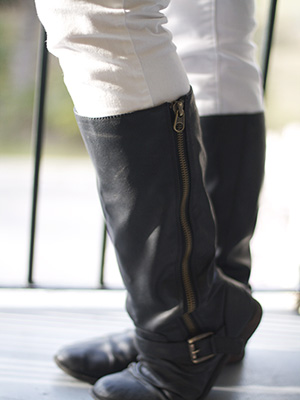 Bridget's shoes are classic, straightforward and to the point – but while they're very functional, they're also super stylish. The black leather, zippers, and buckles keep them interesting and eye-catching.
3. Bright Clutch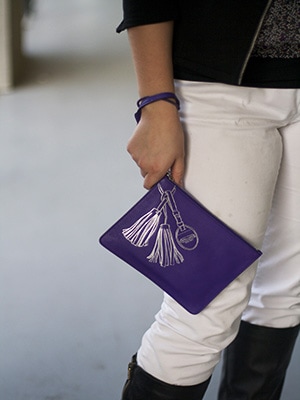 Finally, Bridget brings the outfit together with her purple clutch; it adds a pop of color that keeps her outfit lively and keeps her from looking too washed out.
What do you think?
What do you think of Bridget's outfit? Do you love her snake bracelet as much as we do? What kind of bag are you lugging around campus lately? Are you jealous of Savannah's wonderful weather too? Let us know with a comment!