While visiting New York City, I spotted Bridget strolling through a park in Brooklyn. At first glance, I was really interested in her jewelry, but then I noticed that her shirt, which I thought was a simple flannel button-up, was surprisingly sheer instead. With such a subtle, interesting twist on a classic outfit, I had to find out more about Bridget's style.
Bridget 101
Name: Bridget
Year: Freshman
School: Pace University (NYC Campus)
Major: Business with a minor in Photography
Hobbies/Interests: "I have been doing film photography for seven years!"
Let's Talk Fashion
Who or what inspires your style? "I love looking at stores online to see their new clothing. I like trying whatever new trend catches my eye. Living in New York, I tend to look at what other people are wearing, too!"
Where do you like to shop? "Thrift stores and American Apparel. I also look at clothes at Urban Outfitters but can't always afford them, so I look online to find similar pieces for a cheaper price."
What are your favorite trends right now? "Sheer shirts! I have a ton of them. I really like the collared shirt trend, too."
If you could raid anyone's closet, who would it be and why? "Demi Lovato. Her clothes are always so cute."
If you could buy anything right now, regardless of price, what would you buy? "There is this pair of $500 Frye boots that I have been staring at online. They are tall, brown, and amazing! Maybe one day when I'm not a poor college student I can get them."
What is your favorite thing in your closet right now? "These brown boots I'm wearing now. I wear them almost every day. They're comfortable and they look good with everything. Even though they're faded, they still look good."
Elements of Bridget's Outfit
1. Unpredictable Flannel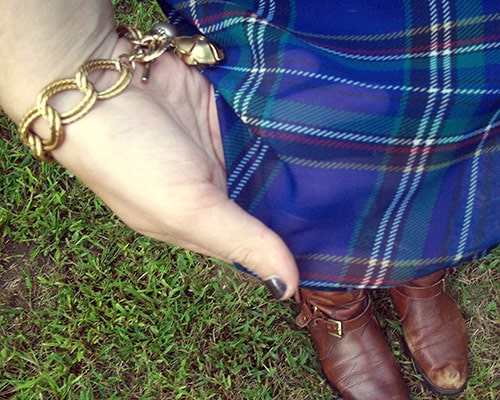 I love Bridget's unique twist on a go-to outfit. What looks like a normal flannel top is actually sheer! This shirt is paired with a comfortable pair of leggings and her favorite pair of brown boots. Bridget's outfit is casual but trendy and perfect for walking around NYC.
2. Mismatched Bangles and Neutral Nails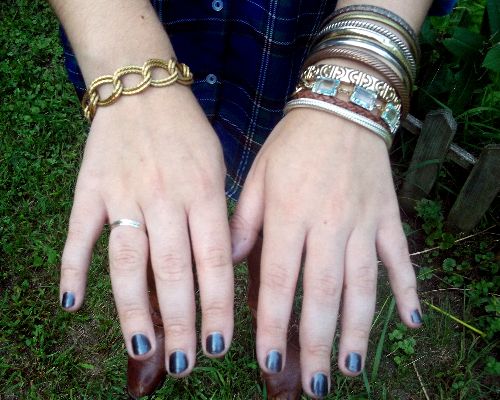 Bridget also has a dozen bangles in different sizes and colors hanging from her wrists. These bangles, although all different, go together perfectly and add an eclectic flair to her already chic ensemble. Bridget's dark grey, slightly metallic nail polish complements the varied bracelets she's rocking.
Your Thoughts?
What do you think of Bridget's look? Do you love Bridget's sheer flannel top as much as we do? What color are your nails for the start of the school year? Let us know with a comment!