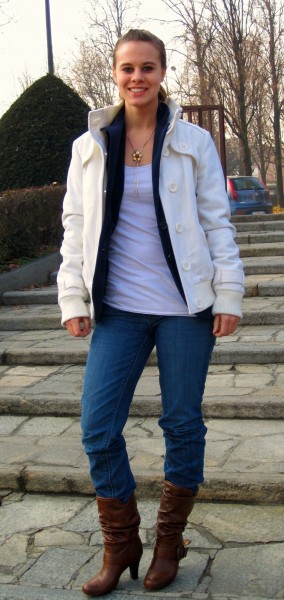 Lately the weather has been freezing in Northern Italy (I'm studying abroad for the semester!), so naturally I've been thinking about ways to layer while still looking cute and chic.
Walking to class, I spotted Brianna in an adorable coat and corduroy blazer. She had a simple and subdued style, so I had to ask her all about it!
Brianna 101
Name: Brianna
School: Point Loma Nazarene University
Major: Interior Design
Hometown: Yachats, Oregon
Some More Details…
Year in College: Sophomore
Hobbies/Interests: Photography, Reading
Describe your style: "Comfortable and laid back"
Who/what inspires your style? "Other people from my school. I see a style, and I am inspired by it and try to imitate it. I also like to be comfortable in what I wear."
Where do you like to shop/find clothes? "I'm a sucker for Hollister but I also like to shop around and find good deals. I find a lot of things at Ross and Forever 21."
Elements of Brianna's Outfit: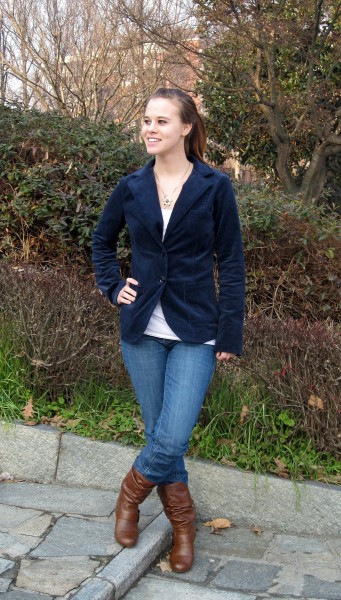 Corduroy Blazer- Blazers have been making their way into the wardrobes of many college students lately. I like how Brianna chose a corduroy version because it dresses up her outfit…not to mention it's cozy and warm! The style is classic, but the fabric and cut make this blazer stand out. The color choice is also a great one!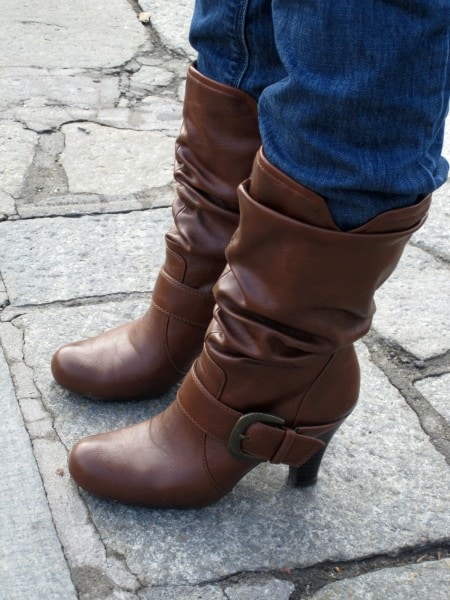 Belted Boots– Boots tucked into jeans are essential for winter. The belted boot with a heel adds some flair to Brianna's basic outfit. Also, a small heel makes the boot easy to transition from day to night.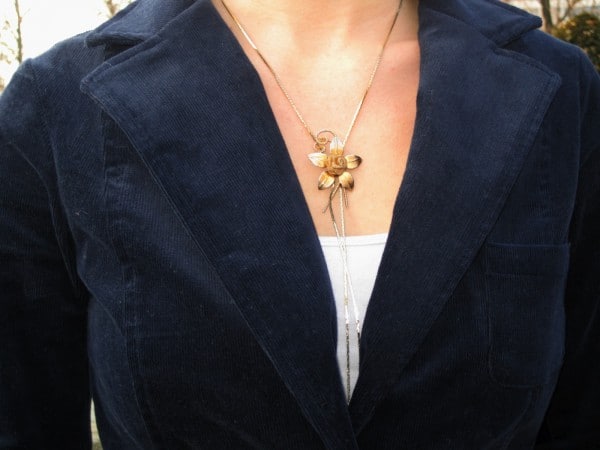 Little Accents– The final touch to Brianna's outfit was this adorable floral-inspired necklace. The length is perfect with her top and the collar of the blazer definitely draws attention to the unique piece. The little details can make all the difference, and that is definitely the case here!
Looks Inspired by Brianna
Outfit 1: Brianna's outfit was simple and chic. The look is classic and the pieces can be mixed and matched with outfits already in your wardrobe. Here is an outfit very close to what Brianna was wearing.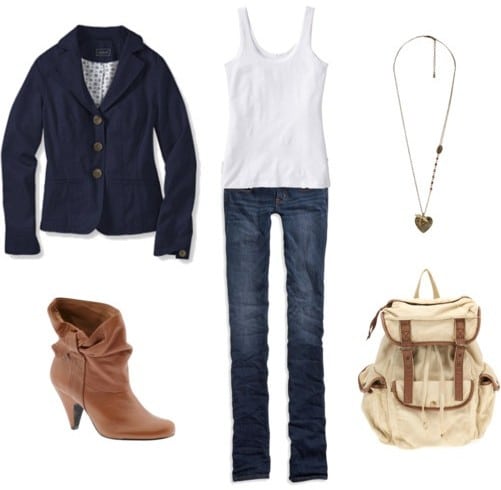 Product Information: Blazer- L.L.Bean, Boots- Steve Madden Jessii- piperlime.gap.com, Women's Skinny Jeans- American Eagle, Tank- Old Navy, Necklace- Forever21, Backpack- Urban Outfitters
Outfit 2: This is a trendier version of Brianna's outfit. It's more suitable for a day-to-night look with the addition of some really fun/cute accessories.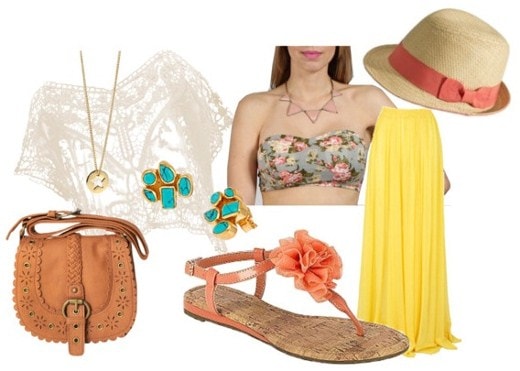 Product Information: Splendid Blazer- Net-a-Porter.com, Boots and Tank -Forever 21, Jbrand Jeans- My-wardrobe.com, Earrings- H&M, Clutch and Bangles- monsoon.co.uk,
What Do You Think?
Do you have a sophisticated and sweet style like Brianna? What is your favorite take on boots or blazers? Let us know with a comment!