Summer in Berkeley can be pretty unpredictable – there will be a few days of beautiful sunshine and then suddenly we're back to morning fog. Layers are key around here since the temperature can change up to ten degrees within a matter of hours.
Briana has been in my biology class for the past few weeks, but when I saw her sporting these bright pink skinnies I knew I had to talk to her about fashion, rather than assignments. This girl knows how to look great… even in the finicky late-summer weather.
Briana 101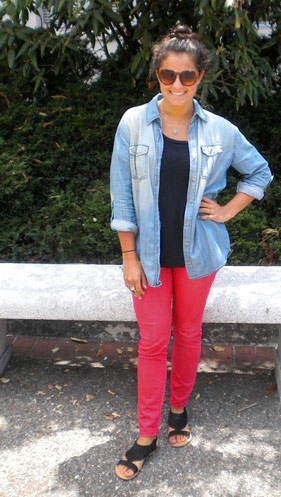 Name: Briana
School: University of California, Berkeley
Year: Junior
Major: Integrative Biology
Hometown: Cornado, California
Let's Talk Fashion
Who or what inspires your style? "I would define my style as very trendy – I like to experiment and try what's new. I get a lot of inspiration from magazines, too – Nylon, Elle, and Glamour are my favorites."
Where do you like to shop? What are your favorite brands? "I like Rachel Zoe's line even though I don't own a lot of her stuff, and I love Tory Burch flats. I also shop at thrift and vintage stores, and I love Urban Outfitters. And I'm a huge fan of Brandy Melville right now."
Any fashion advice for students trying to build their personal style? "For me, I was always afraid to try what was out there. Right when high-waisted shorts and pants started becoming popular, I didn't think I could pull them off… but now, I literally only wear high-waisted shorts. So don't be afraid to try what's out there. [These days,] I don't really care what people think. I wear whatever I feel comfortable wearing."
Do you have any unique hobbies? "I want to be a marine biologist after college and am planning to go to grad school for it, so I love scuba diving. You can't really do that much up here but I lived in Hawaii for a few years so that's how I got into it. And I love photography. I love borrowing my mom's big Cannon camera whenever I'm home."
Elements of Briana's Outfit
1. Bright Skinnies and Black Suede Sandals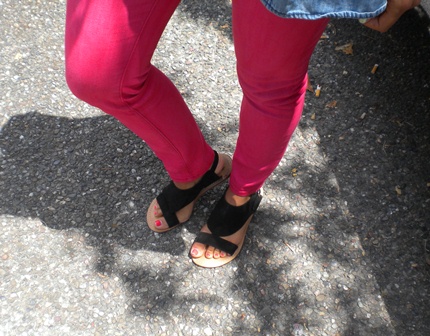 Briana stays warm on cool mornings with brightly colored skinny jeans, which really helps her stand out in the sea of early morning sweatpants-wearers. The bright red color of her pants is totally on-trend for fall (as seen on the last college fashionista we featured), and they will remain versatile well into the cooler months. Her black suede sandals help complement the red pants without competing for attention.
2. Funky Accessories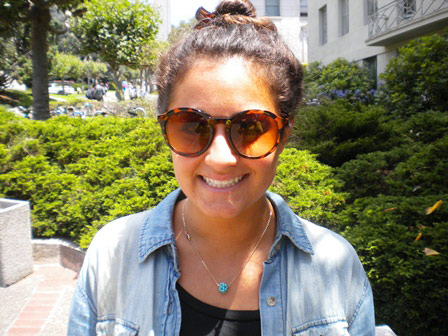 Sunglasses are a staple in the Bay Area since the blazing sun can pop out at any moment. Briana shows off her trendy sense of style by rocking round tortoise frames.
Not one to stop with just one accessory, Briana also added a turquoise beaded necklace for another surprising – but subtle – pop of color.
Your Thoughts?
What do you think of Briana's look? Have you bought a pair of colored jeans yet? What kind of sunglasses are you wearing this summer? Let us know with a comment!