This week, I was so excited when UNLV's Student Union held a mobile Goodwill sale on campus. There were racks and racks of dresses, skirts, scarves, and shoes for sale at discount prices… and I had a hunch that I would meet some stylish students at the event. Sure enough, I spotted Binaeyi, who used color, pattern, and personalized accessories to give her outfit a professional yet creative vibe.
Binaeyi 101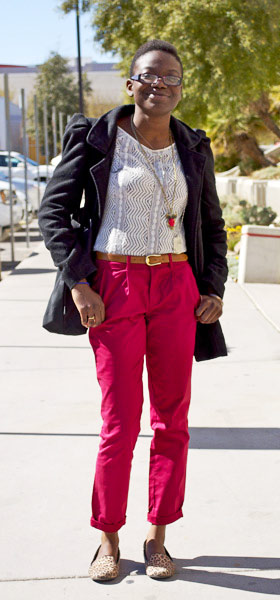 Name: Binaeyi
School: UNLV
Year: Sophomore
Major: Biochemistry
Let's Talk Fashion
Who or what inspires your style? "When I pick out my clothes, I try to go for a specific theme every day. Today I was going to look a little business-y, a little more mature, a little more professional. So it depends on how I'm feeling that day."
Where do you usually like to shop? "I've started to really like Cotton On (an Australian brand), and I do a lot of online shopping, so if something looks cute online and it's from an unusual website, I'll go ahead and order it. I also like Max C London, H&M, and Topshop."
Why did you choose this outfit in particular? "I bought these pants a couple of days ago, and I've been trying to figure out how to wear them. I feel like leopard print looks really good with red and wine-colored tones for some reason [so I chose these shoes]. Then, I was trying to figure out a shirt that would be plain but not too plain. It was a complicated process!"
What are your favorite trends right now? Are there certain looks that stand out to you? "I really like the hipster look and British fashion."
What do you do for fun? Do you have any hobbies or interests? "I like to draw and it would be a secret dream of mine to be a designer or stylist."
Whose closet would you raid and why? "I like Rihanna's style a lot. She's very edgy with her hair and clothes. I'd take elements of her style, but not everything. I'd be a little more calm."
Elements of Binaeyi's Outfit
1. Pea Coat and Patterned Shirt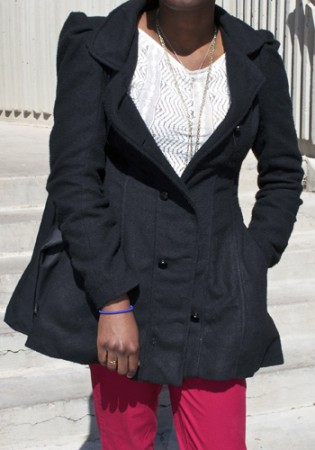 Binaeyi's black pea coat is tailored to accentuate her waist and shoulders. The flared bottom and subtle princess sleeves give the coat a flirty, feminine appeal, and her white shirt adds visual interest with its lacy chevron pattern.
2. Accessories with Personality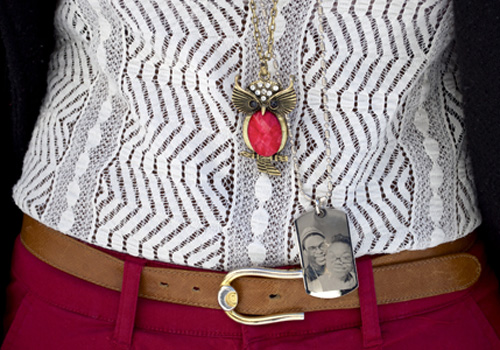 A rhinestone owl pendant highlights Binaeyi's raspberry-colored pants, and her brown leather belt plays beautifully against the pattern in her tan loafers. (And seriously, how adorable is the customized dog tag that Binaeyi's boyfriend gave her for Valentine's Day?!)
3. Cheetah Print Loafers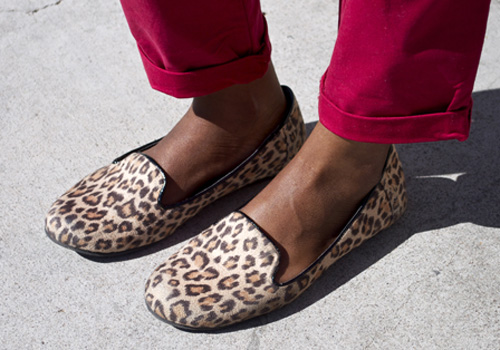 These leopard print loafers look amazing against Binaeyi's cuffed red pants! Leopard print and red is a classically cool combination, and the black and dark tan spots coordinate perfectly with Binaeyi's belt and pea coat.
What do you think?
What do you think of Binaeyi's outfit? Do you agree with her– do red and cheetah print compliment each other? Have you ever had a Goodwill mobile visit your school? Let us know with a comment!