Taking classes at Indiana University of Pennsylvania during the summer and doing her study abroad experience here in the U.S., Bianca doesn't go unnoticed with her bubbly personality and fabulously detailed outfit.
She sports a classic college outfit with fall essentials: a cozy sweater, a patterned scarf, and trendy shoes. Bianca is transitioning to her first full year studying in the U.S. starting this fall, so I am certain she will be rocking her classic outfits around campus.
Bianca 101
Name: Bianca
College: Indiana University of PA
Hometown: Sao Paulo, Brazil
Major: Chemistry
Age: 21
Year: Senior
Let's Talk Fashion
Who or what inspires your style? "The situation. It depends on who will be there or what it's going to be."
Where do you like to shop? "Wherever there is a sale! All my friends know whenever we go shopping they'll spend $50 on one shirt and I'll have 20 bags that added up to the same price. For example, so far I have seen many sales at Aero, Rue 21, and Charlotte Russe."
How would you describe your sense of style? "It would be to not try anything 'ridiculous.' Sometimes you look or think about some outfits and you just know that it's not the right one. And also not showing a lot of skin!"
Why did you choose this particular outfit? "I love scarves, so I chose this outfit because it's always a nice detail; you can have a very simple outfit with darker colors, and scarves will add that pop of color to it. Wool sweaters are also comfortable and versatile."
What fashion advice would you give other college students? "To find your own style first and wear the clothes that make you feel confident."
What are your favorite trends right now? "I really like the boho trend. Loving it right now!"
Do you have a favorite designer? "Not really. I would wear a top from one designer and then a skirt from another. I think all designers have had successful designs and not-so-successful designs at one point, so it's hard to name one."
What do you do for fun? "I love to dance and to read."
If you could raid anyone's closet who would it be and why? "I would have Gisele Bündchen's closet. I think even outside the runway she has a nice style."
Elements of Bianca's Outfit
1. Sneaker Wedges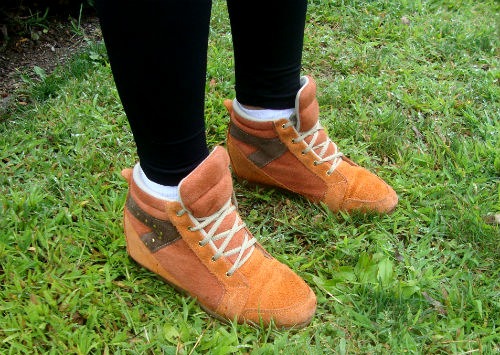 I love Bianca's shoes because honestly, not many can pull off orange-heeled sneakers, but she did it gracefully! (Although she did say it has caused some controversy with her boyfriend, who jokes that she got them from the cartoon Garfield.)
However, we think her fashion-forward sneaks are right on trend. The gold studded detailing on the sides and the pumpkin orange hue added an edgy vibe to her otherwise casual ensemble.
2. Patterned Scarf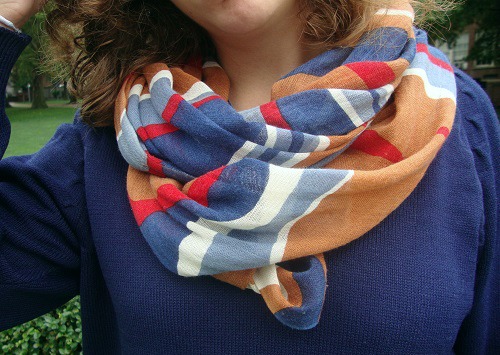 Pairing cute scarves with comfy sweaters is a go-to combination that can be spotted on pretty much every college campus come fall. Bianca's colorful patterned scarf has a trendy vibe, plus the blue and orange hues match her sweater and sneakers, respectively. Little details like this really tie a look together!
3. Jewelry + Nails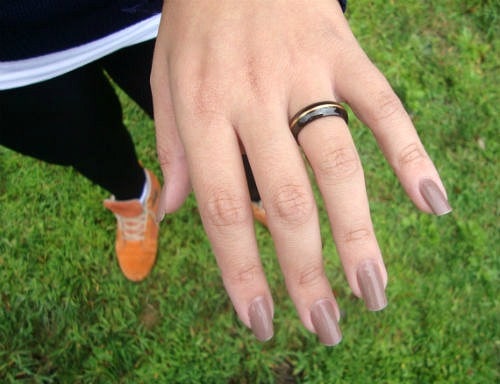 Since she already had bold statement pieces in her outfit, Bianca went with modest jewelry and a neutral nail color. The only jewelry on her hands was this simple ring with a metallic stripe. It was perfect; there was no need for her to go overboard with jewelry in this flawless school day look.
Do you think Bianca nailed this casual look?
Do you like the minimal jewelry paired with a bold scarf? What about her "Garfield" sneakers? Let us know what you think in the comments section below!