Two days before the start of spring break, the weather here at Texas A&M could not have been drearier. Luckily, I met Becky near the library — and soon learned that she's into blogging as well! She is the Co-Editor, Co-Founder, Fashion Director, and Creative Director for ANON Magazine, which is an anonymous blog (started by Becky and her friend Zach) written for people who are seeking advice.
Becky 101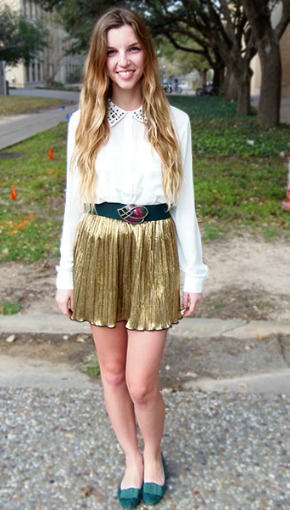 College: Texas A&M University
Major: Sociology with a Business minor
Year: Class of 2015
Let's Talk Fashion
How would you describe your style? "I would say, unique? I usually go more for a grungy-chic style, but I like to mix things that are bland or simple with edgy pieces, like platforms or an interesting necklace. I'm always wearing high-waisted stuff or dresses with red lipstick and platforms. Well, almost always."
How would you describe your outfit? "Gosh, how to describe it…I guess you could say it's my spin on the London school girl look. The sweater I found at a thrift store for $2 — I always find the best things at thrift stores! — and the skirt I bought at Forever 21 for about $10. I absolutely love metallics, and this has been a very versatile skirt over the years. The shirt I received as a Christmas present from one of my best friends; she knows my love for shirts with neat collars. The belt was my grandmother's; you don't see belts like that very often anymore, so it's definitely one of my favorite pieces! As for my shoes, I was given about 100 pairs a few years ago by an aunt who couldn't wear them anymore, so these flats were part of that group. I usually wear platforms or combat boots, but you caught me on one of those rare days that I wear flats!"
Where do you find inspiration? "I get a lot of style inspiration off Tumblr. Other than that, there are lookbooks. Solestruck always has great ones. As for people, I look to magazine editors and other people involved more in the high-fashion world. It's cool to be able to take something extreme and make it an everyday look!"
What are your favorite trends at the moment? "I am a sucker for neat shoes; platforms, definitely! But really, I think shoes make a fantastic statement piece. I love Jeffrey Campbells because the brand takes ideas from very high-end stuff and makes it more affordable while still keeping a somewhat prestigious name; you don't exactly see everyone and their mom wearing JC's."
Elements of Becky's Outfit
1. Stand-Out Collar Top and Metallic Skirt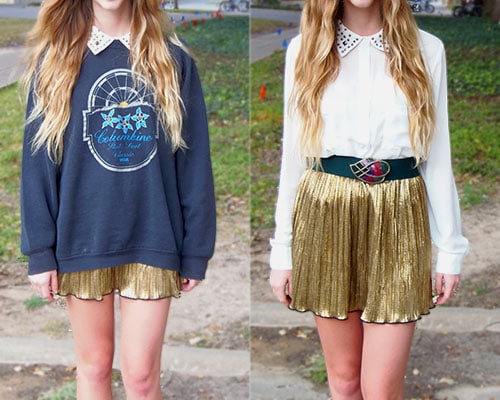 Becky's collared shirt sports great studs that match her high-shine metallic skirt (and her metallic nails). A shirt like Becky's is the perfect way to incorporate some glam into an outfit without bringing it over-the-top! And since the weather is always changing in Texas, Becky's vintage sweater (seen at left) is the perfect piece to layer over anything for a retro-cool look.
2. Vintage Belt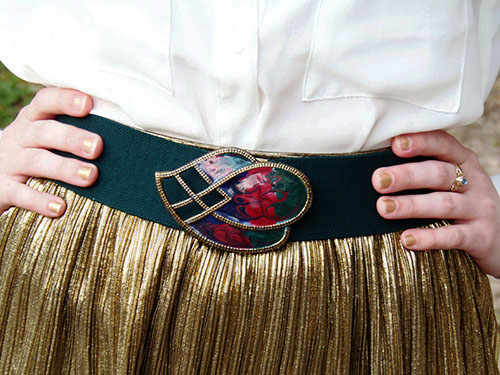 Becky completes her fabulous ensemble by wearing her most unique piece front and center: her grandmother's vintage belt! Its rich jewel-tones really complement the neutral shades of her skirt and shirt, and the emerald shade is right on trend with Pantone's Color of the Year.
3. Emerald Flats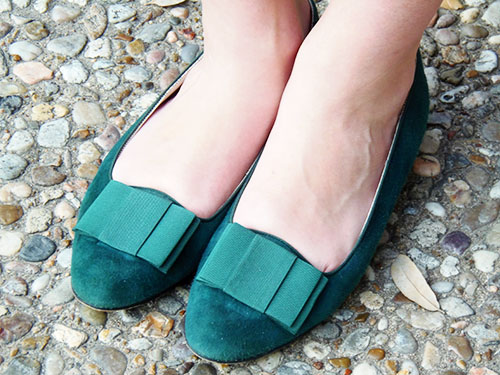 To top it all off, Becky rocks a pair of emerald pointed-toe flats that balance the colors of her vintage belt. Though emerald green is super trendy at the moment, these flats are classy and timeless — they won't be going out of style any time soon. Plus, how cute are those flat bows!?
What do you think?
How do you like Becky's outfit? How do you incorporate metallics into your closet? Do you have any special accessories passed down from family members? Do you love her emerald flats as much as we do? Let us know in the comments below!