Much of Becky's wardrobe is a combination of colorful fun prints and patterns. As we talked about her funky style and her obsession with Hello Kitty, it was obvious that she dresses for herself and is not afraid to incorporate feminine aspects into her daily ensembles.
A true Manhattan native, Becky brought her urban-infused style to her campus in Saratoga Springs. Read on to learn more about her and her style!
Becky 101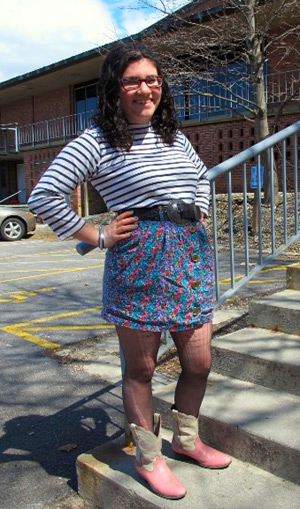 Name: Becky
School: Skidmore College
Year: Freshman, Class of 2014
Major: American Studies
Hometown: Manhattan, New York
Hobbies/Interests: "Reading, listening and searching for new music, tour guiding, and Hello Kitty."
Let's Talk Fashion
Who or what inspires your style? "Betsey Johnson. Her clothing line is always funky yet classy. She isn't afraid to take risks with her work. Even though I can't afford her clothing, I wish I could because it's awesome."
What's your favorite article of clothing in your closet and why? "Naturally, my Betsey Johnson dress that I wore to junior prom when I was in high school. In true Betsey fashion, the dress has a corset with a big pink bow and a tiered bottom. When I wore the dress, I felt really confident and feminine."
What inspired this outfit today? "I like to mix prints, colors, and patterns. Also, my friends know me for wearing atypical clothing so mixing and matching is something I really like to do."
Where do you like to shop? "Urban Outfitters, Forever 21, consignment and Goodwill stores. I like a good bargain."
Describe your style in three words. "Anything but ordinary."
What are your favorite cities in the world for shopping? "New York, New York, and New York. I didn't know there were other places to shop – just kidding!"
Elements of Becky's Outfit
1. Stripes and Floral Print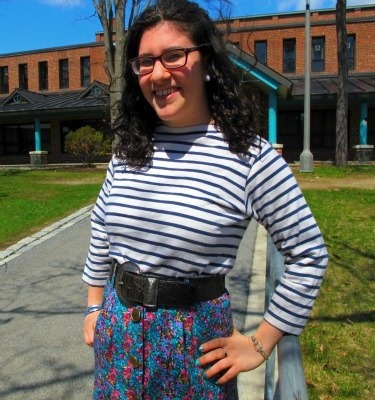 For many, mixing prints can be a daunting fashion challenge. However, Becky tackles it head on and incorporates her sailor-inspired blue striped shirt with a floral high wasted skirt. The prints – although both intricate on their own and not immediately compatible – are separated by a thick black and silver belt that both highlights the prints' commonalities and elongates Becky's figure.
2. Cowboy Boots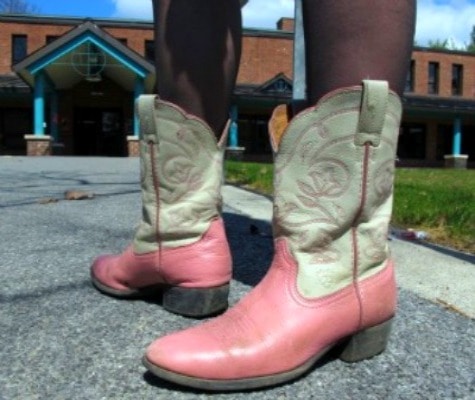 Here, Becky pairs her Ariat horseback riding boots with ripped tights in order to combat the fickle spring weather. The two-toned cowboy boots complement the pink hues in her skirt and really add some cohesiveness and fun to her overall look.
3. Silver & Black Vintage Belt
Becky typically pairs dresses and skirts with this belt, which is perfectly worn in thanks to its previous owner. As it accentuates her curves and intentionally breaks apart the prints, it also spices up her outfit with its silver accent.
4. Simple Bracelet and Ring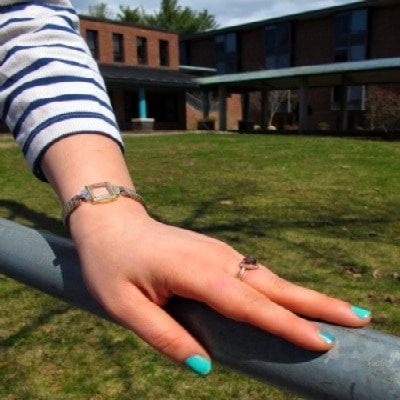 Simple accessories are key in keeping mixed prints looking clean rather than overdone and chaotic. Becky's bracelet was one of those pieces she stumbled across in her travels and her birthstone ring was given to her by her mother. Both are simple and can be worn on a day-to-day basis.
What do you think?
Would you mix stripes and florals like Becky did? Do you own a pair of cowboy boots? If so, how do you wear them? Let us know with a comment.