Midterms and wacky fall weather can make even the most polished of students want to throw on the first thing they find in the morning. So when I spotted Becky looking chic during midterms week, I knew I had to snap her picture.
You wouldn't know it from her impeccable American accent, but Becky calls Italy home. Her classic yet edgy look is perfect for fall and oh-so European chic. I now introduce you to the friendly fashionista, Becky!
Becky 101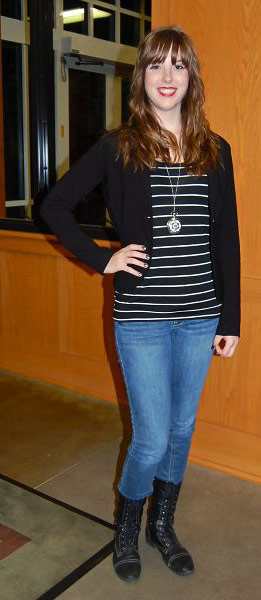 Name: Becky
School: Hendrix College
Hometown: Turin, Italy
Major: English
Hobbies and Interests: Baking, reading, music, watching movies
Year: Sophomore, Class of 2015
Let's Talk Fashion
Why did you choose this particular outfit? "It's really comfy but edgy at the same time, and it's an outfit that doesn't take a lot of effort but looks nice."
Who or what inspires your style? "I don't take inspiration from one particular person. I usually pick up on ideas by watching TV and movies and by looking at what other people are wearing. And I also look to my best friends' styles. They're sort of indie, and I've noticed that I've kind of adopted some of their style. I try to incorporate new things into my style – like blending Italian chic with a US indie rock look."
If you could switch wardrobes with someone, who would it be and why? "Probably Taylor Swift because I love her country-ness even though I don't think I could pull it off. Or maybe Miley Cyrus – I love her edgy look."
Where do you like to shop? "I really like Zara and H&M. H&M is my favorite even though there aren't very many of them in this area. I also like TJ Maxx, thrift stores, and Forever 21."
If you had to pick a favorite item of clothing, what would it be? "I definitely love my boots and scarves. I don't think I could choose between the two. I wear my black boots pretty much every day— even in the summer. A lot of Italians wear the summer boots look."
Do you think your style has changed since coming to the States for school? "I was exposed [to US style] throughout childhood because I would spend every summer in California, but I can definitely see differences between the way people dress here and in Italy. In Italy, casual clothes are elegant, and here, casual clothes are sweatpants and an oversized shirt. Here, people seem to be either super casual or to put lots of effort into their look. I've started to dress a bit more casually [since I came to Hendrix]. A while ago, I wore sweat pants on a plane ride, and my sister made fun of me. She said I looked super American."
Elements of Becky's Outfit
1. Tailored Blazer and Simple Jewelry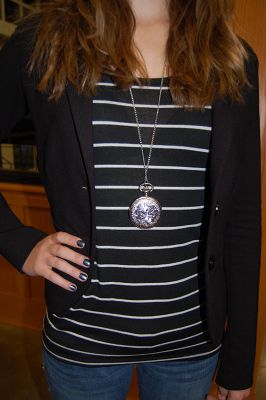 Becky transforms her basic jeans and striped shirt into a chic ensemble with the help of a polished black blazer and silver jewelry. Her adorable silver pocket-watch necklace is a fabulous find from Etsy.
2. Classic Makeup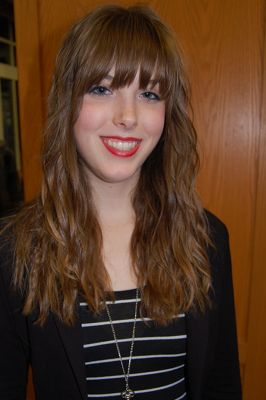 Classic red lips and dark, winged liner are always in style, and the look is especially hot for fall. As Becky proves, a swipe of bright lipstick can add sass to even the most neutral-colored outfit.
3. Metallic Nails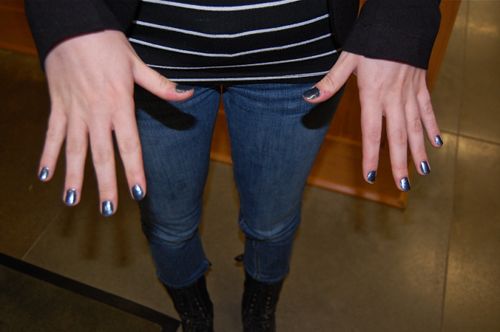 Becky's metallic nails are the prefect complement to her sleek ensemble. Bold metallic polish is perfect for the season and adds a touch of glam to regular school day outfits.
4. Edgy Boots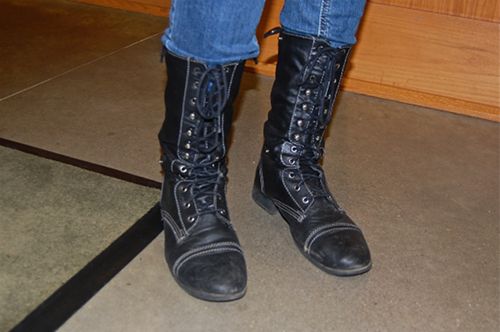 Becky's black boots (from Target!) are both edgy and practical. As Becky told me, she gets a lot of wear out of them, and it's easy to understand why: Edgy boots look just as great with a girly dress or skirt as they do with a trusty pair of jeans. In addition, a flat boot like Becky's ensures comfort when running between classes.
Your Thoughts?
What do you think of Becky's look? How to you switch up your makeup on a daily basis? Have you shopped on Etsy before? Have you added combat boots to your closet yet? Let us know with a comment!