I bonded with Becca over her cool, laid-back style after our shared math class. I loved her
outfit because of its versatility– it worked for school, but could also be worn to dinner with friends. Her bright necklace and bold clutch were unique touches, yet she managed to keep it comfortable in a pair of sneakers.
I'll be copying her outfit soon. After all, I already have most of the items she was wearing in my closet, and so do many college-aged women. Kudos to Becca for her creative use of basics!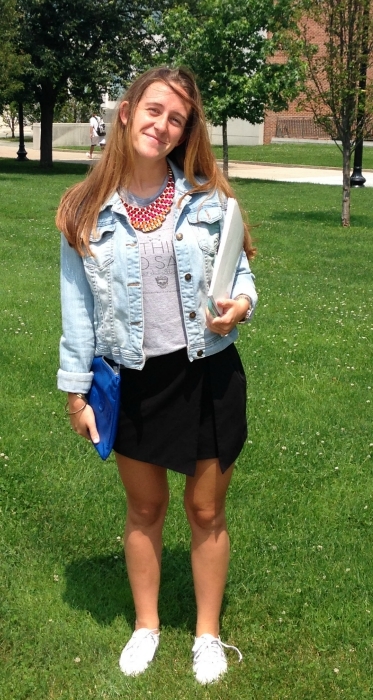 Becca 101
Name: Becca
School: Queens College, City University of New York
Hometown: Woodmere, NY
Let's Talk Fashion
Who or what inspires your style? "I find style inspiration from people I see on the street. Especially girls with sporty and cute style."
Where do you like to shop? "I usually find most of my clothes at Zara, Urban Outfitters, H&M, ASOS, and Forever 21."
How would you describe your sense of style? "I like to wear a lot of basics and accessories. Most days I come to school looking pretty sporty."
Why did you choose this particular outfit? "I wore the skort because it's good for
the heat, the sneakers to be comfortable, and I used my necklace and clutch
to make the outfit cuter and more girly."
What fashion advice would you give to other students to improve their style? "I
like clutches. They're a cute way of holding your stuff."
What are your favorite trends right now? "I really like wearing flowy shorts and graphic t-shirts in the summer and joggers and a plain v-neck to class."
What do you do for fun? "I like reading and going to the beach or pool with
friends."
If you could raid anyone's closet who would it be and why? "My friend Lauren because we have a similar style and she always has new cool things for me to borrow."
Elements of Becca's Outfit
1. Black Skort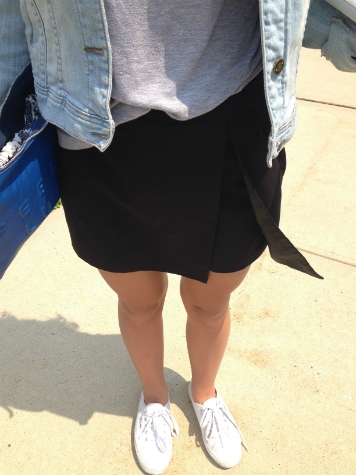 Why don't we wear skorts more often? I got re-inspired to rock one after seeing Becca's cute and comfortable mini-skort. This one is a basic black that can be dressed up to go out and dressed down for class or hanging out with friends.
2. Cobalt Clutch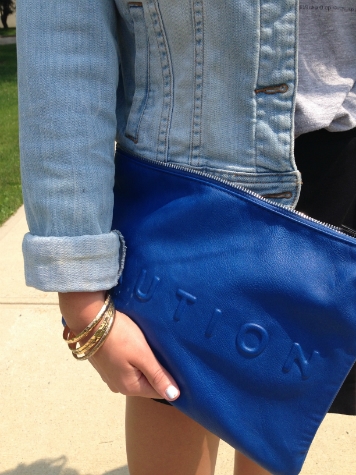 I am obsessed with Becca's blue clutch! It is the perfect size and really complements the rest of her outfit. I also love the bright and summery vibe it adds to her look.
3. Bright Necklace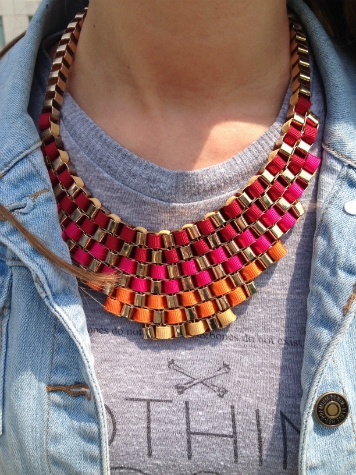 Becca's necklace was the first thing I noticed about her outfit. It's
eye-catching and fun, but also works well with the rest of her look. This necklace would add
a bit of flair to any outfit and could definitely be rocked with other wardrobe basics, like jeans and a tee.
What do you think of Becca's look?
Will you be wearing a skort anytime soon? What do you think of her casual kicks? Let us know in the comment section!