After interning in Seattle and dancing in Maine, I've finally returned to my own school, Virginia Commonwealth University. Classes just started, and I'm ready to hit the books and dance studios. Our dance department had a pizza party as an introduction for the new dance majors and a welcome back to the ones returning.
While having fun and reuniting with my classmates, I noticed Bailey's comfortable and cool look. She was dressed to the nines and her hair looked absolutely fabulous; it would have been a shame to not stop and photograph her!
Bailey 101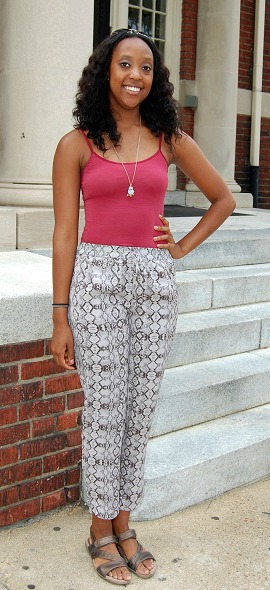 Name: Bailey
Major: Dance and Choreography
Year: Sophomore
School: Virginia Commonwealth University
Let's Talk Fashion
Who or what inspires your style? "My roommate, Cathleen. Our styles complement each other and we always borrow and trade items."
Where do you like to shop? "Forever 21, Target, thrift shops like Ashby's in Carytown [a neighborhood in Richmond]."
How would you describe your sense of style? "It's comfortable [and] easy to slip-on after working hard in dance classes. I would also describe my style as very girly."
Why did you choose this particular outfit? "I don't always get to 'dress up' because my major requires a certain dress code, so I chose to wear this outfit because it felt comfortable and simple yet trendy with the bold pattern."
What fashion advice would you give to other students looking to improve their style? "Just to be comfortable and do what makes you feel confident. Investigate what types of clothing suit your body type and emphasize the little things that you love about yourself, because confidence is always the best accessory."
What are your favorite trends right now? "High-waisted bottoms and harem pants."
Do you have any favorite designers? If so, who? "Target. It's affordable!"
What do you do for fun? Do you have any unique hobbies or interests? "Dancing takes up a large part of my life, so anytime that I get to relax or just be in the company of friends, it's fun for me!"
If you could raid anyone's closet, who would it be and why? "Rihanna's, because she has such a wide range of clothes that would be perfect for young adults."
Elements of Bailey's Outfit
1. Bold Pattern and Bright Solid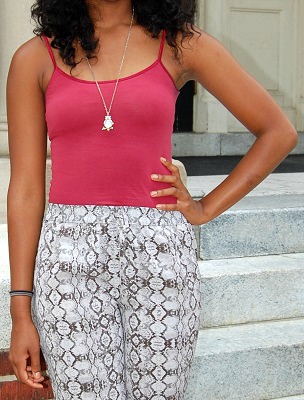 Bailey's outfit looked extremely trendy for these last few weeks of summer. With her faux snakeskin print pants and bright pink top, Bailey stood out in the crowd of dance majors. Pairing a bold pattern with a brightly-hued solid is always a surefire way to stay on-trend. She nailed it!
2. Owl Necklace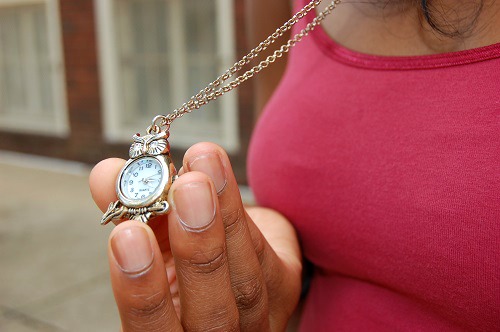 Bailey's simple yet intricate jewelry gave her outfit a special touch. I loved the detailing of the owl clock against the solid pink tank. It pulled the outfit together and added a cute little flair. Over the years, owls have become increasingly popular in the fashion world, which makes this pendant necklace the perfect accent piece for her trendy ensemble.
What do you think of Bailey's casual outfit?
Do you ever pair prints and solids? What do you think of her funky pants? Do you adore her owl necklace? Let us know by leaving a comment below.