Ayanna was my coworker at Nordstrom last summer and with the two of us always obsessing over fashion, we instantly became close friends. Many days at work were spent discussing the latest Vogue issue or that morning's merchandise shipment that was just added to the sales floor.
Rocking a studded blazer, red jeans, and a snakeskin fuschia clutch for an early evening out in D.C., Ayanna definitely stood out in the city as a fashionista. Read on to learn more about her enviable style.
Ayanna 101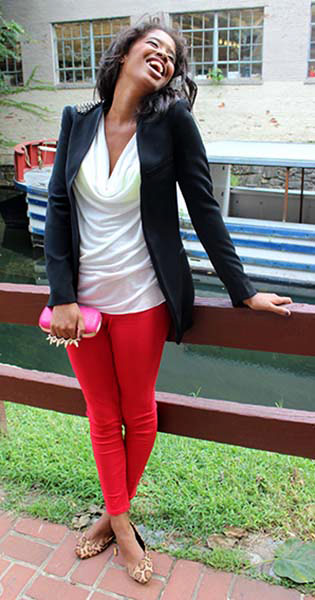 Name: Ayanna
College: Hood College
Year: Senior
Major: Public Relations
Hometown: Washington, DC
Hobbies: Writing and Photography
Let's Talk Fashion
Who or what inspires your style? "I'm not sure if I have any style influences as far as specific people go. I'm influenced by color, and of course, I read style magazines and blogs for ideas."
Where do you like to shop? "I like to shop at Madewell, Nordstrom, Bloomingdale's, Zara, occasionally Urban Outfitters, and online at stores like Topshop, Nasty Gal, and ASOS."
How would you describe your sense of style? "My sense of style is ever-changing. Sometimes I have a very feminine style, other times I can be tomboyish. Sometimes I like very tailored clothing, other times I like outfits that are loose-fitting and comfortable. I'd say I'm a style chameleon!"
Why did you choose this particular outfit? "I chose this outfit because I thought it would showcase the styles I'm excited about now and for the upcoming season. I love the spiked blazer and the brightly colored pants, which are two hot trends this season. I also love the spiked knuckle clutch – it ties in with the spiked blazer. I think it's the perfect look for fall if you're going to a concert or on a chill date!"
What fashion advice would you give to other students looking to improve their style? "For students trying to improve their style, I would say dress for YOU. If your budget doesn't allow you to shop at Madewell or Nordstrom, pull inspirations from those places and go thrifting to find similar options that work for your budget. Also, try affordable spots like H&M and Forever 21 – if you know you have $300 to spend on new clothes, why not get three or four outfits for your money rather than three or four items?"
What are your favorite trends right now? "My favorite trends right now are hardware embellishments and color blocking!"
Do you have any favorite fashion designers? If so, who? "I have so many designers I enjoy! I love Tina Kalivas, Mara Hoffman, Marc Jacobs, Rebecca Minkoff, and of course major fashion houses like Burberry, Versace, Valentino, Givenchy, Balmain, Hermés, and my favorite, Chanel. My eyes enjoy these designers much more than my bank account does!"
What do you do for fun– do you have any unique hobbies or interests? "I love writing and photography. My writing and photography has been featured in my school's literary magazine. I also love concerts and music festivals. I already have a ticket to Coachella 2013!"
If you could raid anyone's closet, who would it be and why? "Alexa Chung. I love her style. And also Yukimi of Little Dragon (my favorite band). I love all of her prints."
Elements of Ayanna's Outfit
1. Spiked Blazer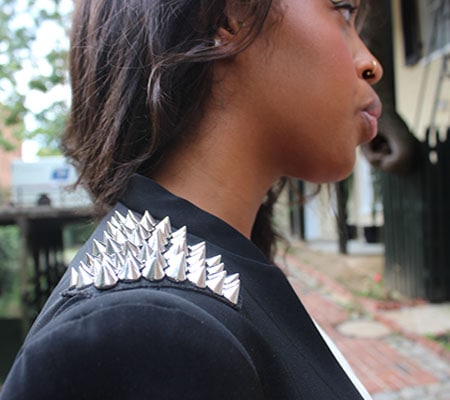 The traditional black blazer takes a fun turn for fall with the addition of embellishments, like the edgy shoulder spikes on Ayanna's. This jacket from Zara spices up any outfit that lies beneath its silhouette due to the small, yet effective shoulder pads and spiked stud patches that make a bold statement on each side. Ayanna looks fierce and ultra fashionable in this punk rock-inspired blazer, which could also be worn with jeans during the day or over any colored dress for nighttime fun.
2. White Blouse with Neon Bandeau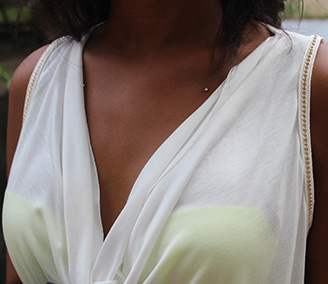 Ayanna loves neon colors, so it was so no surprise to me that she chose a neon green bandeau to wear under her semi-sheer top. Electric shades of green, yellow, and orange have been super hot all year, seen on the runways at Marc by Marc Jacobs and Nanette Lepore, to name a few.
While maybe not day-of-classes-appropriate, Ayanna's neon bandeau adds a fun pop of color to this silk blouse (notice the fab chain embellishment on the shoulders – Ayanna has an eye for detail!) and would be perfect for an evening out on the town.
3. Spiked Knuckle Clutch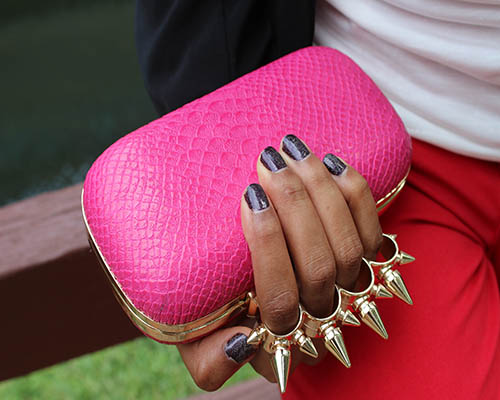 Notice that Ayanna's only accessory is this snakeskin embossed clutch with a spiked metal handle. No wonder she isn't wearing any bracelets or rings! This faux leather clutch has all the edge a girl could want.
Ayanna told me that her bag, from Nasty Gal, came with a detachable chain strap, so it can be worn cross-body, hanging on one shoulder, or as a clutch with one's knuckles through the designated spaces. This bag is absolutely perfect for a fun night out.
4. Red Pants and Leopard Print Flats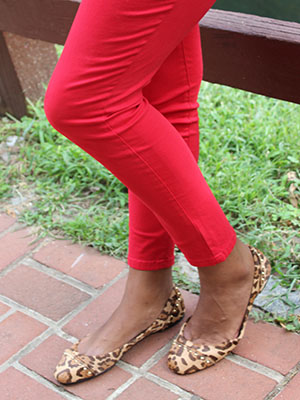 I love the way Ayanna's leopard print flats and red cropped pants work together to bring the outfit to a whole new level of color and pattern. Bold bottoms like these have been everywhere this season, making them a great addition to your closet for fall.
The clean, slightly cropped cut of Ayanna's pants makes them work perfectly with the crisp leopard flats, creating a sleek and sophisticated look. In addition, both the red hue and the leopard pattern complement the rocker feel of her spiked blazer and clutch.
What do you think?
Do you love Ayanna's outfit as much as we do? What is your favorite element— her spiked blazer, her neon bandeau, her fuchsia clutch, or her bright pants? How would you wear these edgy pieces? Let us know with a comment!