Summer is already heating up here in Austin — and that means the age-old dilemma of balancing summer style with "class appropriate" attire. I struggle daily to decide which outfit will best accomodate my schedule of a chilly morning, a cold classroom, a meeting with a professor, a study group for an upcoming test and an afternoon picnic in the hot Texas sun.
When I saw Augusta walking to class this morning, I knew she had perfected the classy-cool combo so many of us struggle to attain in this limbo between the upcoming swimsuit season and the school semester nearing its end. I knew I had to feature her for Looks on Campus!
Augusta 101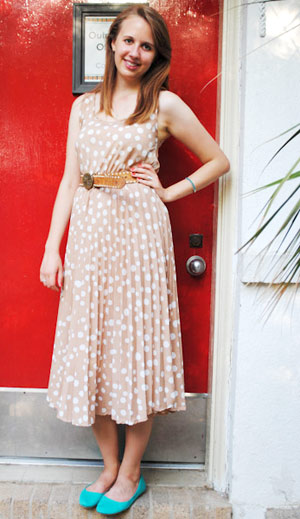 Name: Augusta
School: The University of Texas at Austin
Majors: Anthropology and Women's Studies
Minor: Liberal Arts Honors
Let's Talk Fashion
Who or what inspires your style? "I'm very aware of street style, so I'm often inspired by random people I pass by. Also, I love to emulate music icons like Esperanza Spalding and Sara Bareilles, even if they're not necessarily at the forefront of fashion."
Where do you like to shop? "My staple stores are probably Goodwill and Buffalo Exchange."

How would you describe your sense of style? "I like clothes with movement, character and history… so comfortable, vintage-y and maybe a little whimsical."
Why did you choose this particular outfit? "Well, I have a Black Keys concert tonight and lots of classes during the day, so I had to dress for all of that. Also, the weather was supposed to be crazy today; I wanted a long skirt for the cool morning, but I also needed something nice and breezy (and sleeveless) for the ninety degree temperatures this afternoon. I love the pleats in this dress, and, because I tailored the armholes a little for a better fit, it's like wearing a small victory. I've also been particularly obsessed with turquoise lately, so I added the flats for a pop of color."
What fashion advice would you give to other students looking for their style? "I know it is cliche and that everyone says this, but dress for yourself! Impress yourself and try not to worry about what other people think."

What are your favorite fashion trends right now? "I really like high-waisted denim cut offs, the bright spring colors (especially turquoise and scarlet) and florals.
Do you have any favorite fashion designers? If so, who? "No, not really. Most of my inspiration comes from street style, and I just pick and choose what interests me. I find high fashion unrealistic for real life, and it seems impersonal. I don't want any one designer to have so much sway over what I think or like."
What do you do for fun? Do you have any unique hobbies or interests? "I love knitting, photography, yoga and primitive backpacking. I'm really invested in my ancient Greek studies, and I'm an intern at the Travis County Democratic Office. I also have a nice little Sylvia Plath book collection."
If you could raid anyone's closet, who would it be and why? "I would definitely have to pick Frida Kahlo. I love her color choices, flowers and overall 'hardcoreness.'"
Elements of Augusta's Outfit
1. Prints and Pleats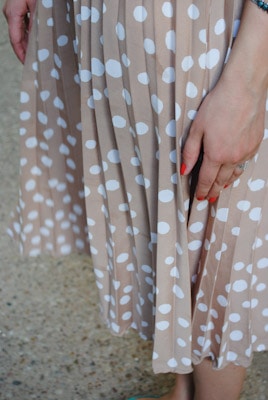 I love the asymmetrical print of Augusta's dress; the seemingly random arrangement of the polka dots adds playfulness to the sophisticated cut and color scheme. Also, the pleating adds texture and interest to an otherwise demure dress.
2. Interesting Essential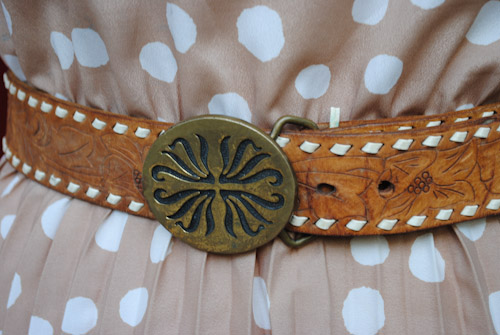 I'm a sucker for a cool belt, and this one turns an everyday accessory into an unusual added feature. The Texas toughness in the aged brass buckle reminds me of my brother's rough riding rodeos, while the sweet floral pattern reminds me of a delicious glass of sweet tea on a hot summer day. (Okay, maybe that one's a stretch, but there's something about this belt that just screams summer!) It's the perfect width to emphasize a small waist, and it has a uniqueness that separates it from just any run-of-the-mill accessory.
3. Dainty Details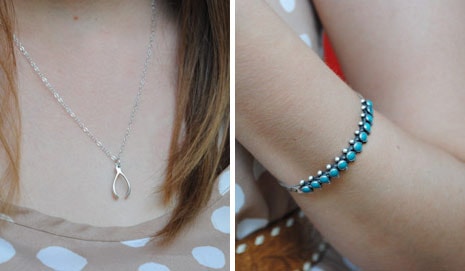 Augusta loves pieces with history, and her jewelry absolutely exemplifies this. She told me she wears the wishbone every day, and the cuff bracelet is a gift from her best friend's grandmother. The classic styles of these timeless pieces allow her to mix and match them with all sorts of outfits, keeping close to her the memories of her friends and family wherever she goes.
Share Your Thoughts!
What do you think of Augusta's style? Would you wear her polka dot dress? How do you add unique elements to your outfits? Let us know with a comment!