As I read over my French homework during class, I looked up and spotted Audrey's cute polka dot skirt and satchel bag, and knew I had to get the 411 on her awesome style. I've seen Audrey around campus and her vintage and homemade look (yes, she MADE one of these pieces) has me hooked!
Audrey 101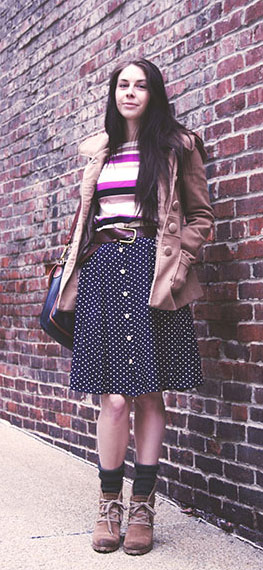 Name: Audrey
School: Point Park University
Year: Senior
Major: Dance and Communications
Hometown: Traverse City, Michigan
Let's Talk Fashion
Who or what inspires your style? "I can't help but be inspired by the weather – when the sun is out, I'll happily wear a skirt, but if it's cold, all I want is a chunky sweater – and a cup of coffee to hold in my hands. I'm also continuously inspired by the people who love me, and their love encourages me to be myself."
Where do you like to shop? "I shop at thrift stores and my Grandma and Mom's fabric piles. I love finding unique pieces of clothing that I can't wait to wear, or seeing something that I want to make. Grams always has unique fabrics that I love digging through."
How would you describe your sense of style? "Classic. And simple. I'm not trying to go broke just to look good, that's not what it's about. I'm getting sick of the way that people now are always trying to copy celebrity's style. Yes, some of them really have something going on, but you know that a lot of them have people who pick out their outfits for them, right?"
Why did you choose this particular outfit? "This skirt is one I made last summer with the help of Gram's patience and her brand-new sewing machine. It fits me to a T so it's a go-to piece. Everything else is just comfortable. I pulled these socks from my Papa's drawer because they're my favorite color and they're a good reminder of him, as weird as that might sound. And these boots – can you believe they're Uggs? I wear them everywhere, all the time. They're just so darn… well, comfortable."
What fashion advice would you give to other students looking to improve their style? "I don't like the word 'improve' because I don't believe that style is really measured – it's just you. If it doesn't feel right, then it probably isn't a good expression or representation of you."
What are your favorite trends right now? "I don't know about specific trends happening at the moment, but a trend for me right now is wearing bright colors. Clearly, that's not happening [in this outfit], but I have been trying out some things that aren't just black or navy right now and I really like it. I took a leap and bought this coat from J.Crew. It is bright green and I can't stop wearing it."
Do you have any favorite fashion designers? If so, who? "I tend to love everything that J.Crew does. I was really surprised by the Noon by Noor autumn/winter '13 show – did you see that floral suit? I might have to try something like that later this year…"
What do you do for fun – do you have any unique hobbies or interests? "Nothing particularly unique – reading, crossword puzzles and sewing are usually what I do in my free time. Well, when I have free time. I take up a lot of my sister's time by always wanting to Facetime. What can I say, I miss her and she makes me laugh. I also take advantage of my friend's Netflix account when I get the chance. I recently watched Butch Cassidy and the Sundance Kid because I thought it was about time I saw it."
If you could raid anyone's closet, who would it be and why? "My mom's, always my mom's. She's always asking me about wearing 'this with that' and I just tell her, 'Mom, wear what you want, you'll look great anyway. You always do.'"
Elements of Audrey's Outfit
1. Navy Satchel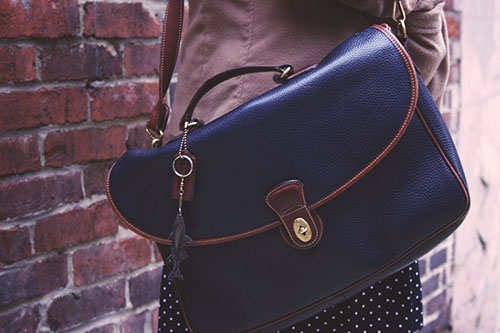 Audrey's satchel was one of my favorite pieces of her outfit. From the brown trim to the cute shark keychain attached, this bag ties her look together.
2. Bold Print-Mixing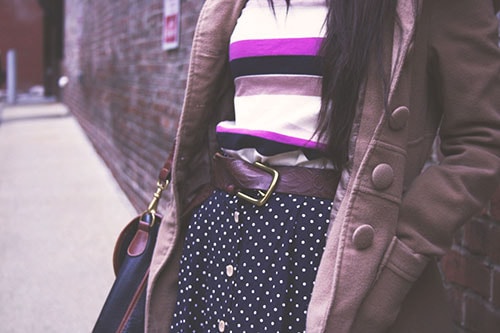 Audrey mixes a bold striped top with a navy blue, polka-dotted, D.I.Y. skirt. This combo gives a classic, vintage-inspired feel and looks amazing with her brown belt tied around her waist.
What do you think?
Are you loving Audrey's classic, yet bold print-mixing, or are you loving her blue satchel? Has Audrey inspired you to try a combo like this for school? Let us know your thoughts in a comment below!