It's the start of a new semester here at Cornell! With temperatures regularly in the 20s, many students are struggling with beating the cold while still trying to look fashionable. When I saw Athena in the dining hall on the first day of classes, it was obvious that she had figured it out. Her look was cute and casual, but still perfect for the cold weather.
Athena 101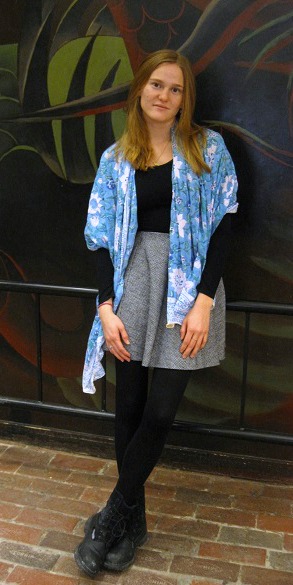 Name: Athena
College: Cornell University
Year: Freshman
Major: Electrical and Computer Engineering
Origin: China
Let's Talk Fashion
What inspired this particular outfit? "Because it's the first day of the new semester, I wanted to wear something red. I thought the stickers on the sweater were really cool. And I thought since the shirt was kind of cool, I wanted to wear something kind of cool on the bottom to match."
How would you describe your sense of style? "I don't really know. I like to try all types of styles, as long as the clothes look good and match. I basically like Korean style the best, so I dress that way a lot."
Where do you like to shop? "I like to shop online a lot. I usually buy clothes from Korean sites; I like Korean style very much. Besides that, I also like Ann Taylor."
Do you have any favorite fashion designers and if so, who? "I don't really have specific favorite designers, but I do love watching fashion shows, so I have a lot of favorite models."
Who are some of your favorite models? "I really like Cara Delevigne and Miranda Kerr. Miranda Kerr has such a beautiful smile."
What do you like to do for fun?"I like binge-watching TV shows and anime. I really like Japanese-style anime."
Elements of Athena's Outfit
1. Cool Contrasts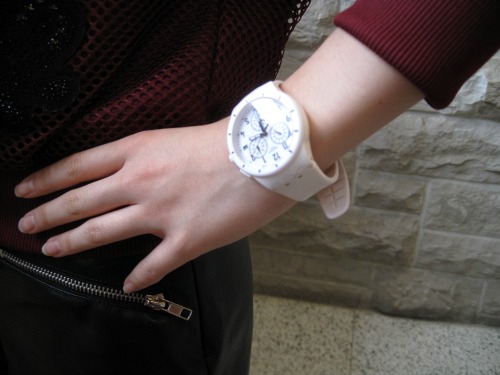 This outfit was all about contrast! This white plastic watch really popped against the darker tones of the rest of the look, while the texture of the appliqué sweater contrasted nicely with the smooth, faux leather shorts.
2. Chunky Boots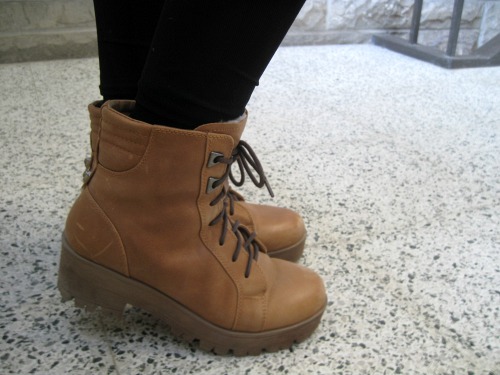 A good pair of winter boots are a must-have at Cornell right now. Athena made sure to prepare for the snowy walk to class with these cute yet practical lace-up boots.
Would you wear Athena's outfit?
Would you wear an appliqué sweater? Do you like playing with texture in your outfits? How have you been beating the cold this winter? Tell us in the comments!