Asuka, who is in my printmaking class, is from Japan. So I thought it would be interesting to get her perspective on US university fashion because she grew up in a different country. Also, because she has been studying here in New York for a while, I wanted to see if aspects of our culture affected her style as well.
Asuka 101

Name: Asuka
College: Fashion Institute of Technology
Major: Communication Design
Year: Sophomore
Let's Talk Fashion
Describe your style: "Basically I wear a different style every day, but I love rock styles influenced by Vivienne Westwood, and avant garde – which is my favorite, but I also have an Asian-influenced look, so I can utilize my long black hair. Also, in makeup I like to exaggerate my eyes."
Where do you like to shop? "I am a very heavy online shopper. I mostly shop on eBay, but if I shop in person, I like to go to Guess, Armani Exchange, H&M, etc."
What magazines do you like to read? "I sometimes read Nylon. Also Dazed, which is my favorite because I think their photography is cool, and it isn't all about clothing."
What is your favorite article of clothing? "I love long one-pieces, leather jackets, butterfly sleeve blouses, leopard print things, and leggings."
When did you start getting into fashion? "I think during high school. The first year of high school is at 15, and I'm 27 now…so 12 years ago. Usually Japanese high schools require uniforms, but my high school didn't have uniforms, so we were allowed to wear whatever we liked. So that is what triggered me to pay attention to fashion and how I did my makeup."
Does your artwork reflect your sense of style? "Recently it hasn't, but I used to play a lot with color on my face with very vivid eyeshadow colors, like purple, pink, bright green – so my paintings would be really colorful. But right now, my things have been mainly black and white."
If you could raid anyone's closet, who would it be and why? "I think I would like to go through Audrey Hepburn's or any classic movie star's because [the clothes are] so elegant and timelessly classic."
What fashion advice would you give to others looking to improve their style? "What advice? What advice? Oh my God, everybody at FIT is fashionable! Wear whatever you want, never be shy, and just be confident like an actress!"
Elements of Asuka's Outfit
1. Long Butterfly Sleeve Blouse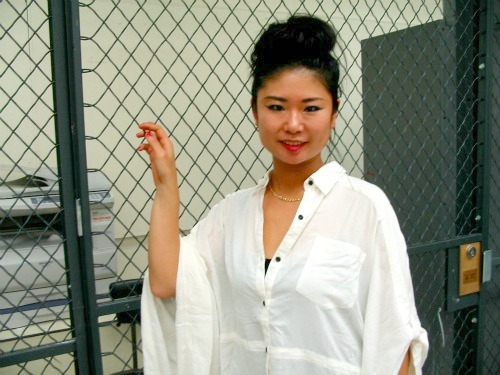 Asuka's oversized button-down shirt is so simple and its lovely draping is so chic and elegant. A blouse like this can make any outfit look put together without much effort.
2. Patterned Jeans and Statement Boots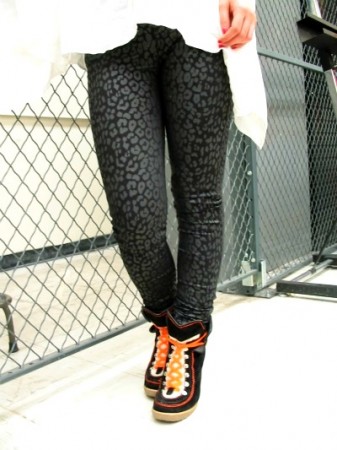 I love how Asuka paired patterned leopard print pants and structured, heavy-looking boots to help balance out her more classic top. While her flowy white button-down is girly, these tougher pieces give it just the right amount of edge.
What do you think?
Do you love Asuka's style as much as we do? How amazing are those pants?? What's your favorite style of boots? Let us know with a comment!