The weather this summer has been unpredictable here in Wisconsin. One week it is so hot that clothes seem like a burden, and the next week it's rainy and you're grabbing for your favorite sweatshirt. How is one supposed to know what to wear one day to the next? Well, Ashley seems to have figured it out, so of course I had to take a moment and chat with her about her style.
Ashley 101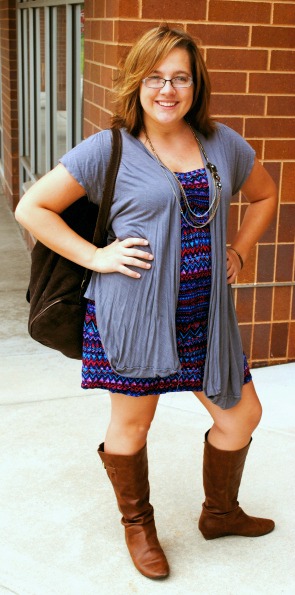 Name: Ashley
Major: Social Work
Hometown: Pewaukee, WI
School: Whitewater University
Year: Senior
Let's Talk Fashion
Who or what inspires your style? "I like to be comfortable when I go out, but being comfortable doesn't mean you have to sacrifice style. I am a very simple dresser, but I do like to add pops of color and print to an outfit. That way what I'm wearing doesn't just blend together and look boring."
Where do you like to shop? "Some of my favorite places are Target, Kohl's, and TJ Maxx. I love going to places like TJ Maxx because you can find designer pieces while being on a budget, which is perfect for college students."
How would you describe your sense of style? "I'm a mix of girly and tomboy. I don't do a lot of makeup or jewelry, but at the same time I can never resist a cute sundress."
What made you choose this outfit? "I absolutely love these boots! They are so comfortable and still stylish at the same time. So I chose everything else around the boots. This dress is also one of my favorites because it is so light and airy."
What fashion advice would you give fellow college students? "Get pieces that you like and that fit your personality. Also, my pet-peeve is when girls wear the wrong size, whether it's too big or too small. If it doesn't fit then don't wear it."
What are your favorite fashion trends right now? "I am a big fan of neon accessories right now. I think it's a great way to add a pop of color that really stands out. I also like the boho chic look because it feels effortless, which is perfect for me."
Do you have a favorite designer? If so, who? "I don't really have a favorite designer, but I do really like the LC Lauren Conrad line at Kohl's. It's subtle and simple without being boring."
What do you do for fun, do you have any hobbies? "I really like baking. I could spend all day doing it. I'm also a fan of outdoor activities like camping and playing or watching sports."
Where is your outfit from? "My dress, backpack, and boots are from Target and the necklace and sweater are from Kohl's."
If you could raid any celebrity's closest, who's would it be? "I'm really into Emma Stone lately. She has a classic style but adds modern pieces to give it something special, which I like."
Elements of Ashley's Outfit
1. Metallic Flower Necklace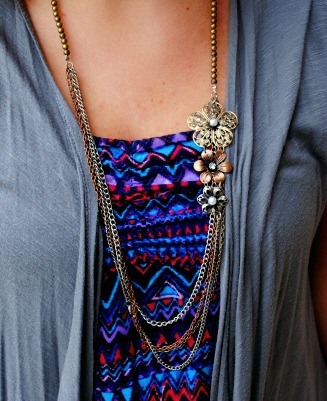 Mixing metals are a huge trend right now and this floral chain necklace is a perfect example of a way to rock the look. It's not too overwhelming, but is still powerful enough to stand out.
2. Corduroy Backpack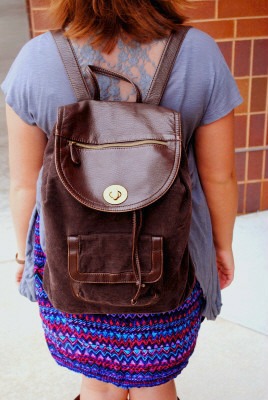 A combination of corduroy and leather is a great way to spice up an ordinary backpack. Keeping the accessories neutral really allows the print on Ashley's dress to pop.
3. Summer Boots
Ashley loves these boots and it's easy to see why. Not only are they comfortable and stylish, but these boots are also a great foundation for the entire look. Plus, if rain surprises us again, Ashley's boots will keep her dry much better than your typical summer sandal would.
What Do You Think?
What do you think about Ashley's outfit? Do you try and find a happy medium between comfort and style or do throw comfort out the window? How much comfort do you sacrifice for fashion? Let us know in the comments!