While taking a summer class at a community college in Irvine, California, I always encounter students from the neighboring university, UC Irvine. Before one of my night classes, I trekked over to UCI to scour the campus for fashionable people. Among the few students left on campus for summer sessions, Ashley instantly caught my eye with her brightly-colored summer outfit. Her up-beat and sunny personality matches perfectly with her feminine, down-to-earth style. Read on to learn more about Ashley!
Ashley 101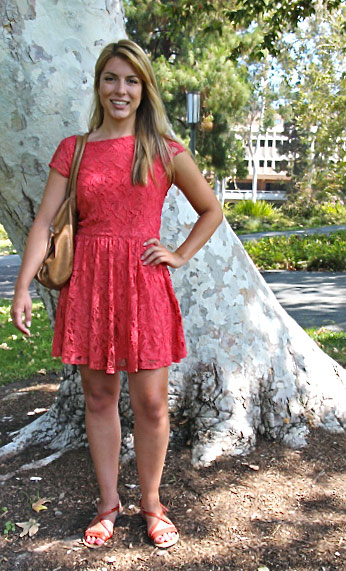 Name: Ashley
School: University of California, Irvine
Class Standing: Senior
Majors: Business Economics & International Studies
Hometown: La Habra, California
Hobbies/Interests: Surfing, horseback riding
Let's Talk Fashion
Who or what inspires your style? "I really like fashion bloggers. Recently, my cousin that I live with started making dresses and she started this dress blog where she makes a dress a day. She's pretty much been a slave to her blog, but she's actually been getting really good at it."
Where do you like to shop? "Forever 21, definitely. I really like to go to downtown LA and when I have time to go through thrift shops, but that's a whole day to dedicate."
How would you describe your sense of style? "I really like bright colors. My look today, I would say, is more feminine. I never wear black really. I usually like to color it up."
Why did you choose this particular outfit? "Well, I go to work. I pay for school myself so right now since it's summertime, I'm trying to get in as many hours in as possible. So I work in the morning and I'm just taking one class, then I go to my other job at night. I needed something that was semi-professional. I actually have a sweater/cardigan and black business heels that I'll throw on when I go to my other job."
What fashion advice would you give to other students looking to improve their style? "I can't really pick out my clothes the night before. Everyone's always saying, 'Oh, it'll save you time in the morning!' But, I like to dress how I feel. So I would suggest that to them. Sometimes I don't even match, but I find a way to make it work. There will be days where I just make that a challenge for myself!"
What are your favorite trends right now? "Since it's summer, I like a lot of the new bathing suits that are coming out that have a lot of the frills on them. And I really like how big rings are coming back. I loved to shop in Venice as a little kid and even now, with all the cool things you can find there."
What do you do for fun – do you have any unique hobbies or interests? "I like to surf. We're right here by the beach so it's super convenient. I'm also the treasurer and secretary of the UCI equestrian team. I've been riding horses practically since I could walk. When I was two years old, my grandpa and I passed a place with horses, and ever since he put me on one, I've just really loved it!"
If you could raid anyone's closet, who would it be and why? "I would probably raid the Olsen twins' closet because they have a ton of stuff!"
Elements of Ashley's Outfit
1. Flowers and Lace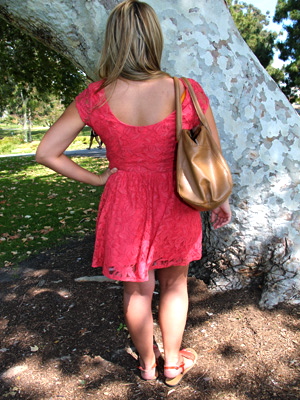 I love the simplicity and color of Ashley's dress! The modest neckline and scoop back are the perfect details for a dress worn from class to work. One great aspect of her dress is that it can be transformed to fit any situation – by adding heels and a blazer for a more professional look, or by adding casual sandals or flats for a more relaxed, day-by-the-beach setting.
2. Color Matching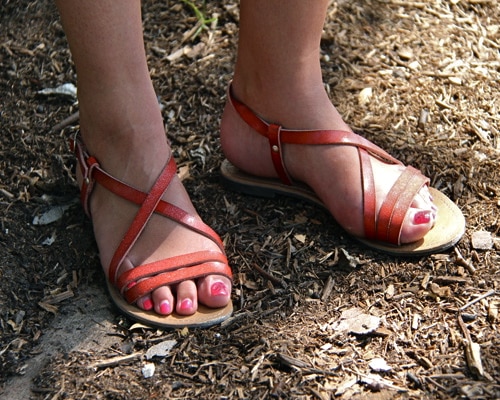 Ashley's entire outfit, including these coral sandals, was purchased at Forever 21. That means her adorable footwear is affordable and cute! Coral has been a popular color this past spring/summer and Ashley rocks this trend by adding these sandals to her vivid, monochromatic ensemble.
3. Roomy Tote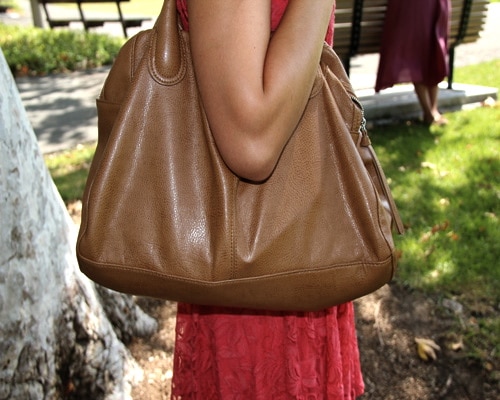 This slouchy tote bag immediately adds contrast to Ashley's coral-centric getup. Its structure maintains her classic, girly look and is definitely appropriate for her work duties after class.
Your Thoughts?
What do you think of Ashley's look? Would you wear a lace dress to school and work? How do you dress professional while keeping it summery and fresh? Let us know with a comment!