Wednesdays are my least favorite days of the week due to my unfortunate class schedule, which has me going to class until 9 in the evening. Suffering through my busy day, I hardly get a chance for a proper meal, so I desperately rely on vending machine snacks to pull me through the day. With nothing but the cheesy goodness of Cheetos on my mind, I found myself standing in line for the vending machine behind Ashley, where her eye-catching fall jacket and hunter rain boots caught my attention on a dreary rainy day.
Ashley 101
Name: Ashley
Major: Public Relations
Year: 2nd year postgraduate student
Hometown: Commerce, Michigan
Hobbies/Interests: "Writing, reading, movies and film since I'm really interested in going into film marketing."
Let's Talk Fashion
How would you describe your sense of style? "I would say a mix of girly and laid back, or a low-maintenance girly. I like feminine details like bows and headbands."
Who or what inspires your style? "I feel like my sense of style has changed since being in New York, where I did my undergrad studies. I used to be more preppy in high school – wearing polos and things like that – and I used to hate to wear dresses. I love Zooey Deschanel's style, and since college I've been going towards a more girly style."
Where do you like to shop? "Urban Outfitters… since I actually work there. I also really miss the random shops/boutiques I would find walking around in New York, Anthropologie, and Madewell."

Fashion advice for other students? "Wear clothes that fit you. From my experience working in fitting rooms at Urban Outfitters, I can say that clothes that fit you will look the best on you. Also, I think having one key piece in your outfit is a good way to bring it all together."
Favorite trends right now? "The 1940s style coming back, and oxfords. "
If you could raid anyone's closet, who would I be and why? "Zooey Deschanel's or Natalie Portman's. Zooey looks like she's from a different decade, and I love how she mixes in pieces to her look that you don't see now and gives you that vintage vibe. Natalie Portman's more modern, and just has classy, elegant taste and looks good in everything she wears."

What motivates you to dress up? "It's funny. When I came to MSU I wasn't used to everyone around me wearing sweatpants. I guess what I would wear on an everyday basis back in Manhattan is considered dressing up here. Also, working at Urban Outfitters motivates me to dress up and be creative with my outfits."
Elements of Ashley's Outfit
1. Bright Fall Jacket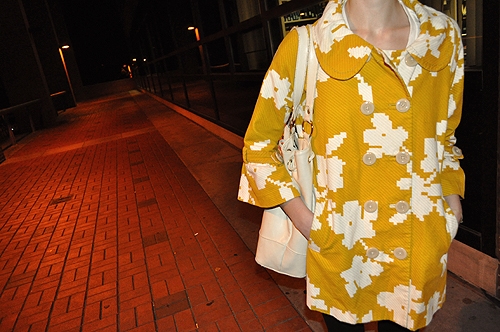 Just because spring and summer are over doesn't mean you still can't flaunt some bright colors in your wardrobe, especially in your outerwear. Stand out and go bold with striking colored fall jackets to overcome the gloomy weather.
2. Rain Boots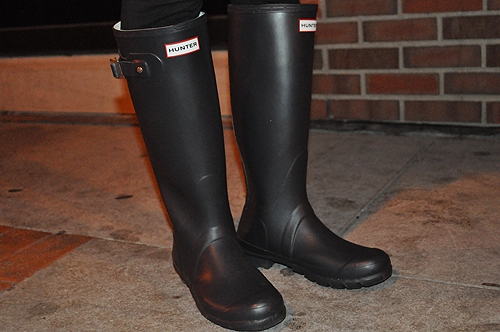 Stay dry and stylish with a pair of solid-colored rain boots, a necessity for the rainy days ahead. No longer are rain boots only for kids. The key is sticking with the basic neutral tone rain boots with minimal embellishments to complete a more grown-up, sophisticated look.
Share Your Thoughts
Do you think Ashley's outfit is ideal for rainy days? Do you agree with Ashley that having one key piece in your outfit can pull it all together? How do you feel about investing in a pair of Hunter wellingtons? Please let us know with a comment!