Here in Chicago, March unfortunately still means cold weather. But there are ways to punch up a more traditional outfit, even when you have to dress for temperatures in the mid-40s. Ashley's look shows that unique accessories can make a pulled-together outfit pop, and keep you prepared for any outdoor conditions on those unpredictable early spring days.
Ashley 101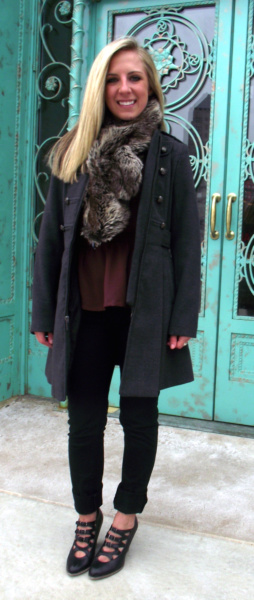 Name: Ashley Morgan
Major: Political Science and Journalism
Year: Sophomore
School: Loyola University Chicago
Hometown: Kenosha, Wisconsin
What do you do for fun? "I love visiting my friends [in their hometowns]…I think it's so interesting to see where people are from."
Let's Talk Fashion
Who or what inspires your style? "Mostly Polo Ralph Lauren and Tory Burch – although I can't necessarily afford their products all the time, their classic and clean style really drives the things that I wear day to day. I think they're both brands that are trendy and current, yet they maintain a classic look."
Where do you like to shop? "J. Crew and Banana [Republic] mostly."
How would you describe your style? "Very practical, but I'm really into finding little pieces that I absolutely love, that stand out, to add some flair to my traditional style."
Why did you choose this particular outfit? "I love black jeans because they look dressy but they're still comfortable. The trench coat is perfect for city weather if you don't know whether it's going to be windy and freezing or sunny and warm. The stole is faux fur – it's funny; I actually bought it in the 9th grade, and everyone thought it was really weird but I thought it was the greatest thing. So I'm happy it's back in style."
What fashion advice would you give to other students looking to improve their style? "Always look for things that can be worn for both day and night. [Try to] find a piece that looks professional but that you could also dress down for the weekend or add some bling and accessories to lighten it up a little bit."
What are your favorite trends right now? "High-waisted jeans with skinny belts. I also love some of the brighter, fresh colors that have been coming out for spring."
Do you have any favorite fashion designers? If so, who? "I'm obsessed with Ralph Lauren. If I could buy everything Ralph Lauren ever made, I probably would. But I don't mean basic polos – their runway stuff is really amazing."
If you could raid anyone's closet, who would it be and why? "I actually really like the way the Kardashians dress. Their style is really ridiculous and I could probably never wear what they wear but I wish I could pull off the ridiculous things that they do. I kinda like their cheetah print/sky-high Manolo Blahniks-style look."
Elements of Ashley's outfit
What drew me to Ashley's look was the way her ensemble was at once unique and tasteful. Her outfit could easily transition from work to class to out with friends – all while keeping the changing weather in mind. Ashley kept things simple, but her accessories made the outfit stand out in a sea of college students.
1. (Faux) Fur Stole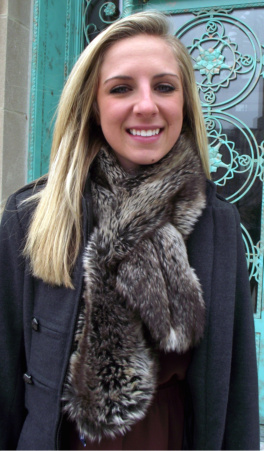 Though some would consider it a little late in the season for fur, I think that Ashley incorporates it nicely into her outfit and makes it a little more appropriate for the chilly mid-March day. Her stole also plays well with her sophisticated pea coat, adding refined detail to an otherwise-casual look. She gets points for it being faux fur as well!
2. Sophisticated Accessories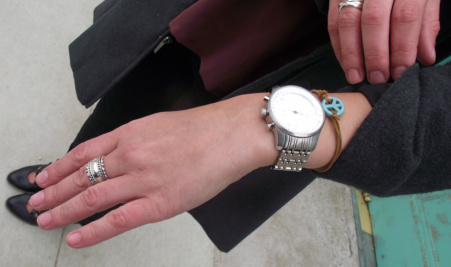 Ashley was running off to a student government meeting (she is the Communications Chair for Loyola's United Student Government Association) when we spoke, and she mentioned that she generally has a ton of things to do. Her silver accessories are a simple touch that won't get in her way as she works through her busy schedule. Plus, a watch is always a practical accessory for a girl on the go!
3. Unique, Work-Appropriate Shoes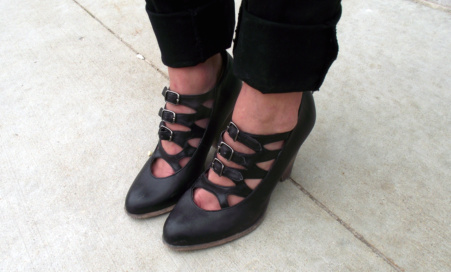 Ashley's detailed buckled shoes are my favorite piece of her outfit. They're appropriate for work, but definitely sassy enough for an evening out. Not to mention, their stacked heel makes it easy to run around from place to place.
Share Your Thoughts!
Do you love Ashley's style as much as we do? Would you wear faux fur in spring? Do you like her black jeans and trench coat combination? Aren't her buckled heels an amazing touch? Share your thoughts with a comment!