My favorite part about fashion is seeing how people's personalities are conveyed through their style. Ashley, a future world-famous doctor, always perfectly captures her easygoing and romantic vibe when she gets dressed in the morning.
Ashley's natural locks and beauty complement her stylish and comfortable outfits. She channels her idol Stevie Nicks while still staying up-to-date on the latest trends.
Ashley 101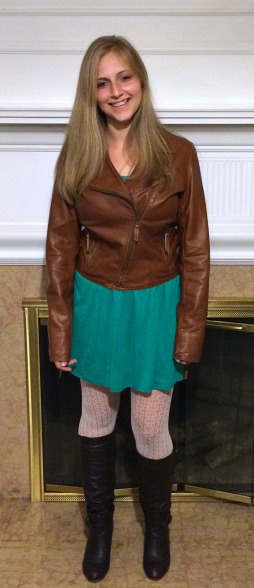 Name: Ashley
School: DePauw University
Year: Senior
Major: Biology
Let's Talk Fashion
How would you describe your style? "I'm really drawn to whimsical, mystical pieces. My style is preppy mixed with alternative, but not grunge. I'm kind of a dreamy person. I like leather and astral accents. Moon, stars, the sun, I love it! I'm basically Misty Day from American Horror Story."
What do you like about this outfit? "It's comfortable and versatile and it has a '70s Stevie Nicks vibe."
Where do you like to shop? "American Eagle, Marshalls, and T.J. Maxx. They all have good pieces you can always make work."
What tips do you have for the summer to fall transition? "Don't freak out if you feel like you only have summer clothes. A structured jacket over a summer dress is an easy way to make whatever clothes you have at school work when it starts cooling down.
It's also a great way to make outfits transition from day to night. At night, you can take off the jacket for dinner and you don't even have to get ready again!"
Do you have any shopping tips? "Everyone thinks on Black Friday you need to go for the big things, like TVs, but you can't forget what else is on sale. You got to go for the clothes, man! You can save so much money. I always hit the clothes sales."
What are your hopes and dreams? "To always be myself, never hurt anyone, and make the world a better place."
Do you have any fashion advice? "Don't limit yourselves. If you think you're not going to look good in something, but you want to wear it, just wear it! It's your body. If you're confident and happy, you'll feel good and look good and more people will want to be around you. Wear anything that makes you feel empowered. Just rock it!"
Elements of Ashley's Outfit
1. Mixed Metals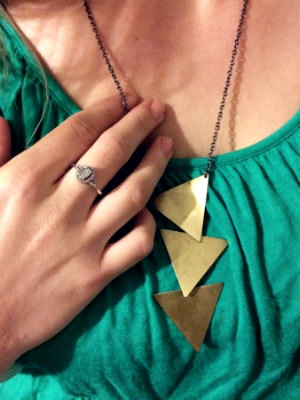 Life is short; why settle for one metal? Ashley mixes her gold Urban Outfitters necklace with a gorgeous silver and diamond ring from Jewelry TV. Is anyone else surprised you can get such a gorgeous ring from TV shopping? I guess I need to watch more TV!
2. Heeled Boots with Textured Tights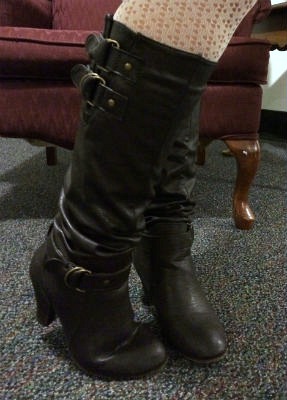 Ashley bought her favorite boots for half-off at Macy's on Black Friday. She loves their '70s rocker vibe. Here, she paired them with white textured tights from American Eagle to add more contrast to her outfit. Her boots have enough of a heel to be a "city chic" style for our rural university, but they're also perfectly functional for walking around campus.
3. Tasseled Leather Jacket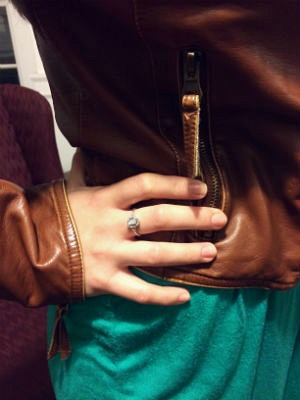 Ashley likes to carry a jacket with her for cold science classrooms and chilly fall evenings. This chocolate brown leather jacket from Alloy is not only an easy way to make an outfit work for fall, but it also adds to her rocker vibe.
What do you think of Ashley's rocking style?
Is Black Friday also your go-to shopping day for clothes? Do you mix metals with your jewelry? Do you agree that Ashley combines city chic with '70s rocker? Let us know in the comments!