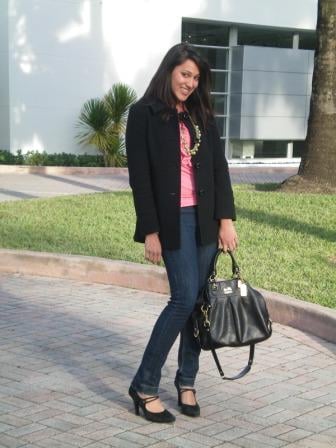 This week I ran into one of my stylish sorority sisters, Asha. She is known for her colorful and girly yet casual style and this outfit is no exception. I love how she glams up a plain coat-and-jeans combo with a bold, colorful necklace.
Asha 101
Hometown: Tampa, Florida
Major: Microbiology and Immunology
Some More Details..
Hobbies and Interests: "I love shopping, running and hanging out with my sorority sisters"
Describe your style. "My style is classic with contemporary twists. I like fun heels; I want my jewelry and heels to be statement pieces to a basic wardrobe."
Who or what inspires your style? "I don't think anybody in particular inspires my style. I buy what I like and somehow make it all work."
Where do you like to shop? "I like stores like J.Crew, Nordstrom's, and Coach…clothes that I know will last for a while even if I have to spend a little more now. I like investment pieces."
Why did you chose this particular outfit? "I picked this outfit because I'm obsessed with this necklace, so I chose pieces that didn't overpower the boldness of the necklace. The necklace is the statement."
Elements of Asha's Outfit
1. Her Coach Bag: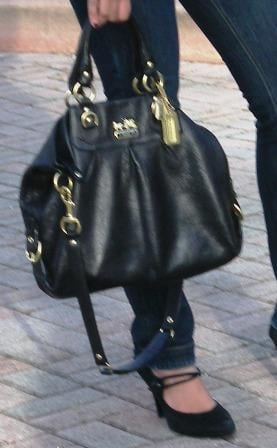 I love this bag – it's classic with a slouchy twist. The size is great for school and the gold hardware adds a luxurious touch. Asha said that this bag is one of the signature items in her closet and she uses this bag for practically everything, from a laptop case during the day to a purse when she goes out.
2. The Necklace: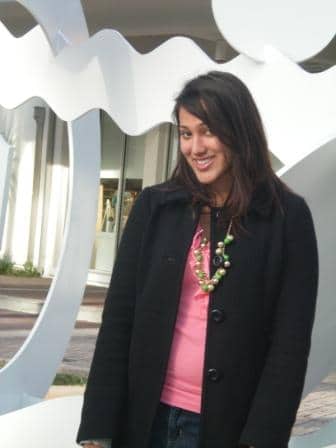 When I spoke with Asha, all she could talk about was this necklace. She is obsessed with the green color, all the balls, but most importantly the way that it can transform an outfit.
Looks Inspired by Asha
Here are some outfits that I put together to try and emulate elements of Asha's style. I hope you love them as much as I do, and can draw inspiration from them!
Outfit 1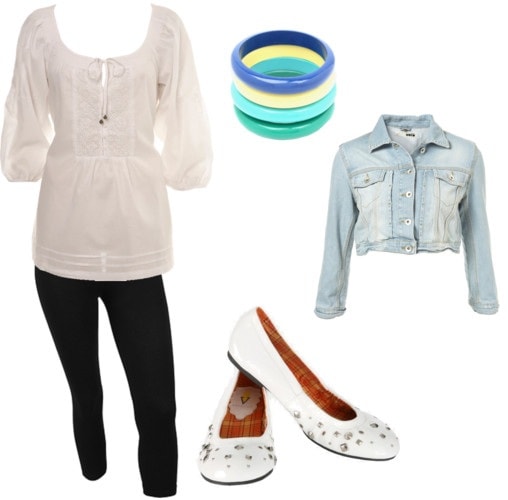 Product Information: Top and Coat– Old Navy, Jeans– American Eagle, Shoes– Aldo, Bag– French Connection and Necklace– H&M.
The first outfit is inspired by what Asha said about statement jewelry and fun heels, but with a burst of color. The multi-color beaded necklace ties all the pieces of the outfit together, especially the great lavender peep-toes.
Outfit 2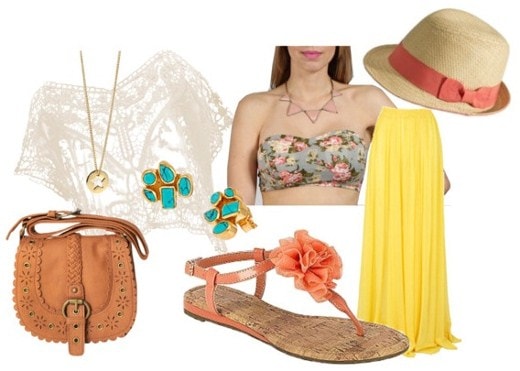 Product Information: Top, Coat, Bag, and Necklace– all Forever21, Jeans– American Eagle, and Shoes– Piperlime
The second outfit uses Asha's style as inspiration for a night out with the girls. The twist is that the whole outfit is under $200! The fun heels and bold necklace are perfect for going to a party with your friends, and the necklace doubles as a great conversation starter.
What do you think?
Now that you've seen Asha's style and my interpretation of it, what do you think? Can you incorporate bold, bright pieces into your wardrobe? What other elements of Asha's style can you adopt?