At Loyola Marymount University, orientation season has begun, unfortunately causing the sea of sweatpants to roll back onto campus. However, Asha really stood out among the crowd, and I just knew I had to speak to her about her style.
The coolest thing about Asha's outfit? Almost every piece is thrifted, gifted or shopped from her family's closet! Time to take some notes:
Asha 101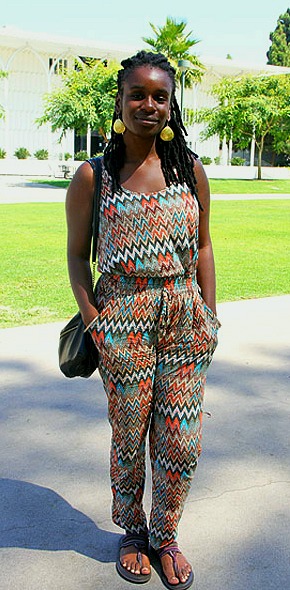 Name: Asha
Year: Senior
Major: Women's Studies
School: Loyola Marymount University
Let's Talk Fashion
Who or what inspires your style? "I really like Tracee Ellis Ross and Solange, but in terms of why I wear what I wear, I cruise a lot of Tumblr fashion websites and kind of just wear what I feel."
Where do you like to shop? "Really wherever's cheapest. I do a lot of Forever 21. In fact, I haven't really shopped in a long time. I've been going through people's closets – my mom's, my cousin's, my sister's – whatever I can get for free is best since I'm a college student."
How would you describe your sense of style? "Pretty laid back. I really like warm colors and for the most part I throw what I have together. I love going through people's closets, I especially like vintage clothes. I like to dress up. Sometimes, I'll get up in the morning and I'll feel like 'I want to look like a school girl today' or 'I want to look like I'm going to the beach today.' Every morning I wake up and I feel like I want to dress the part."
What advice would you give to other students looking to improve their style? "I would say to just try things – my mom tells me that all that time. You go in to a place, see something that you probably would never wear, try it on! Just, try new things all the time, step out of your color zone; if you usually wear warm colors, try cool colors sometimes. If you really like tight-fitting stuff, try a looser look just for a day. Switch it up sometimes."
What are your favorite trends right now? "You know, I still don't have one, but I'm looking right now at those short suit sets, so like the blazer and the matching shorts that you can wear to the office. I need to get me one of those because those are hot."
What do you do for fun? "I love the outdoors. I love going to the beach, going hiking. Right now I'm trying to find someone to go cliff jumping with me because I love the water and I love hiking why not try and find a cliff jumping spot?"
If you could raid anyone's closet who would it be and why? "I guess it would probably be Solange because I know for a fact that she has a billion amazing things in her closet and she is off the charts when it comes to prints and colors, which is my thing, you know. I love prints and colors so to just take one thing from her closet would be amazing!"
Do you have any favorite designers? "I just bought my mom this purse, the brand is called Kaem, it's a Parisian brand. I just came from Paris and I discovered this store, they have these beautiful simple leather purses and they come out with these great colors!
Elements of Asha's Outfit
1. Simple Accessories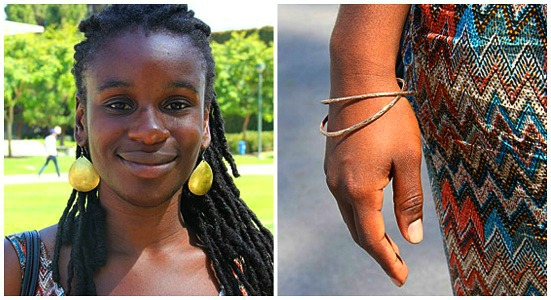 I thought it was so cool the way Asha paired a simple set of bangles and gold earrings with her bold jumpsuit. Since such a stunning, boho-inspired print usually screams to have accessories piled on it, I found it refreshing to see Asha pair hers with minimal and clutter-free accessories.
2. Black Leather Purse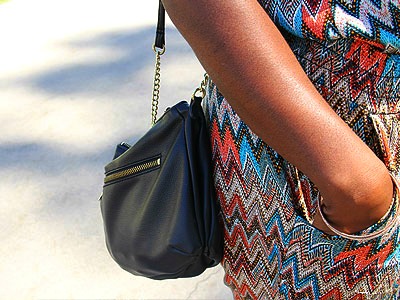 Asha's leather purse is great for just carrying the basics (like a wallet and a cell phone) around campus when you're not running from class to class. The neutral color doesn't clash with the rest of her outfit and instead helps to bring some more structure to her laid-back look.
Your Thoughts?
Are you loving Asha's look as much as we do? How do you accessorize such bold prints like Asha's? Do you like to shop in friends' and family members' closets too? Leave a comment and let us know.