It was a sunny Monday afternoon here at UC Berkeley, and a perfect day for cute dresses and sandals. Amidst the crowd of college students, Ariel's look really stood out because she was dressed for the weather, even in winter boots and a hat! I stopped her immediately to ask her to divulge some style secrets. Here is what she had to say.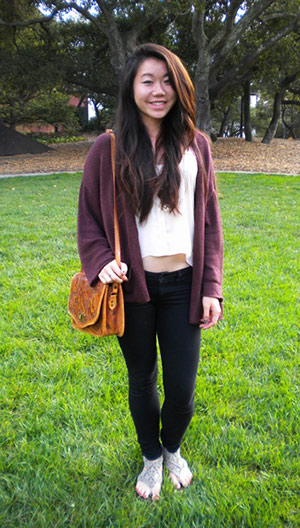 Ariel 101
Name : Ariel
Major: 1st year Masters student studying Information Science
Let's Talk Fashion
Who or what inspires your style?
"I actually really like the style of telephone operators – pretty feminine blouses and high-waisted skirts. I'm from New York – the city is like a walking fashion magazine, so I see inspiration just walking around, looking at what others are wearing in the subways."
Why did you choose this particular outfit?
"I love dresses because they're so easy to put on – you don't really have to worry about getting the proportions right in multiple pieces. It's the same with cardigans – they're easy and go with everything."
What fashion advice would you give to other students looking to improve their style?
"Definitely notice what other people are wearing, and always be observing and trying new things out to see what works for you."
What are your favorite trends right now?
"Hats! Since I'm from the northeastern part of the U.S., I don't get as much sun exposure – being in California lets me wear hats more because it's always sunny."
What do you do for fun – do you have any unique hobbies or interests?
"I enjoy making ceramic pottery – bowls, mugs, etc."
Elements of Ariel's Style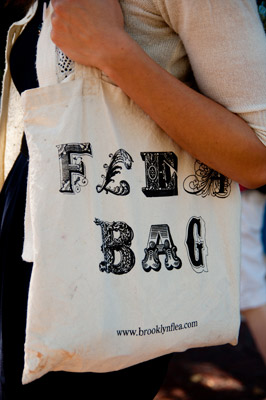 I absolutely love how all the little elements and details added up to create Ariel's fabulous ensemble. She looks put-together but effortless at the same time! Most of Ariel's amazing accessories had a vintage feel to them. Above, you can see that her bag is embellished with cool, artsy script but is also completely functional for carrying school books.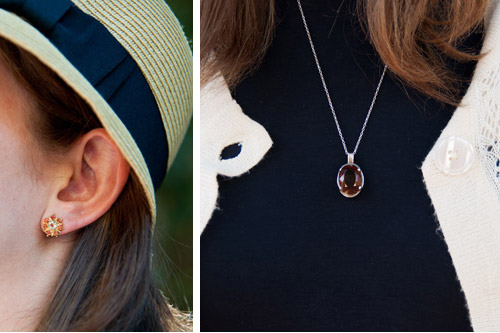 Ariel's jewelry adds pizazz to her ensemble as well. Her amber-colored earrings match her necklace and incorporate intricate detail into her look. Also, since her dress is more plain and solid-colored, the cute eyelet detail on her cardigan adds some subtle femininity.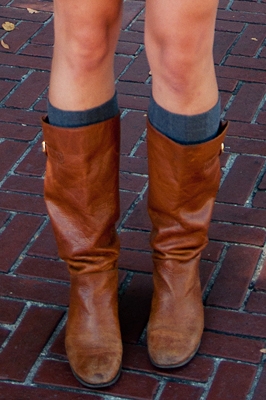 Usually, I find that wearing boots with bare legs seems like a contradiction – if it's cold enough for boots, then why are you baring your legs? But Ariel finds a happy medium with socks that peak out over her boots (a hot trend for fall) – love it!
Share Your Thoughts!
Do you love Ariel's look as much as we do? Are you feeling her knee-high socks and boots combo? Also, I find that most people are either all for hats or extremely against them. What do you think of adding a hat to your outfit? How much do you think it adds to Ariel's style? Share your thoughts below in the comments!