I was hanging out with one of my good friends at RISD when she introduced me to her roommate, Annelise. I was immediately struck by her cool style. She rocked some awesome pink hair and had a fantastic sense of style to match!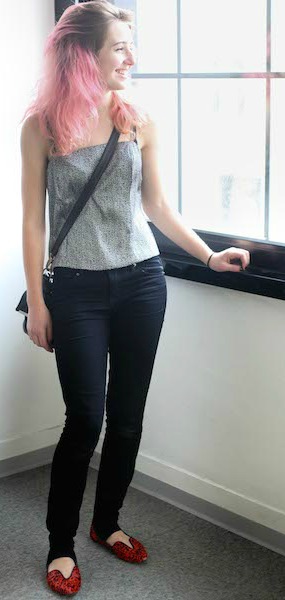 Annelise 101
Name: Annelise
Major: Painting
Year: Sophomore
Hometown: Santa Fe, NM
Let's Talk Fashion
What inspires your style? "Painting probably. Color. Composition. I look at fashion magazines occasionally. Maybe like twice a year I'll look at that stuff. I've basically just had the same wardrobe I've worn for a long time. [I] have a wardrobe that all goes together. I still like the same things."
What inspired you to wear this outfit? "I like crazy patterns. That's what I paint – patterns and jarring colors right next to each other."
What are your favorite fashion trends? "Definitely the shiny fabrics, pastels. Bright, airy, glimmering things."
How would you describe your style? "I've been told c-punk [cyber punk]. I don't think I am though. I've looked it up, and I don't think I fit that. I don't know what my style is. It's like New York and Southern California put together. Like beach and black pants. 'Urban beach?' Does that make sense?"
What are your favorite stores? "Free People and Anthropologie, but that's like way too expensive. TJ Maxx primarily. This shirt is from Savers. These pants were $10 from H&M, and these shoes were from Anthropologie, but on sale. I never shop online though. Shopping online sucks."
What advice would you give to people looking to improve their style? "Oh gosh, I don't really think about it. I guess I would think about proportions. Like, your feet can't look too big by having bright colors. Dark pants that fit you and come to your waist are a good wardrobe staple. Pick your patterns!"
Elements of Annelise's Outfit
1. Pink Hair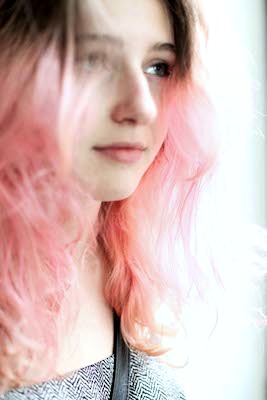 One of the first things you notice about Annelise's look are her rockstar pink locks. Dip-dyed, candy-colored hair is in this season, and it's perfect for spring. Bubblegum pink is a hue for the bold and adventurous; it's fun, flirty, and definitely an attention-grabber.
2. Loafers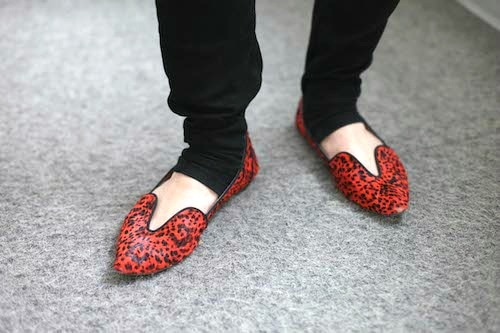 Annelise's pointy-toe loafers add an awesome pop of color, texture and print, and perfectly showcases her quirky sense of style. The bright red keeps the rest of her outfit from looking too monochromatic, plus the color contrasts nicely with her pink hair.
3. Bag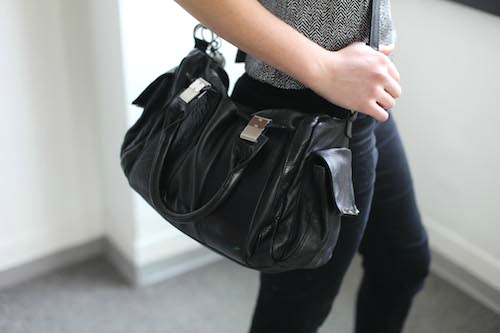 This is a really fab go-to bag. Annelise's classic black handbag is ideal for lugging around a couple of notebooks and some art supplies. The crossover strap adds comfort and keeps the look casual, and I love that she also has the option to use the shorter shoulder strap.
What do you think of Annelise's look?
Do you like her bubble gum pink locks? What do you think of her outfit and her shoes? Write us a line below to let us know what you think!