I ascribe to the philosophy that your experiences shape your sense of style. Where you've lived, where you've travelled, who you've met, and the adventures you've had can all contribute to your style and wardrobe. (And it's an excuse to buy something whenever you go to a new place.)
I spotted Anne at the beautiful campus of Rhodes College in Memphis, Tennessee. Anne's ladylike style has special travel-inspired touches: she spent the last two months in Berlin, and picked up some style tips along the way. I introduce you to the lovely Anne, world traveler, yet oh so down-to-earth and classically fashionable.
Anne 101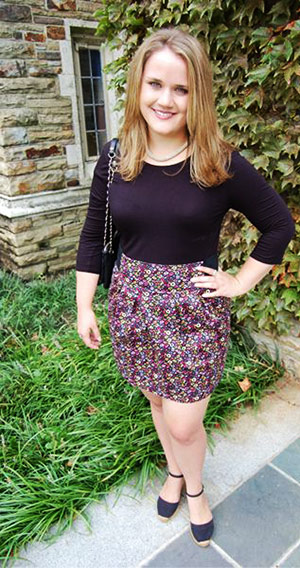 Name: Anne
College: Rhodes College
Hometown: Memphis, TN
Major: History with a German minor
Hobbies and Interests: "Travelling, music, history, reading, hanging out with friends, family, and my little sister, and photography."
Year: Class of 2013, Senior
Let's Talk Fashion
Did you pick up any fashion tips while abroad in Berlin? "I did notice while I was over there that vintage looks are in, like pieces that appear to be from the late '50s and early '60s. I've always liked that era of fashion. Also, the fake tanned look isn't quite as popular there as it is over here – I saw lots of girls rocking pale skin and red lips. I think it looks really pretty, so I've been doing a red or a pink lip stain. I think it looks nice for class or a night out. Also, I noticed that girls in Berlin are really forward in their fashion. They wear things that people here would be aghast at. I thought it was cool how confident they were in what they wore."
What process do you go through when picking out an outfit? "I'm a wake-up-and-throw-something-on kind of girl. I admire people who can put an outfit together the night before. But I've learned to put a decent outfit together really fast."
Who or what inspires your style? "I really like vintage-inspired clothes and Hollywood inspirations like Audrey Hepburn and Rita Hayworth. They always looked so beautiful and put-together without trying too hard. And I go to my mom and my sister a lot for fashion tips because they're brutally honest. Well, my sister is brutally honest, and my mom tries to break it to me gently. Moms are always right, and sisters tell you how it is. If they're not going to tell you, who will? "
How would you describe your sense of style? "Feminine and classic, but not exclusively. Sometimes my clothes have more of an edgy or bohemian twist."
If you could switch wardrobes with someone, who would it be and why? "I've always admired Emma Watson's style and not just because I'm a huge Harry Potter fan. I think she looks really cute when she's doing everyday things and at red carpet premieres."
Have you ever committed a serious fashion faux pas? "I wore capri pants with socks and Keds when I was a preteen. My mom didn't let me go too crazy. I used to want a pair of Birkenstocks to wear with my sexy capris, but my mom wouldn't let me."
Do you have any advice for students looking to cultivate a more grown-up wardrobe? "Look for sharp pieces. You can still dress girly and cute, but add more grown-up pieces — maybe some simple jewelry or a blazer, or tuck your shirt in and add a belt. Silhouette makes a big difference. Also, if you like something, wear it. Just make sure it fits. Well-fitting, modest clothes will always look age-appropriate. It's also all about how you carry yourself, too."
If you could live in another era for its fashion, which would it be? "I think I would like to live in the early '60s. I love the costumes from the show Mad Men. I like the chic dresses. They're kind of like the dresses that Jackie Kennedy would wear – quite glamorous. I couldn't pull off a three-piece suit and a hat, like in Legally Blonde when she wears that pink suit. So I think it would be nice to bring that '60s ladylike look into a modern sense."
Elements of Anne's Outfit
1. Comfy Tee and Patterned Skirt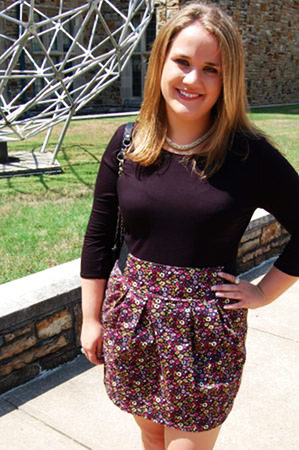 Anne picked up her printed skirt from an H&M in Berlin and expertly paired this versatile find with a form-fitting black t-shirt from Target. The shirt and skirt, when worn together, appear grown-up without being drab. The best part? The shirt and skirt could be used together or separately for all seasons: whether it's chilly, warm, or in-between, these are total wardrobe staples.
2. Simple, Girly Wedges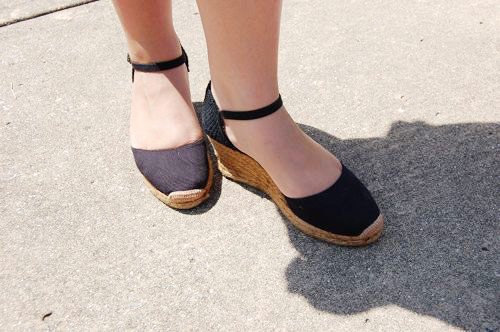 Anne got these simple espadrille wedges from T.J. Maxx. The wedges give her outfit the classy touch she wants without soaring to impractical heights. Shorter wedges are a great alternative to heels for both class and nights out – they add girly sass and elegance to everyday outfits.
3. Classic Jewelry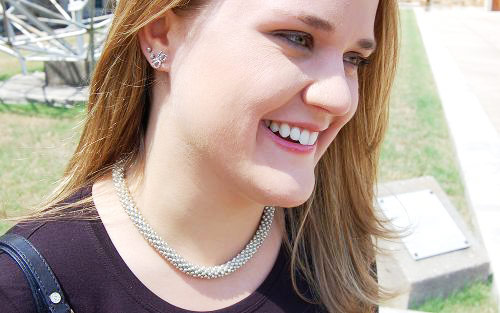 Anne's silver jewelry is the perfect accent to her girly, grown-up ensemble. Anne purchased her beaded necklace from a Turkish market in Berlin. She explained, "I always like buying things that are unique and have a meaning, things that remind me of where I've been." Her bow earrings (from Forever 21) and simple studs add a touch of shine without being too dressy.
4. Chic, Versatile Handbag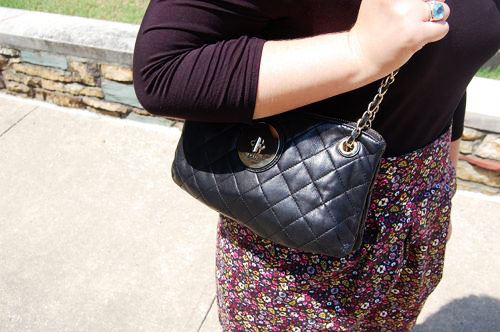 Anne's black purse is a loan from her sister's closet. It's a marked-down Donna Karan from a bargain store, but it looks more expensive than it is. The purse is both modern and stylish with subtle metallic accents, and its neutral coloring makes it a versatile accessory.
Your Thoughts?
What do you think of Anne's look? Have you added wedges to your closet yet? Do you love Anne's floral skirt as much as we do? When you travel, do you shop for pieces with meaning like Anne does? Let us know with a comment!