From the moment I met Annalia, I have been obsessed with her style, and when we became roommates at Belmont this year, I realized just how amazing she is at putting together the most adorable and affordable outfits.
I admire her because of all the versatility that she puts into her day-to-day ensembles. One day she will walk out in the girliest floral print sundress, then will change into something that's totally rocker-chic that night. Another thing I love about Annalia's style? She makes most of her own jewelry, and even sells it on Etsy.
On the day I picked to interview her, she was wearing some of her own chic Loveliaa jewelry, so I knew it would be the perfect time to chat about fashion and her look of the day. (FYI: all of the profits from her jewelry line go to fund mission trips that she loves to take through her church. Don't you just love this girl already?)
Annalia 101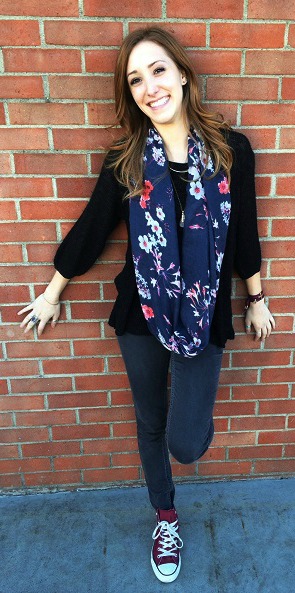 College: Belmont University
Year: Junior
Hometown: Los Angeles, California
Major: Entertainment Industry Studies with a minor in Music Business
Age: 21
Hobbies/Interests: Songwriting, playing guitar, singing, dancing, and drawing
Let's Talk Fashion
Who or what inspires your style? "My style is mostly inspired by the beachy and bohemian looks of California, but I also love a chic city 'LA look'. A friend of mine, Nikki, is an amazing fashionista and is an inspiration for my style. I also love to see the different looks on Tumblr just scrolling through my dashboard."
Where do you like to shop? "I have learned to shop very carefully lately, as I am a broke college student. Used clothing/second-hand clothing stores are a must-stop on any shopping day out with my girlfriends. Particular stores that I love are Crossroads Clothing Exchange and Buffalo Exchange when in Cali, and Plato's Closet when in Tennessee. Forever 21 is a go-to as well! When I have a little more money I love to splurge [at] the sale racks at Macy's and find some awesome Free People pieces!"
How would you describe your sense of style? "I find it difficult to describe my sense of style because I am pretty open to a variety of looks. One day I might go from wearing a flowy tank and leather sandals with a pair of high-waisted shorts to wearing fitted black skinny jeans, black heeled boots, and a fringe cover-up. Accessories are a must and I absolutely love layering bracelets, rings, and necklaces! So to put it simply, I have an extremely eclectic style."
Why did you choose this particular outfit? "This outfit is perfect for the everyday go-to kind of look everyone wants to achieve. I usually wear a pair of boots to finish off my look, but I felt like being a bit more casual and threw on my burgundy Chucks. The baggy sweater and jeggings [combo] is always comfortable in this confusing weather we have been having here in Nashville. The scarf added a feminine touch and tied in the red color of my shoes.
Accessories were just the finishing touch in my opinion. And while we are on the topic of accessories: I am wearing a few of my own jewelry pieces! Loveliaa is the name of my line of jewelry – which you can find on Etsy! – and the long necklace and silk wrap bracelet are both pieces I made."
What fashion advice would you give other college students? "My best fashion advice would be to try new and different things. Use what you have and experiment with things you may have never thought of putting together. It will make your fashion stand out and will intrigue people, which is always fun to do!"
What are your favorite trends? "Trends are something I do follow but will try and convince you that I do not follow! I love kimonos and long flowy sweaters to finish off a look. I've also been digging the rolled up, ripped jean and a simple plain tank on top with a pair of booties. It seems to always be an easy go-to look."
Who are your favorite fashion designers? "I don't know any names of fashion designers because I try my best not to pay attention to brand names. If an item catches my eye then that is all that matters to me! But [my] favorite brands are Free People, Pins and Needles [at Urban Outfitters], and Lucky Brand. I just wish I had the money to afford their fantastic looks, and that is why I always head to thrift shops. I usually can find items in there by those designers."
What do you do for fun? "I love to have movie nights with friends, go out and see live music and songwriters play in Nashville, and I love to do lettering and just chill. School and my internship keeps me busy so my 'fun' time is usually used to relax."
If you could raid anyone's closet who would it be and why? "I would definitely raid Nikki's closet, the friend I mentioned [earlier]. She's got a great sense of style and I want all her hand-me-downs."
Elements of Annalia's Look
1. Layered Jewelry, Floral Scarf, and Loose Curls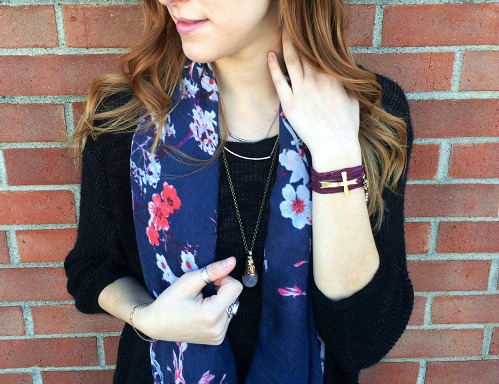 The way Annalia layered and mixed her jewelry is just incredible. She paired the two little bar necklaces with a longer, attention-grabbing third necklace. Annalia's scarf also drew me to her outfit – I loved the way its colors not only matched her adorable bracelet and burgundy Converse, but also her unique and beautiful natural hair color!
2. Charcoal Skinnies, Black Sweater, and Satchel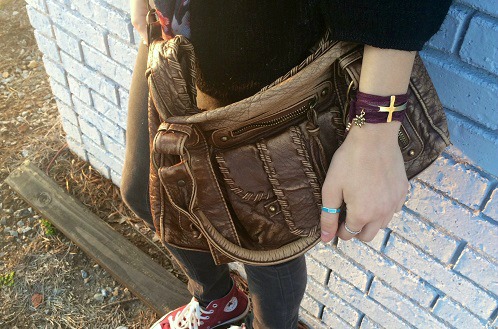 Annalia kept the main pieces of this outfit nice and simple, which left plenty of room for her fabulous accessories. As she mentioned above, she loves to re-use clothing and always gets the most out of the items she purchases.
The great thing about these three pieces is that they're closet staples that can work with many different outfits. I especially love the way her sweater is oversized and looks so effortless paired with the side satchel. I know for a fact that she can fit a book and laptop in this bag, which means it's perfect for heading to class.
3. Burgundy Chucks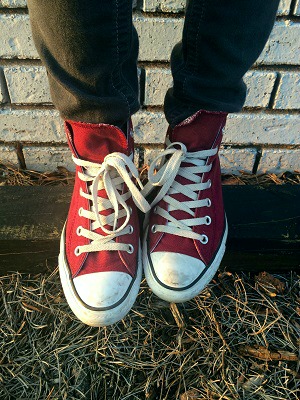 I'm not really sure how to share my obsession with Converse in only a few sentences! Suffice to say, I believe that whenever you can add them to an outfit, you probably should. The fact that Annalia's are high tops makes me swoon a little bit more. They are total classics, but the burgundy hue adds such a fun pop of color.
Chucks tie this look together perfectly, plus Annalia can rush around all day, from writer's rounds to class to her (casual dress code) internship, and still have happy feet! Absolute perfection.
Now we want to know what you think!
Do you pair your Converse with everything? Are second-hand stores also your favorite spot to scout out trendy pieces? What do you think of Annalia's layered jewelry? Let us know your thoughts by leaving a comment below!