Summer is finally setting in, which means it's time to bring out the shorts, sundresses, and open-toed shoes. Anna's floral shift dress, denim shirt, and white sandals are perfect for a low-key summer evening spent with friends and family.
Anna 101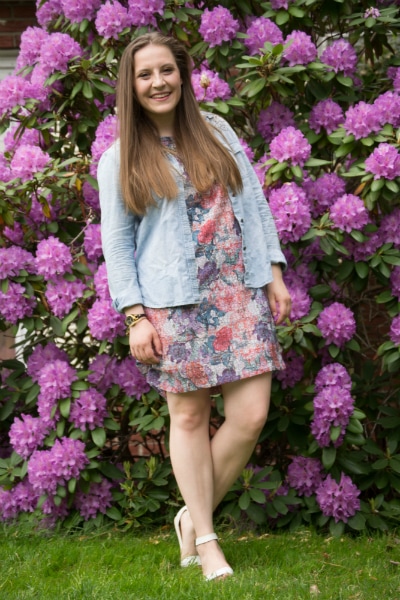 Name: Anna
School: St. Joseph's University
Year: Rising Junior
Major: Communications and Digital Media
Hometown: Vestal, NY
Let's Talk Fashion
Who or what inspires your style? "I go to school in Philadelphia, so I'm surrounded by all different people and styles from an assortment of backgrounds and places. My best friend Jo also has a great aesthetic and is where the more edgy pieces in my style come from."
Where do you like to shop? "H&M, Francesca's, and Target. I'm a big sale shopper so I rarely buy things full price."
How would you describe your sense of style? "I have a classic/preppy style but also love anything black, and then I have some random items that are a nod to the '80s."
Why did you choose this particular outfit? "I wore this to Baccalaureate Mass at school. I love how it's a shift dress but still has some structure, and I dressed it down with a denim shirt."
What fashion advice would you give to other students looking to improve their style? "Wear what you want, whenever you want to wear it. Dress for yourself, you'll be much more comfortable and confident."
What are your favorite trends right now? "I love the high-waisted flowy shorts, layering with denim shirts, sundresses, and structured shirts."
Do you have any favorite fashion designers? If so, who? "Diane Von Furstenberg created not only the wrap dress but a complete brand that is both original and identifiable. I also love how Rachel Zoe styles both celebrities and herself!"
What do you do for fun? Do you have any unique hobbies or interests? "I like to keep myself busy on campus with University Student Senate and my sorority Phi Sigma Sigma. In my spare time I like making mini films and brand videos."
If you could raid anyone's closet, who would it be and why? "Taylor Swift because she has a classic style and can always rock a red lip. I also like Mindy Kaling and YouTuber Grace Helbig's style."
Elements of Anna's Outfit
1. Sundress + Denim Shirt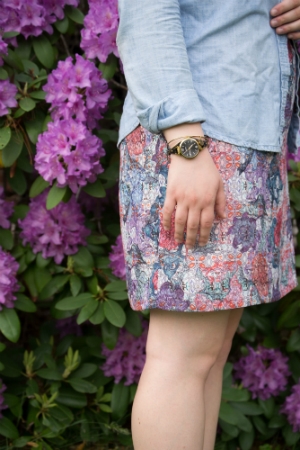 During the summer, a shift-style sundress is the best way to go. Not only will it help you look put-together, but you'll be comfortable and cool all day long. Anna styled her dress with a denim shirt, which helps keep her outfit casual and also adds a nice layer for when it gets chilly at night.
2. White Sandals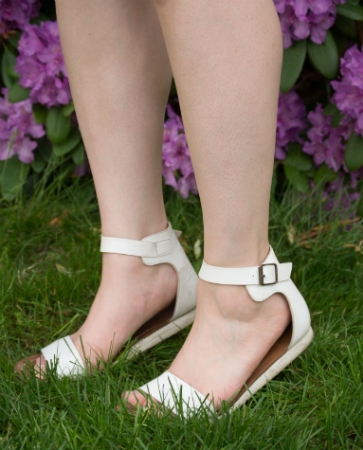 I am in love with Anna's simple yet chic white sandals. The neutral color and clean lines mean these shoes can be paired with absolutely anything she throws on this summer.
What do you think of Anna's floral frock?
Would you rock a printed dress with a denim shirt? What's your go-to summertime outfit? Share your thoughts below!