When autumn is just around the corner, we're all about wearing pieces that bridge the gap between summer and fall. Here in Pennsylvania, the weather has already started making the transition to fall, and Anna rocked a look that was ideal for a cool summer day.
Although her skater dress and denim jacket combo was so cute, her accessories are what really caught my attention. Jewelry is one of the best ways to amp up an outfit for class, and Anna did just that with her bracelets, bangles, and ring:
Anna 101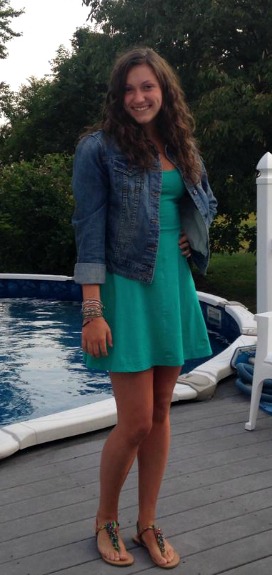 Name: Anna
College: California University of Pennsylvania
Hometown: Uniontown, PA
Major: Biology
Age: 19
Year: Sophomore
Let's Talk Fashion
Who or what inspires your style? "My friends definitely inspire my style. [Although] I would define it as athletic and simple, but also girly."
Where do you like to shop? "My favorite stores to shop at are Forever 21, PacSun, Charlotte Russe, and Wet Seal. Usually I can easily find what I'm looking for at those [stores]."
How would you describe your sense of style? "I would describe it as simple but fun."
Why did you choose this particular outfit? "Because today the weather cooled off a bit, and I like wearing simple dresses and using jewelry to dress it up."
What fashion advice would you give other college students? "I would tell them to have fun with it and wear whatever makes them feel beautiful."
What are your favorite trends right now? "I have been loving high-waisted shorts and maxi skirts and dresses lately."
What do you do for fun? "I like to play sports as a hobby, like soccer and running."
If you could raid anyone's closet who would it be and why? "I would definitely like to raid Kendall Jenner's closet."
Elements of Anna's Outfit
1. Bangles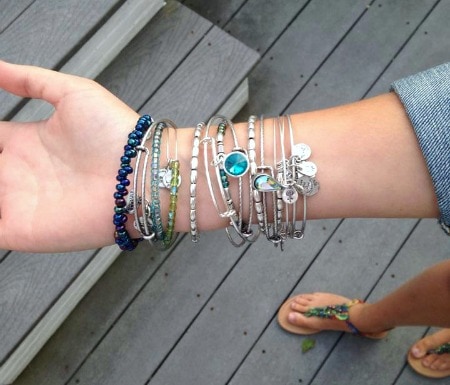 Anna's charm bangle set from Alex and Ani really caught my eye. Her entire arm party adds a casual flair to her colorful ensemble and accents the other accessories that contribute to her boho vibe.
2. Leather Bracelets + Ring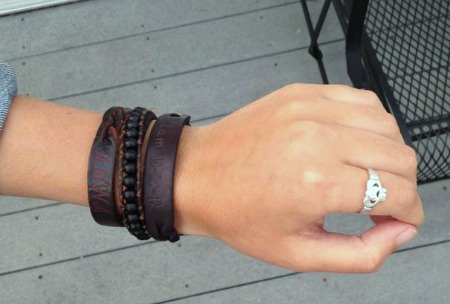 This dark brown leather bracelet balances out the more colorful elements of her look and adds an earthy, utilitarian feel. Anna's Claddagh ring adds a dose of personality, plus the silver hue ties in with those eye-catching bangles.
3. T-Strap Sandals
Sandals are an all-time summer favorite. They're cute, comfortable, and are oftentimes the accessory that completes a casual summertime getup. With Anna's outfit, it was no different. These t-strap sandals are bold, bright, and add a unique pop of color to her look.
Tell us what you think:
What are you going to wear when the temperatures begin to dip? What do you think of Anna's arm party and bold sandals? Leave a comment below!