Finals week is no fashion show. Most students strive for cram-session-friendly ensembles during the final days of the semester, but I spotted Ann Marie looking put-together and polished – a fashion diamond in the rough amidst the finals week sea of sweatpants and wrinkled t-shirts. Her layered look is not only adorable but also perfect for the fluctuating Arkansas winter weather.
Ann Marie 101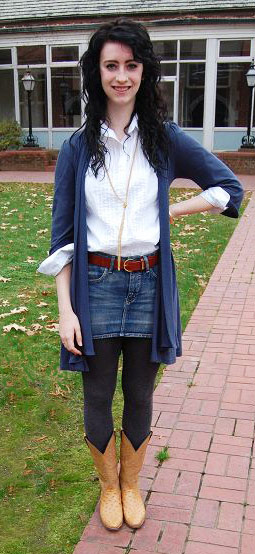 Name: Ann Marie
School: Hendrix College
Hometown: Forth Smith, AR
Major: Biochemistry
Hobbies and Interests: Playing the piano, singing, reading
Year: Freshman, Class of 2016
Let's Talk Fashion
Why did you choose this particular outfit? "I hadn't worn this shirt in a long time, so I was determined to think of a way to make it work in an outfit."
Who or what inspires your style? "My mom is my style inspiration. I've seen some pictures of her from the '70s, and I like to emulate that style and bring it into the current day, making more retro styles new. I borrow her clothes, and much of my jewelry collection is my mom's."
Do you have any celebrity style crushes? "Imogen Heap – she has a very eclectic style. She has confidence in whatever she wears, and I really admire that."
Where do you like to shop? "I used to love to shop at Heritage, which was part of Forever 21, but they closed, which was pretty disappointing. Now, I like to go to TJ Maxx and smaller boutiques for unique items. Also, I go to Western-wear stores to get my cowboy boots. When I go shopping, I like to look for bargains on trendy items, so I can save my money for investment pieces that are more timeless and that I'll be able to wear for a long time."
What process do you go through when picking out an outfit? "I usually pick out one piece and then design an outfit around that one thing."
Do you have any advice for college students looking to improve their personal styles? "I would say to use what you already have. There's no need to go out and buy a bunch of new clothes to change up your look. You'd be surprised at how the clothes that you already own can be given a new life with a little bit of time and creative thinking."
Elements of Ann Marie's Outfit
1. Layered White Button-Up and Neutral Cardigan
Ann Marie was on a mission to create an outfit around this button-up blouse, a bargain she scored at Walmart. White button-ups may sometimes seem a bit business-like and boring, but when tucked into a colorful skirt or layered under a cardigan and paired with pretty accessories, this classic piece can be a versatile addition to outfits for different seasons and occasions.
2. Classic Jewelry and Accessories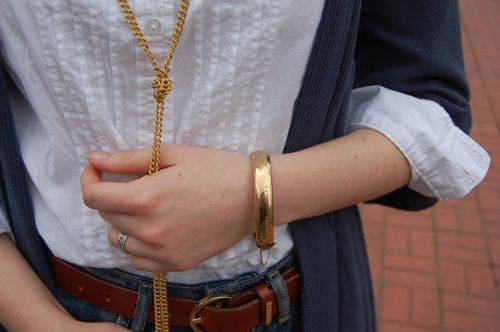 Ann Marie's knotted necklace and gold bangle are hand-me-downs from her mom. Reusing family members' jewelry can be an inexpensive and meaningful way to add class and interest to any outfit. Ann Marie's belt (by Calvin Klein) and gold accessories break up the neutral white and navy skirt, adding a touch of shine.
3. Cowboy Boots and Contrasting Tights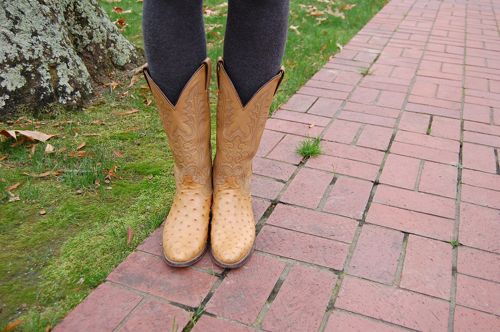 Ann Marie's cowboy boots really make her outfit pop. The contrasting grey tights and tan boots are an unexpected combination, and Ann Marie's retro jewelry, simple layers, and jean skirt bring the whole look together into an adorable outfit with unique touches.
Your Thoughts?
What do you think of Ann Marie's look? Have you added cowboy boots to your shoe collection yet? Do you emulate a family member's style? Let us know with a comment!