In a fashion world where spring means light florals, pretty frocks, and platform wedges, it is refreshing to see a student stepping outside the boundaries to play with style by her own rules.
I frequently see Ann running around our downtown campus and her edgy street style has always caught my eye. Ann's look represents a nod to the changing seasons that isn't dripping in pastels, plus she has some great shopping advice to back up her unique style.
Ann 101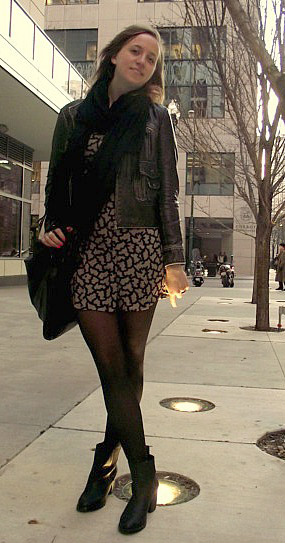 Name: Ann
Major: Journalism and Anthropology
Year: Junior
School: Loyola University Chicago
Hometown: Columbia, MO
Hobbies/Interests: "I ride my bike a lot… [I love to do] anything outside; there is just so much to do in Chicago. I also love going to thrift stores – I spend way too much time in them."

Let's Talk Fashion
Why did you wear this outfit today? "I love wearing tights with everything and its finally starting to get a little warm out so I'm trying to wear skirts and dresses as much as possible. I've actually had this dress for a month but I hadn't worn it yet, so I decided to wear it today!"
Where do you like to shop? "There are a few vintage places in Pilsen [a neighborhood in Chicago] that I go to. I'm always looking for new vintage places, too. I also shop at H&M a lot because it's cheap and has good stuff, and sometimes Urban [Outfitters]."
How would you describe your sense of style? "I think it's a little bit retro. I love '80s and '90s styles, especially. Most of all, I try to be unique."
What fashion advice would you give to other students looking to improve their style? "Don't be afraid to try new things. You can always find things within your budget if you look in the right places, like thrift stores. You can also find knock-offs of more expensive stuff so you don't always have to spend a fortune to look good."
What are your favorite trends right now? "I love tights – crazy tights are always fun! Big earrings, I love; a lot of '70s stuff is really in style right now which I like a lot. And high-waisted anything is always good."
Do you have any favorite fashion designers? If so, who? "Yes, [laughs] I don't own anything by them though. Sometimes I like Marc Jacobs. But I don't think you don't have to wear fashion designer labels to look good and dress in an interesting way."
If you could raid anyone's closet, who's would it be and why? "Probably Anna Dello Russo because she has crazy clothes, and she loves colorful things that are really unique."
Elements of Katie's Outfit
1. Mod Boots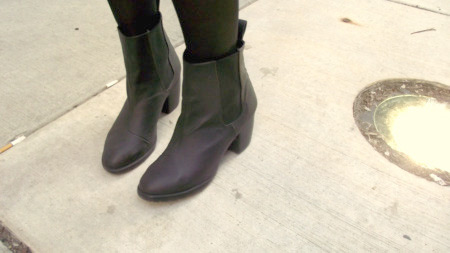 These fantastic boots are what first drew me to Ann's outfit. They're a simple spin on the bootie trend that we have seen dominating the shoe world for the last few months and can transition easily between seasons and different occasions.
2. Tough Accessories Set Against a Pretty Printed Dress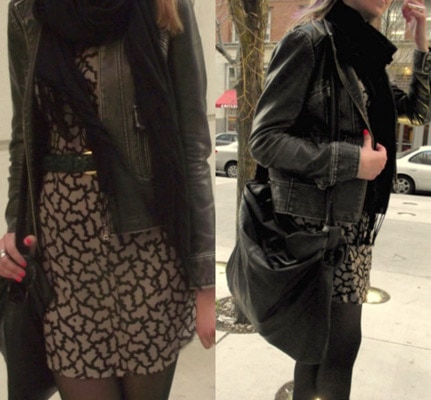 I'm always a fan of a girl who can mix edgy and girly without missing a beat. Ann combines two edgier fashion staples – a slouchy leather hobo and a tough motorcycle jacket – in a way that seems effortlessly cool. But just when you think Ann is about to hop on a Harley, you notice her flirty patterned frock underneath. The light, geometric print adds just the right amount of femininity to the outfit – and lets you know that the only bike she'll be riding away on is her trusty bicycle.
3. Contrasting Jewelry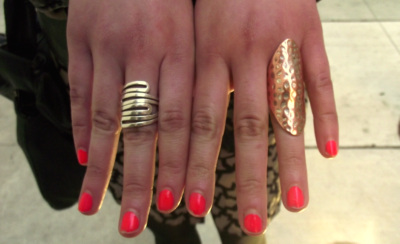 Ann's statement-making rings and flashy nail polish finish off her edgy look in a light, fun way. And her jewelry look is extra cool because she dares to mix metals, rocking a gold ring on one hand, and a bronze one on the other. As Ann demonstrates, the outdated fashion rule about not mixing metals has no place in a modern look.
Your thoughts?
What do you think of Ann's style? Do you like her mod boots? What kind of jacket are you wearing this spring? Let us know with a comment!