Andy is probably the happiest and most enthusiastic person I have ever met. His style perfectly complements his cheerful and animated personality, and he always stands out from the crowd!
On a normal day around campus, he can be spotted either in his striped overalls, chunky oversized sweater, or eye-catching socks. Andy's look is fun, unconventional, and creative. Along with his personality, he makes the days of everyone he connects with so much brighter.
Andy 101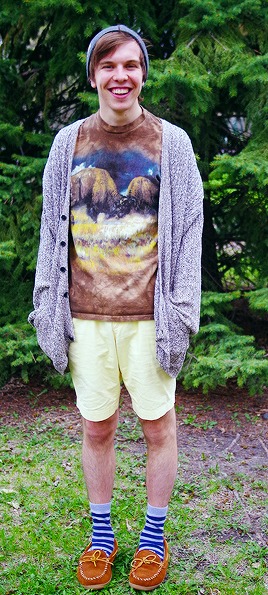 Name: Andy
Year: Sophomore
Major: Japanese
Hometown: Manitowoc, WI
School: Macalester College
Let's Talk Fashion
Who or what inspires your style? "I am very inspired by a lot of Japanese fashion trends. However, I do realize that a lot of those are way too bright and 'out there' for me, so I meld that style together with some nature-inspired textures and patterns."
Where do you like to shop? "I like going to garage sales a lot. Sometimes I think that they are even better than thrift stores, because you have the people that own that piece of clothing right there to comment on it. I really like learning about the story behind the piece of clothing that I will be wearing. Other than garage sales, I really like Kohl's; I actually think they have pretty good stuff."
How would you describe your sense of style? "Collecting my thoughts along with those of others, I think my style is 'cartoon-character-meets-underground-rocker-meets-a-child-dressing-in-his-parent's-clothing-because-everything-is-oversized.'"
Why did you choose this particular outfit? "I chose this outfit because I like pairing something like a bright pair of shorts with something unconventional. So I paired these yellow shorts with this brown-colored top that has some yellow in it, so it flows well. I always throw on this bumpy, grainy sweater because I like the texture of it and it's really comfortable. I like the way the colors in this outfit plays with each other. I tied it together with my socks because they are usually my statement pieces."
What fashion advice would you give to other students looking to improve their style? "It might be a little generic, but find what you are drawn to visually. Sometimes I think a lot of people try to wear things that are following the trends, which is completely fine, but I think a lot of times what worked for me was that I started wearing things that made me happy. I think if people did that it will really gel together with their personality and it would show."
What are your favorite trends right now? "I love that overalls are coming back! I'm really digging that trend because I've been wearing them for a long time and it's nice to see that other people are appreciating that. Another trend I personally can't really wear is lace. I appreciate the way the ladies are representing wearing lace and I think it looks really nice."
Do you have any favorite fashion designers? If so, who? "My friend from home, her name is Maren, is an animation student and she does a lot of character design. The costuming and a lot of the things she does for that is just really cool. She is so creative with it, every character is thought out. And it's nice that she also reflects some of her own fabulous style onto the characters."
What do you do for fun – do you have any unique hobbies or interests? "I really enjoy painting, riding my bike, and playing tennis. Art is a big thing for me, that is what I spend a lot of my time on. During my free time I also like to listen to music."
If you could raid anyone's closet, who would it be and why? "I would raid the closets of Middle-Earth and the Tolkien universe. I don't dress quite as formally, but I really like that old world kind of fashion. If I was a girl, I would raid Rihanna's closet; I think she has the coolest clothes."
Elements of Andy's Outfit
1. Buffalo T-Shirt with a Chunky Oversized Cardigan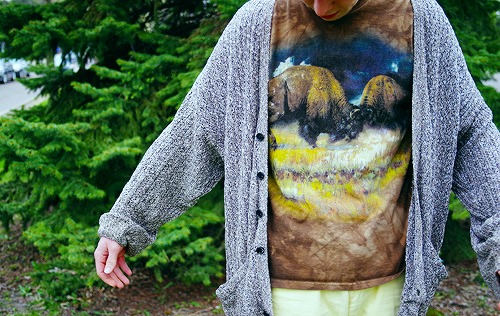 Andy purchased this nature-inspired t-shirt from a garage sale. He paired it with yellow shorts he bought at Kohl's and a hand-me-down sweater from his uncle. Even though the colors of this outfit are pretty-toned down, they work well together and make his outfit unique.
2. Statement Socks with Moccasins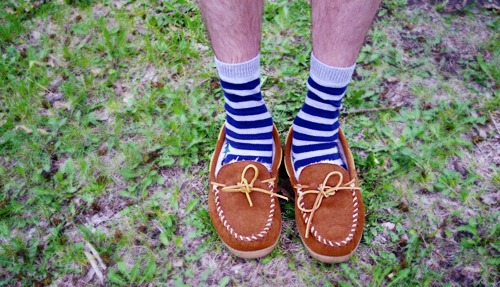 Andy likes to make a statement with his socks, and they really showcase his eclectic sense of style. He wore this striped pair with his comfy yet stylish Minnetonka Moccasins, which added an earthy touch to his look.
What do you think of Andy's eclectic and earthy outfit?
Do you ever shop at garage sales? Do you love Andy's funky socks? What do you think of mixing and matching patterns and textures like Andy did? We want to know your thoughts, so leave a comment below!