Navigating the ever-difficult task of transitional fashion is both daunting and exciting at the same time. Whether the day brings rain or shine, sleet or hail, it's people like Andy, with his wonderfully layered, fashion-forward ensembles, who inspire me to embrace the changing climate without sacrificing style. I caught up with Andy on his way to class on an especially brisk day here in Bloomington. Read on to learn more about Andy's style!
Andy 101
Name: Andy
School: Indiana University, Jacobs School of Music
Major: Piano Performance
Hometown: Shanghai, China
Hobbies/ Interests: "Watching movies, listening to music, hanging out with friends… Pretty typical stuff, to be honest!"
Let's Talk Fashion
Who or what inspires your style? "I watch fashion shows very closely and I read fashion blogs daily. My favorites are Bryanboy, Face Hunter, Fashion Foie Gras, fashionindie.com, selectism.com, HypeBeast, The Clothes Whisperer, and of course Garance Dore, Jak & Jil, and The Sartorialist."
Where do you like to shop? "I love shopping in Manhattan and Hong Kong. In Manhattan, my favorite stores are Barney's, Marc by Marc Jacobs, Burberry, Club Monaco, Uniqlo, and Zara. In Hong Kong, I love going to I.T and also A.P.C. I also love to shop at vintage stores! Though most of these shops can get pretty pricey, I'm always trying to be smart about my budget by looking for the best sales."
You live in Shanghai but go to school here in the States. How do you think the styles of these two places compare? "Chinese and American fashion are very different. Specifically, Shanghai is highly influenced by Hong Kong, whose fashion is in turn very much influenced by Japanese style. I've found that in China, every city has its own unique fashion sense. For example, though Shanghai is geographically close to Hangzhou, the Shanghainese style is much more urban and 'street.' In the US, I've found that the fashion is more colorful and easy. Michael Kors exemplifies the American fashion sense to me with the way he wears pieces with clean, simple lines. Marc by Marc Jacobs is also a quintessential American brand that I think really shows the fun side of American fashion. I love it! Personally, I've always followed Western brands and I try to be very mindful of the American fashion sense."
Fashion advice for others? "Always look clean and put-together. I think it's so important to wear fitted clothes and to know your body type. Make smart purchases by knowing how to dress for your shape and style. A good fit can do wonders!"
Whose closet would you like to raid? "Marc Jacobs'!"
Elements of Andy's Outfit
I love this outfit for its unique proportions and palette of contrasting textures. Of his overall look, Andy says: "It represents my style well because I like simple things with interesting features."
1. Overcoat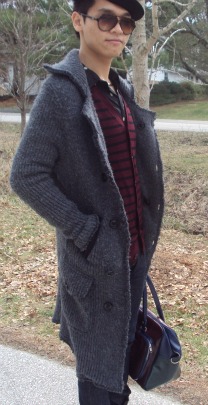 This comfy knitted overcoat brings attention and interest to Andy's look. "This long coat from Zara keeps me warm and I love that it's stylish and very unique. On the runways, outerwear is always something I watch for."
2. Hat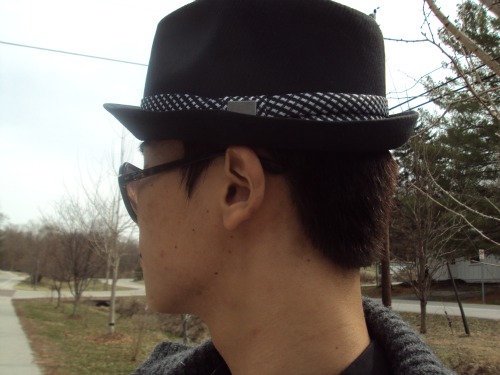 My favorite part of this outfit is this laid-back hat from Calvin Klein. Andy says of this piece: "I like this hat because it gives the outfit some personality and adds a nice detail to the overall look!"
3. Cardigan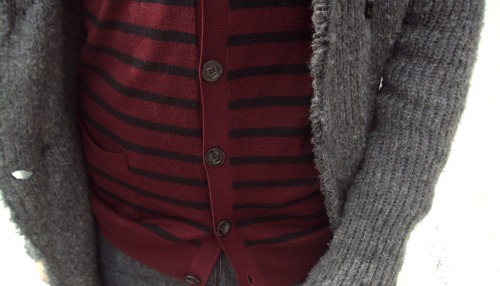 Of his striped cardigan, Andy says, "Stripes are huge this season and I love cardigans! They are my favorite piece to wear because they transition so well between seasons. This one is especially great because I think the dark red and black suits me."
4. Boots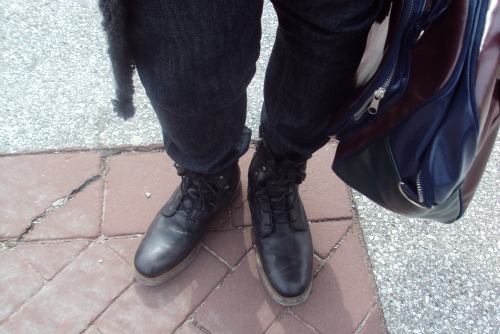 I think Andy's boots are absolutely perfect for this time of year – they're heavy enough for the rain or snow but light enough for walks on a brisk day. Andy pulls them off with ease over a pair of simple, dark-wash skinny jeans.
What do you think?
Do you like Andy's style as much as we do? Are you interested in Japanese fashion? Have you ever been to Shanghai? Let us know in the comments!