My favorite part about contributing to Looks on Campus is meeting stylish new people. I met Anastasia on a cold, rainy day, and I don't know how we haven't managed to become friends before now.
She is a cheerful and bright international student from Georgia (the country, as she's careful to point out) with big dreams and a sweet personality. I walked away from our conversation feeling inspired – both by her style and her life goals. Anastasia is, without doubt, a fashion icon on campus.
Anastasia 101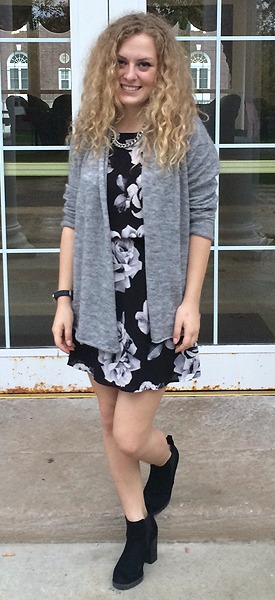 Name: Anastasia
Year: Sophomore
Major: English Literature
School: DePauw University
Let's Talk Fashion
How would you describe your style? "Classy, but I still keep it simple. I like to have one thing that stands out to accent my outfits. My friends say my style is ready for anything!"
Do you have any shopping advice? "When I shop, I find one thing that I love and I match everything else that I buy to it. I'll try to imagine what I have in my closet that would go with it. That way I wind up with a variety of things that match and an infinite amount of outfits!
You don't have to be rich to look cute. If you shop at Forever 21 and know what looks good on you, you can have tons of outfits for $100 and be set for three weeks."
Have you seen any differences between the US and Georgia in terms of style? "I feel like in the US, people don't always want to stand out. They wear their sneakers unless they're ready for a party. Georgia is like a fashion show. Everyone wants to look stylish every day, or else you're not Georgian, especially in the capital. People aren't afraid of experimenting with their style. Fashion always changes. Fashion is incredibly important because it signifies who you really are at first glance."
Do you have any style advice? "Learn your body shape and know it well, and don't be afraid to experiment with your style. My friend told me once that it's never bad to stand out."
What does your personal style mean to you? "When I get dressed in the morning I'm expressing the real Anastasia and how I really feel. Fashion is just a part of my life. My mom used to always tell me you're judged by the way you look and the first impression is what sticks. She had her own style and told me I needed to have a style that said who I really was. So I'm expressing how I really am."
Do you feel like your style is constant or does it change? "It changes depending on the weather and how I'm feeling. In the summer I wear no black, but in the winter I'll wear different shades of black and gray, and sometimes I'll switch to bright colors if the weather is dreary. I even change outfits in the day sometimes if I'm not in the same mood anymore. I wake up in the morning and I think, 'Hmm, I'm feeling brown today!' and I'll wear it. I once wore brown for months straight. I just dress how I feel!"
What are your hopes and dreams? "I don't really like to make a set plan because things change; I just set goals. I really want to go to law school. Georgia's not that developed. It's a small country with a lot of room for improvement. So I want to take back my studies and try to improve things. I don't want to stand out, I just want to quietly see the improvement and inspire others to improve things, too. I would really like to go a law/business route and open a shelter for Georgia's dogs and cats."
Elements of Anastasia's Outfit
1. Heeled Booties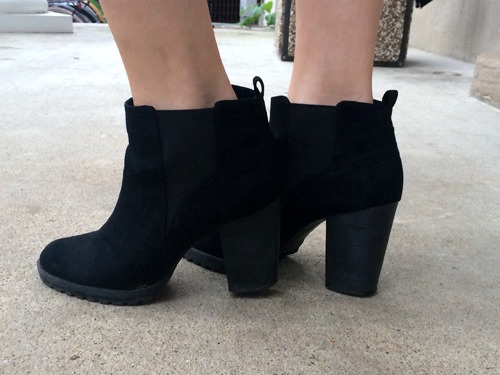 Easy but glamorous, these heeled booties add an extra bit of elegance to Anastasia's on-campus look without being uncomfortably high. They're perfect for chilly fall mornings but can also be dressed up for a fun night out.
2. Matching Accessories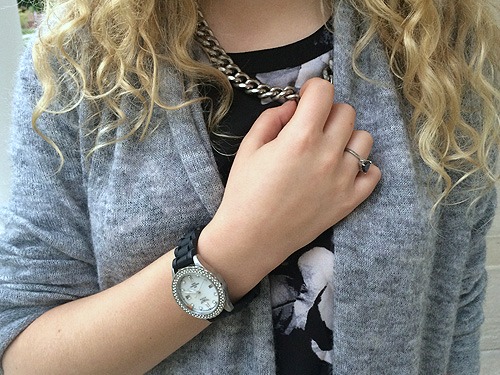 Anastasia's thoughtful accessorizing adds interest and dimension to her comfy chic outfit. The chain necklace and watch band toughen up the feminine dress, while the sparkly watch face and ring keep the contrast going.
3. Floral Print with a Toned-Down Cardigan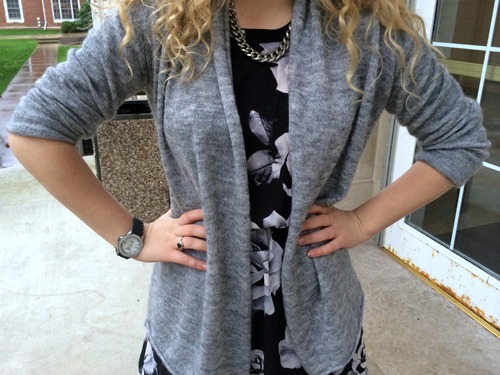 Anastasia likes to keep the focus on one part of her outfit, then add on the other pieces to make it look finished. On this rainy day, she paired a Forever 21 floral print dress with a cozy gray cardigan to create a polished, campus-appropriate ensemble.
Do you love Anastasia's classy-chic look?
Do you express the real you through your style? Are you as inspired by her life goals as I am? Does your wardrobe consist of a lot of basics you can swap in and out, or do you prefer to buy what stands out to you in the moment? Let us know by leaving a comment!