Throughout my entire freshman year I had been called crazy for carrying a purse to class instead of a tote bag or a backpack. I stumbled upon Analisa this week and was thrilled I'd found another purse-carrying student! She managed to
fit everything she needed in a turquoise handbag and didn't struggle to carry it around.
We sat down near one of the many "fake windows" at NYFA and bonded over our love
for handbags and dance videos on YouTube.
Analisa 101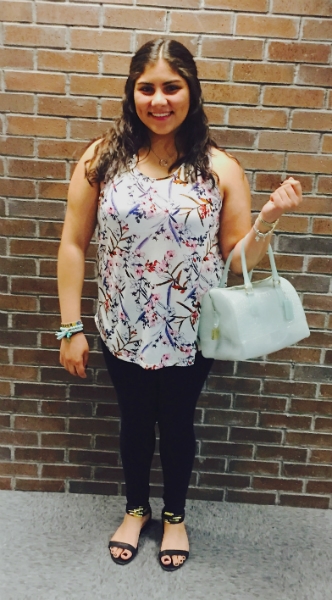 Name: Analisa
Year: Freshman
Major: Acting for Film
School: New York Film Academy, Los Angeles
Home Country: Panama
Let's Talk Fashion

How would you describe your style?
"My style depends mostly on the day. I would describe it as somewhere between comfy
and chic, because some days I'll dress super comfy and others super classic and girly."
Who or what inspires your style?
"Mostly Tumblr, but I also like to search Instagram."
Where do you like to shop?
"I like places like H&M, Urban Outfitters, and anywhere that I can find cute clothes."
What do you like to do for fun? Do you have any unique hobbies or interests? "I like reading, watching movies, and I've lately gotten into cooking. I think I might even
start a blog soon! Oh, I also love learning choreographies from those dance videos on YouTube."
What are your favorite dance styles?
"I really like hip-hop. But I see dance as something fun; I don't take it too seriously."
What fashion advice would you give students trying to improve style?
"I would say you need to discover what you like, what you consider cute, and just be yourself! But don't be afraid to try new things."
Elements of Analisa's Outfit
1. Turquoise Handbag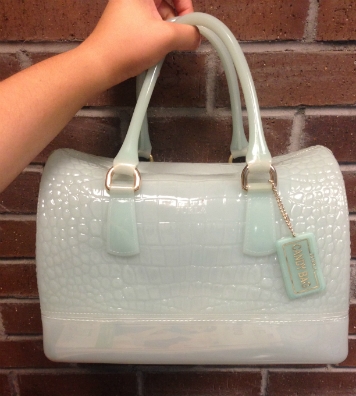 This plastic handbag is what initially caught my eye. It is super-stylish and brings together the colors in Analisa's outfit. The unique plastic material and crocodile skin texture also adds plenty of edge to her look.
2. Black Sandals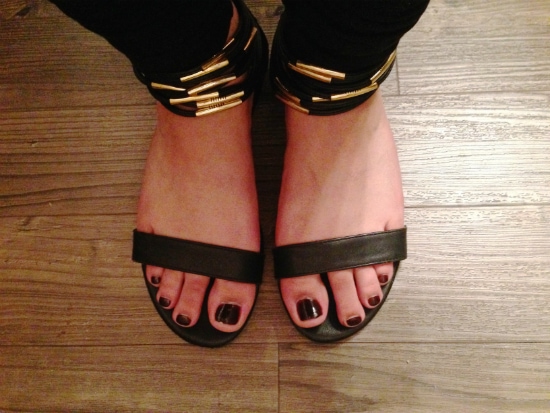 These strappy black sandals have gold detailing around the ankles, and are the perfect
complement to Analisa's black pedicure. They are almost an extension of her black pants and she rocks them with swagger.
What do you think of Analisa's unique purse?
Do you dig her style? Would you wear this outfit? Comment below and let us know what you think!