Amy is one of the most chill, down-to-earth, and sweet girls I have met at UGA. We first got to know each other at RA training over the summer and every time I've run into her since, I can't get enough of her simple yet put-together style.
Amy 101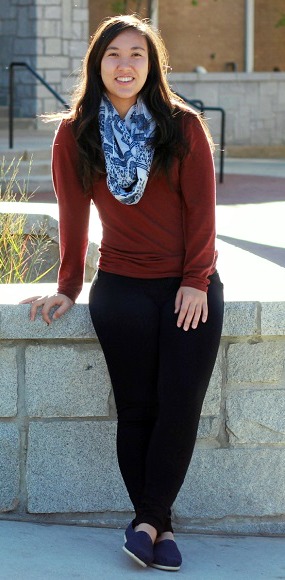 Name: Amy
School: University of Georgia
Class Standing: Junior, Class of 2016
Major: Exercise and Sport Science
Hometown: Lilburn, GA
Let's Talk Fashion
Where do you get your style inspiration? "Mostly from Pinterest, but I try to style my outfits based on what I see and what I already have. I contrast patterns against solid colors and tie in different major colors. Like, my shoes are navy and there's navy in my scarf, too. Also, depending on the season, I wear [certain] colors. Like this shirt, which is perfect for fall."
When did you first start getting interested in fashion? "Freshman year. My roommate always looked put-together and fashionable. So I learned a lot from her, like how to mix and match pieces, put together an outfit, put on makeup, and a lot of other super useful stuff."
Where are your favorite places to shop? "Mostly just TJ Maxx and Marshall's because they have pretty cute stuff for low prices."
What's your favorite piece that you're wearing? "My turtle earrings. One of my friends was selling them on a super-cute online boutique called Chloe + Isabel and I wanted to support her. Also, I love the intense green color and turtles are one of my favorite animals!"
What do you like to do in your free time? "Paint, work out, watch movies; my favorites are Pride and Prejudice and Crazy, Stupid, Love. I love traveling and taking photos and even studied abroad in Italy this summer!"
Elements of Amy's Outfit
1. Turtle Earrings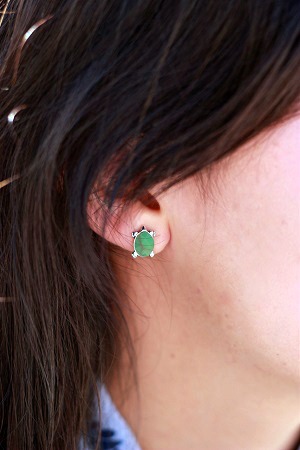 Amy's unique turtle earrings from Chloe + Isabel add a subtle pop of color to her outfit. These vibrant green earrings mix well with her autumnal long-sleeved shirt, which was a total steal at a thrift store.
2. Patterned Scarf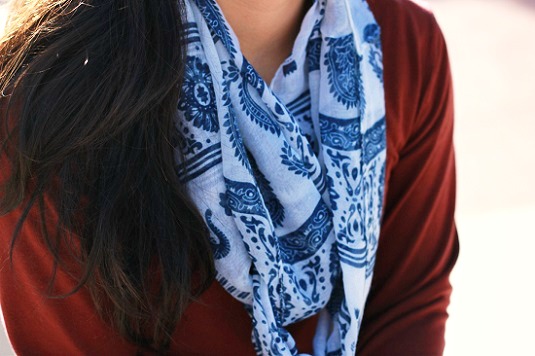 Amy's fun patterned scarf from Walmart ties into the navy blue hue of her shoes. While the pattern is bold, it's not too overwhelming and pairs wonderfully with the rest of her polished yet laid-back look.
Do you like Amy's casual autumn style?
Would you wear a similar look? What do you think of her print scarf and turtle earrings? Let us know what you think in the comments below.