Amy is a good friend of mine who has always shared my love of fashion. Although she's originally from California, after spending a year at Butler University in Indiana, she's learned to add some California flare to her newfound Midwestern style. When I saw her rocking this great asymmetrical-hem maxi dress with bold accessories, I knew she would be the perfect candidate for Looks on Campus.
Amy 101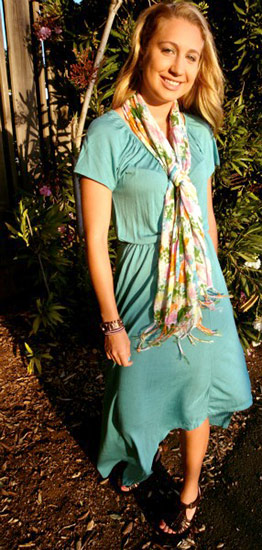 Name: Amy
Age: 18
College: Butler University
Year: Freshman
Major: Business
Hometown: Los Altos, CA
Let's Talk Fashion
Where do you like to shop? "I've always been a huge fan of Nordstrom since my mom used to take me there as a baby in a stroller. But I really will shop anywhere and I am always on the hunt for a good steal! You never know where you'll fine something really cool. Sometimes the best pieces are from the most random places."
Why did you choose this particular outfit? "I am a huge fan of wedges as they are comfortable and easy to walk in, but still add some pop. Also, I have been trying to find a flattering maxi dress for the past two summers – I recently found this one and I am obsessed. I love the asymmetrical hem and the great color –- not to mention, it is so comfy!"
What fashion advice would you give to other students looking to improve their style? "I would have to say that comfort is key. If you aren't comfortable and don't feel good in what you're wearing, then don't wear it. You always look your best when you feel your best!"
What do you do for fun – do you have any unique hobbies or interests? "I love to be active and am on the track team at Butler University. I am obsessed with running!"
Who or what do you take fashion advice from? "I recently have become a huge Pinterest user and I find a lot of inspiration there. I also love looking at what people around me are wearing and finding inspiration from them."
Elements of Amy's Outfit
1. Floral Scarf and Layered Bracelets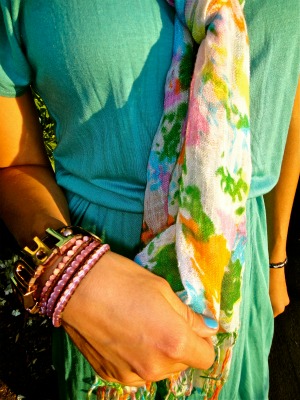 I simply love Amy's bright scarf! It was the first thing that caught my attention, as the colorful floral print adds a great pop of color to her look. A scarf like Amy's is the perfect way to bring new life to any dress this summer.
I also love Amy's coordinating layered bracelets – not only do they help add some more color to her outfit, but they also keep her right on trend.
2. Printed Headband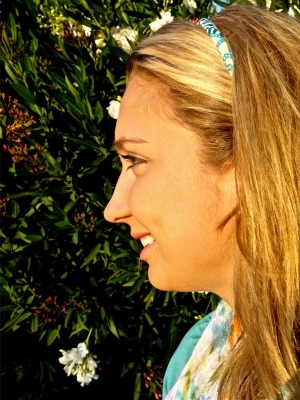 I haven't seen anyone rock a headband – especially such a bold one – in a little while, and I thought the way Amy styled hers was so refreshing. By mixing prints using the smaller elements of her outfit, such as her scarf and headband, Amy displayed a really cool and subtle way to own the print-mixing trend without overwhelming the rest of her outfit.
3. Summer Wedges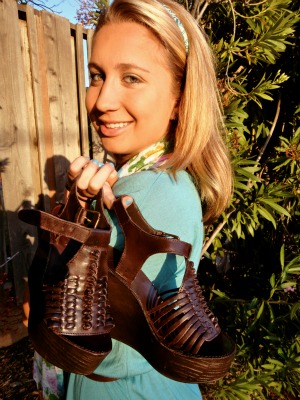 Amy's summer wedges are the perfect shoe choice for her outfit. The dark color is so unique, yet still extremely versatile. The wedges look great with the summer dress and would be a great choice for early fall, too!
Share Your Thoughts!
What do you think of Amy's outfit? Have you found the perfect maxi dress yet? When was the last time you rocked a headband? Is Pinterest inspiring your style lately? Let us know with a comment!