When I saw Amanda scouring the the local thrift store, I knew I had to talk to her. After I complimented her on her gorgeous purple dress, we moved on to talk about her quirky, unique style that is continuously fueled by her love of art and design.
Amanda 101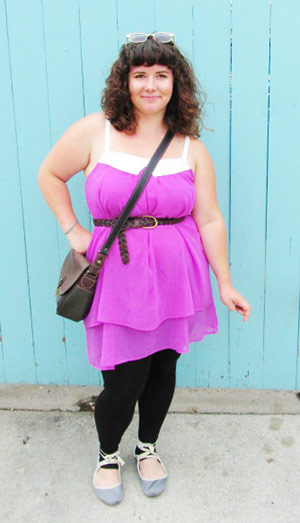 Name: Amanda
School: Savannah College of Art and Design
Year: Junior
Major: Interior Design
Let's Talk Fashion
Who or what inspires your style? "I'm inspired by the color wheel and by classic pieces of art like Van Gogh's "Starry Night." All those artists knew what they were doing; I like looking at how they put colors together, and interpreting that in my own way."
Where do you like to shop? "H&M, thrift stores, Target."
How would you describe your sense of style? "Eclectic, because I wear everything! And bright."
Why did you choose this particular outfit? "I wanted to be comfortable, and I don't have to work hard to wear this dress. It's very comfortable and cute! It flows and reminds me of dancing, so I wore ballet-inspired shoes with it."
What fashion advice would you give to other students looking to improve their style? "Figure out what you enjoy and what inspires you and relate that to yourself. Don't try to copy someone else, but redo what you like in your own way."
What are your favorite trends right now? "I really enjoy peplums! I love that those are coming back. I think they're super flattering. I also really love prints."
What do you do for fun – do you have any unique hobbies or interests? "I like making jewelry out of scraps of old jewelry and incorporating shells into my pieces I like interior design, and looking for inspiration on Pinterest. I read a lot and am mildly obsessed with True Blood."
If you could raid anyone's closet, whose would it be and why? "Zooey Deschanel, because she's so adorable and is always put together. I admire that because I'm always over-accessorizing! Also, David Bowie's closet would be interesting."
Elements of Amanda's Outfit
1. Ballet-Inspired Shoes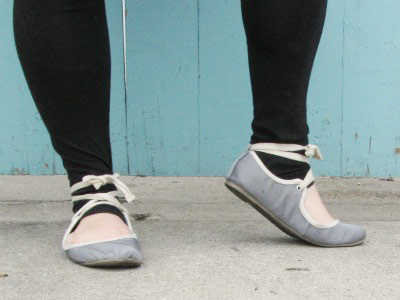 Not only are these ballet slippers completely unique, but they look insanely comfortable, too. I loved how Amanda tied the laces around her leggings to really draw attention to them.
2. Quirky Sunglasses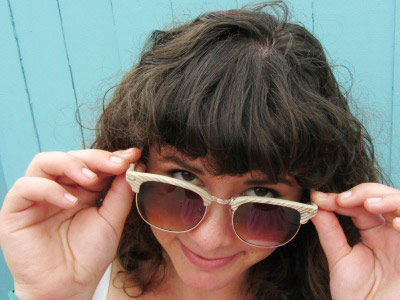 Sunglasses are a summer staple. The combination of wire and patterned plastic on the frames makes for an interesting, retro-inspired pair of glasses.
3. Bright Dress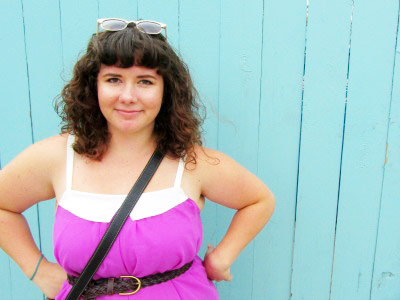 With a dress this bold and bright, Amanda's love of color is immediately apparent. The bright chiffon looks fantastic against the crisp white of the collar, and is perfectly balanced by Amanda's vintage woven leather belt.
Your Thoughts?
What do you think of Amanda's look? Aren't Amanda's ballet-inspired shoes creative? What kind of sunglasses are you sporting this summer? How do you incorporate brights into your wardrobe this season? Let us know with a comment!