As a TA for a Photo 1 class at RISD, I come across a lot of fashionable students. Amanda is a senior taking the winter session class, and I always appreciate her ability to tastefully mix and match monochromatic pieces.
On this particular winter day, I noticed people had resorted to wearing ski jackets and parkas, so I felt quite lucky to find someone who managed to simultaneously stay well-dressed and warm on campus.
Amanda 101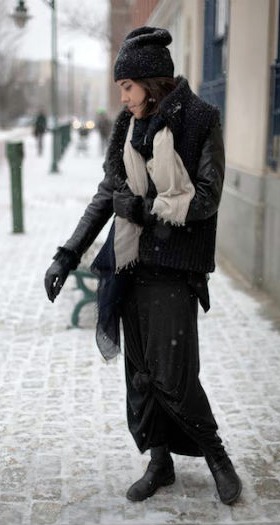 School: Rhode Island School of Design
Year: Senior
Major: Interior Architecture
Hometown: Berkeley, California
Let's Talk Fashion
How would you describe your style? "I've been described, actually last week, [as] "ranchero-chic." I thought it was kind of funny and actually spot-on. Still, I didn't take it too seriously."
What do you find yourself wearing a lot? "I've be known to rock a bolo tie or really wide-brimmed hats, like fedoras. I actually really want a buckaroo hat next. I want something more ornamented, especially since I tend to wear a lot of silver jewelry. I tend to wear a lot of black, too, because I really love the layering of texture."
What do you like about wearing all black? "I like wearing all black because I tend to wear the same pieces, but mix up the actual outfit. I love mixing with texture, like I said before."
What inspired you to wear your outfit today? "It was frigid outside. I've been really into my flat-brimmed hat, but since it's been too windy [to wear it], I've had to adjust what I normally wear. For example, I normally only just wear my leather jacket, but lately I've really liked wearing it with my double-sided vest. I've been into layering a lot recently, especially since it took me nearly five years to learn how to dress properly for Providence weather since I'm from California."
How have the differences in aesthetics and climate between the East Coast and West Coast affected your wardrobe? "It's affected me a lot actually. I would go back home and people would notice a difference and say, 'Oh you're so not West Coast anymore.' People dress really comfortably in Berkeley. It's a more relaxed environment over there. You would never see someone walking down the street in heels or wearing all black because it would be considered weird. I've definitely acquired a darker palette living on the East Coast."
Where are your favorite places to shop? "I'm a thrifty, thrifty person. I don't think you should pay very much for your clothes and if you do, you should buy the right thing and use it always. The one thing that I would spend money on are shoes."
What inspires your fashion? "I think experiences in my life have given me my fashion sense. My black palette comes from the architecture world. I've found that black is a popular color to wear in my field, and I guess I was influenced by my own major."
What Amanda is Wearing:
Tank: H&M, Skirt: Target, Shoes: Thrifted, Pleather Jacket: H&M's Girl with a Dragon Tattoo collection, Cashmere Sweater: Nordstrom, Faux Fur: Tezenis, Scarf: Thrifted, Gloves: LOLA Boutique
Elements of Amanda's Outfit
1. Layers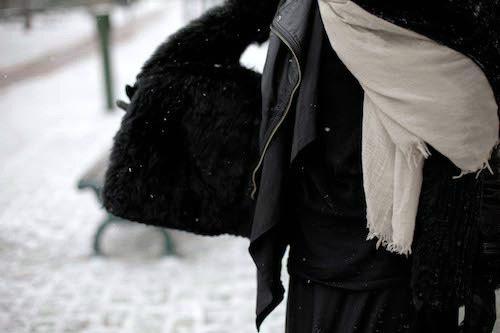 Amanda uses layers to combat the cold weather. She spices things up in this ensemble by wearing leggings, a skirt, a tank top, and a cashmere sweater, then bundling up with a pleather jacket and reversible vest. Here, she successfully mixes various textures and fabrics, utilizing a monochrome color scheme to keep the look chic and cohesive.
2. Scarf & Gloves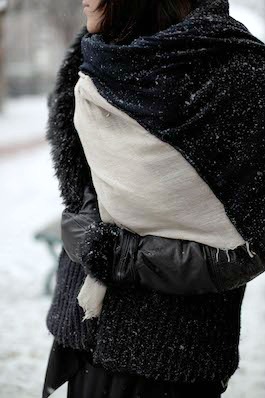 Amanda's scarf, from a local thrift store called Second Time Around, offers relief from the otherwise all-black look, while her gloves lend a sleek touch to the look. These accessories not only complement her look nicely, but are also practical picks for the frigid weather.
3. Skirt & Shoes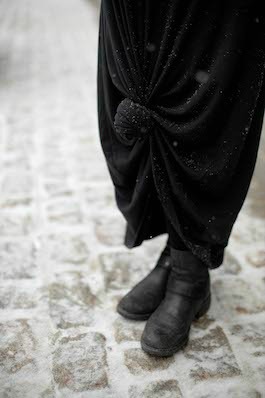 Amanda once again blends style and practicality by tying up her long, draped skirt. It adds some quirk to her outfit and also prevents the skirt from getting drenched from the snow and sleet. As far as footwear goes, these on-trend ankle booties are a great go-to shoe because of their neutral hue and durable leather exterior.
4. Jackets & Vest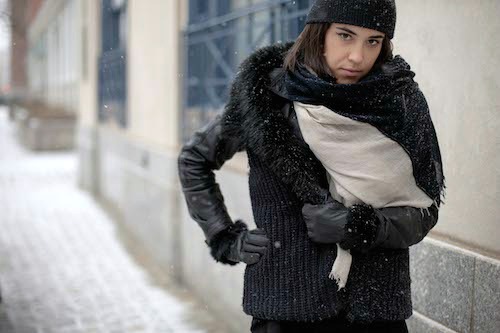 If you're not a fan of wearing real leather and fur, pleather and faux fur are great animal-friendly alternatives. Amanda's pleather H&M jacket pairs nicely with her reversible vest. Reversible clothing can be very hit-or-miss, but Amanda's thrifted vest is a stylish and functional option. Not only is it super cute, but it also looks incredibly warm!
Are you in love with Amanda's cold-weather friendly look?
Do you layer monochromatically? What pieces do you reach to in order to stay warm in the snowy weather? Do you have an East Coast or West Coast sense of style? Let us know by leaving your comments below!