If you've even been remotely aware of the upcoming spring trends, you'll understand why I instantly spotted Alyssa. From her colored pants to her sheer top to the many quirky details she added to her outfit, this fashionista belongs in a lookbook. Even when she's on vacation (she was using her spring break to visit her best friend when I met her), this girl dresses to impress and looked right at home on the streets of Austin, Texas.
Alyssa 101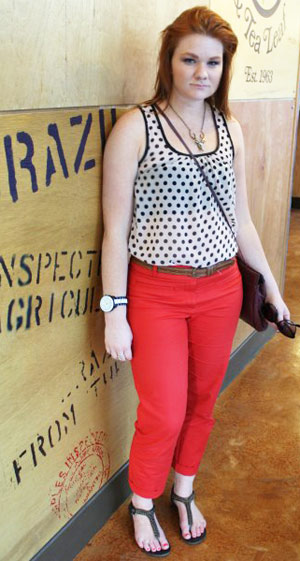 Name: Alyssa
College: Lee University in Cleveland, Tennessee
Majors: Spanish and International Business
Let's Talk Fashion
Who or what inspires your style? "I am inspired by everything I see and hear. I am always watching others people's styles, and I get inspired by nature, art, film and music."
Where do you like to shop? "I shop at vintage and thrift stores for the majority of my buys, but I do my best not to limit my style. I will shop anywhere and will purchase items out of season if I like them."
How would you describe your sense of style? "I have an eclectic sense of style; one day, I will be wearing the girliest outfit, and the next I will pull out punk rocker. I thrive on being unexpected and different from the norm."
Why did you choose this particular outfit? "I chose this outfit because I love the bold element of the red pants and the sweetness of the sheer polka-dotted shirt. This outfit is extremely comfortable and practical for downtown Austin."
What advice would you give to other college students looking to improve their style? "My advice would be to push the limits and never be afraid to try things. Also, mixing pieces that are different and not typically worn together can be the greatest way to reinvent your look."
What are your favorite trends right now? "My newest favorite look is wearing all the same color for your whole outfit; another would be wearing flowy pants with a simple shirt."
Do you have any favorite fashion designers? If so, who? "This is an extremely tough question; I follow so many designers and keep up on what is new through different blogs. I really loved Marc Jacobs' spring line and the Louis Vuitton Winter 2012 line."
What do you do for fun? Do you have any unique hobbies or interests? "When I'm not working or studying, I love to travel, go swing dancing, attend plays, and I am also a huge coffee lover. I also am currently following about fifteen different fashion and art blogs; this keeps my fashion current and helps me stay inspired."
If you could raid anyone's closet, who would it be and why? "There are a few different closets I would raid: one would be Sandra from the blog 5 Inch and Up, also Elin Kling, and Blair from Atlantic Pacific. All three of these bloggers have phenomenal style and seem to be able to pull off anything with ease."
Do you think there are any major significances in regional fashion, or do you find fashion more universal? "For me, fashion is universal, but the way it is portrayed is different everywhere you go. This is what makes fashion so amazing – it can bring people from all different areas and walks of life together and is the ultimate form of expression."
Elements of Alyssa's Outfit
1. Gladiator Sandals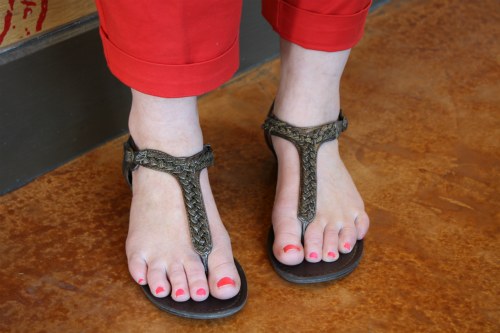 By cuffing her on-trend colored jeans, Alyssa draws the eye downward to her pretty braided sandals — a springtime staple in moderate climates. The shoes are practical but cute (and absolutely perfect for exploring Austin). Alyssa also subtly plays on the monochromatic trend by matching her toenail polish to her jeans. (Which, even if it was unintentional, completely works!)
2. Sheer Top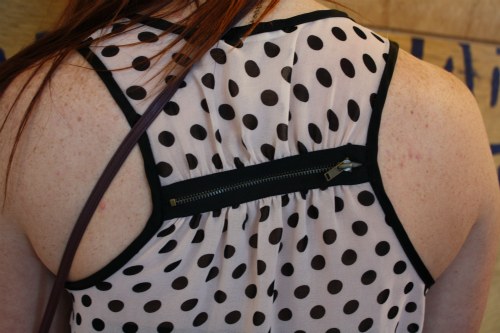 The sheer trend is one of my particular favorites for spring; it's daring with a hint of sexiness, and, of course, takes confidence to pull off. Alyssa, being a fashionista, takes the trend even further by sporting an exposed zipper detail, blending sweetness and toughness in a fun way.
3. Unexpected Jewelry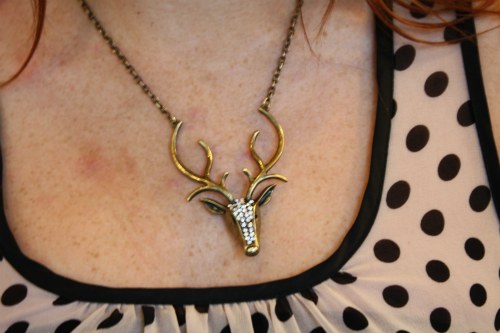 I absolutely love this necklace. A deer head is interesting by itself, but a blinged-out deer head is absolutely adorable! For me, it's representative of Alyssa's whole style: risky, beautiful, polished and always fashionable.
Share Your Thoughts!
What do you think about Alyssa's sense of style? What kind of sandals are you wearing this spring? Have you worn a sheer piece yet this season? Polka dots, anyone? Share your thoughts with a comment!