Alyssa pops out from the crowd. Her punk-inspired outfit is refreshing and clean. The unashamedly bold touch of vibrant black lipstick is reflective of Alyssa's rejection of the norm. She is an inspiration to anyone looking to step out of his or her comfort zone.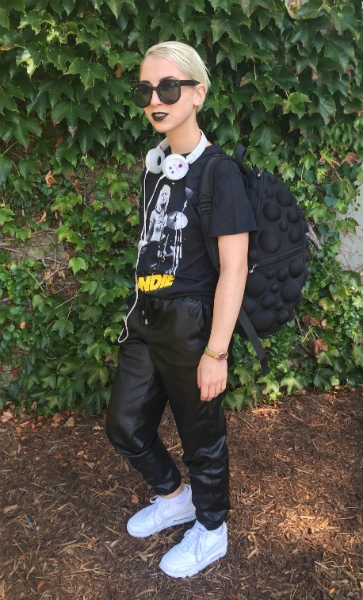 Alyssa 101
Name: Alyssa
School: Cornell University
Year: Junior
Major: Apparel Design
Hobbies: Chasing squirrels and watching Family Feud
Fun Fact: Alyssa will be taking a semester abroad to study in London at Central Saint Martins.
Let's Talk Fashion
Who or what inspires your style?
"I'm really inspired by '80s music and Miley Cyrus. I get inspired by my friends and unique trends and incorporate that into my outfits. Miley Cyrus is my hairstyle icon."
How would you describe your sense of style?
"A mix of punk and androgynous because I really don't care about gender roles. I like adding bits of normcore. I also like colors a lot but some days, like today, you'll see me wearing all black.
"
Where do you like to shop?
"Thrift stores, thrift stores, thrift stores! And also H&M, Forever 21, and American Apparel."
Why did you choose the outfit you're wearing today?
"My dad got me this shirt for my birthday and I felt like feeling clean and dark. I rolled out of bed, threw on some hair gel, and wore all black.
"
What fashion advice would you give to other college students interested in improving their style? "Go against the norm, even if you shop at the same stores as everyone else. Find one unique characteristic that you like and don't be afraid to try anything. Don't be afraid of sizes and genders. Anything you want to wear, just go for it.
"
What are your favorite trends right now? "Athletic wear and normcore. I also like white sneakers because they're clean cut and look more high-fashion than a typical athletic type shoe.
"
What are your wardrobe necessities?
"Black Doc Martens, fur coats, colored lipstick, oversized men's button-downs, and sweaters. Like 'ugly' old man things.
"
Elements of Alyssa's Style
1. Blondie Shirt + Pants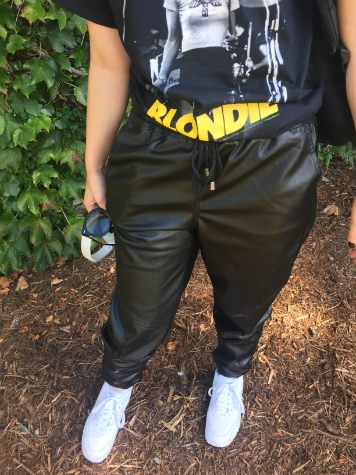 Alyssa shows that even a casual band tee can be dressed up. By pairing it with drawstring faux leather pants, she allows the tee to be a statement piece and draws attention to it.
2. DIY Decorated Headphones + Piercings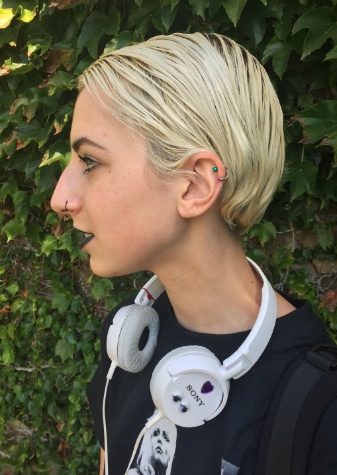 The stickers on Alyssa's headphones add character to the plain white style. When paired with her cool girl piercings, they give off a rocker vibe.
3. Textured Backpack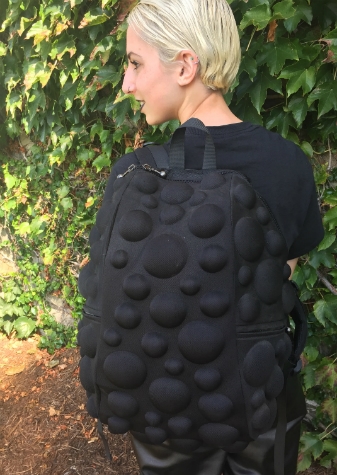 This statement backpack is both functional and fashionable. The texture makes it stand out amongst the sea of backpacks that can be seen on any college campus, but it's large enough to tote around her essentials.
4. White Sneakers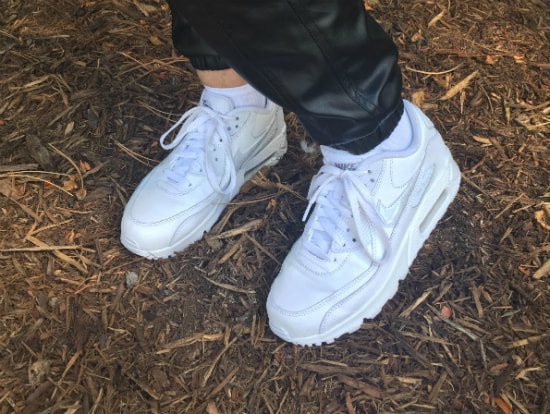 Alyssa's monochrome white Nike Air Max sneakers are classics. They perfectly match her normcore punk style. The white contrasts from her all black ensemble and really pulls everything together.
Do you dig Alyssa's punk style?
Would you rock white kicks? What do you think of her baggy faux leather pants and backpack? Comment below and share your thoughts!