While dashing from one class to the next, I cut through our student space and was pleased to find that my shortcut yielded a special perk – Alyssa and her adorable outfit! She was standing with friends at a group study table, lending a perfect view of her ensemble to the students passing by.
Alyssa 101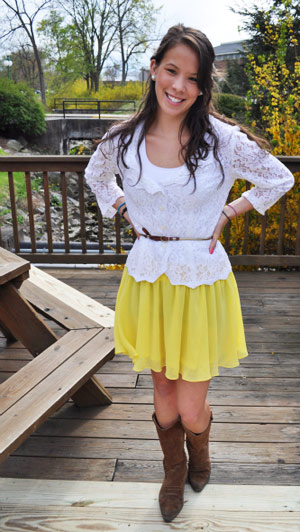 Name: Alyssa
College: Bucknell University
Hometown: Annapolis, Maryland
Majors: Management and Chinese
Activities on Campus: Pi Beta Phi, Student Calling Services
Hobbies: Cooking, eating, traveling, wakeboarding & water skiing
Year: Senior
Let's Talk Fashion
Where do you shop? "I shop at boutiques in my hometown, and in thrift stores – you can find so many gems there. I also do a lot of online shopping through sites like Gilt, Ideeli, and Rue La La. And I just bought a great pair of neon yellow and charcoal gray wedges from Target."
How would you describe your personal style? "Bright colors. I rarely ever wear just black. I've never even worn a plain black evening dress without some sort of statement necklace or colorful heel."
Who or what inspires your style? "Pinterest! I actually saw an image on Pinterest with a yellow skirt and white blazer that inspired my outfit today."
What other considerations went into today's outfit? "I had to get dressed up for a presentation. The skirt is fun and springy, and lace goes with everything, especially bright hues. Cowboy boots are just a go-to."
What are your favorite trends for the season? "I really like pleats. I just got this dress that is pink on the top with orange pleats on the bottom – it's so cute."
How do you use fashion to engage your creative side? "I used to make a lot of clothes in high school, like skirts and tops. Lately I have been making shoe clip-ons I use to embellish heels. I purchase clips from a craft store, then hot glue a bow or a flower to the clip, and attach it to the shoe. For one pair, I tied pink satin ribbon into a perfect bow and clipped one to the back of each heel of some black pumps."
What is the biggest fashion faux pas you've committed? "I visited China recently, and their fashion is very different. I was there for 5 months, so by the end of the trip, I was definitely thinking in terms of Chinese style. I bought this unreal denim dress with flower appliques and a big bow hanging from one of them. Wearing it over there was fine, but when I put it on here, I looked in the mirror and said, 'What was I thinking?'"
What fashion advice would you give other students looking to develop their style? "Think outside of the box. A lot of times, people get in the habit of wearing the same things over and over like leggings, boots and a sweater. Don't just rely on the same old formula. And, always add some color!"
Elements of Alyssa's Outfit
1. Leather Skinny Belt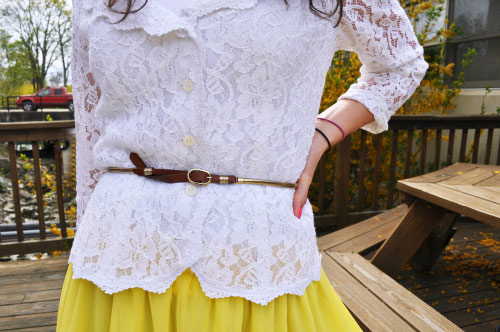 Alyssa picked up this fab vintage piece at a thrift store, so it has a bit more character than your average leather belt. When wearing a top untucked over a skirt, like Alyssa does, defining your waistline is key. A thin belt like hers is a great way to do so.
2. Yellow Skirt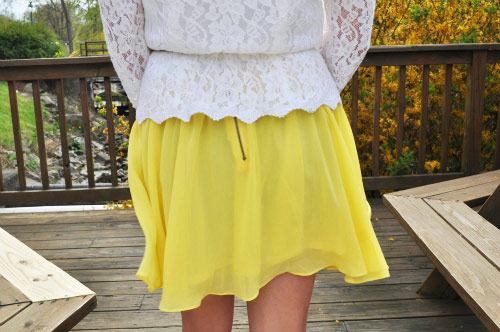 Alyssa's gorgeous bright yellow skirt is what first drew me to her outfit. The bright color is striking, but not overwhelming, since it is softened by the loose folds of chiffon fabric. Wearing hues like this in small concentrations, as Alyssa does, also ensures that the color does not dominate the look.
3. Cowboy Boots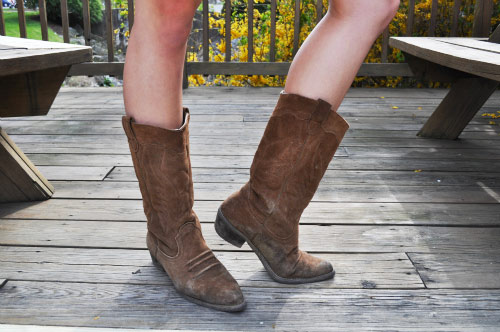 Alyssa paired her ultra-feminine top and skirt with rugged cowboy boots, creating an intriguing contrast. Cowboy boots have become a favorite on campus, and we love how they communicate a carefree, comfortable energy.
Share Your Thoughts!
What do you think of Alyssa's style? Do you wish you could raid her closet? Do you share a love of cowboy boots? Let us know with a comment!