Allison and I have crossed paths many times. We were in almost all the same classes the first semester of our freshman year and we happen to live right across from each other this year. Aside from our casual run-ins, we haven't had the chance to get to know each other very well.
Luckily, I saw her at the school café in this cute-yet-tough outfit, which gave me the perfect opportunity to say hi. Allison is a very talented designer and I'm so glad I got the chance to interview her.
Allison 101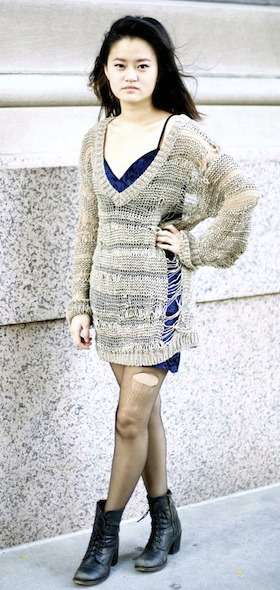 Name: Allison
School: RISD (Rhode Island School of Design)
Major: Apparel
Hometown: Boston, MA
Let's Talk Fashion
Where do you like to shop? "Brandy Melville, Free People, and Zara."
How would you describe your sense of style? "What I choose to wear depends on how I'm feeling. Some days I'll dress colorful and quirky. For instance, I have this ice cream sandwich wrap-around that I like to wear that's pink and brown, then other days I like to wear darker colors, maybe something a little sexier."
Why did you choose this outfit? "It's my friend's birthday today and she wanted us to get dressed up. I'm not typically a fan of bright, colorful dresses, so I chose a tight, navy, velvet dress. The sweater is my friend's. I wore it because I was cold and didn't want to go to eat in just a mini-dress. Maybe I'm just being nostalgic for Halloween, so that's why I'm wearing black, ripped tights with it."
What advice would you give fashion students? "I would say wear what you feel is comfortable, but you should also keep in mind choosing things that match your body type, skin tone, etc. Be conscious of your decisions."
What are your favorite trends right now? "Most of the time I like to wear big sweaters with leggings, or harem pants and crop tops."
What are your favorite fashion designers? "Alexander Wang is one of my favorites. For evening gowns, I'm in love with Elie Saab. I love his simple silhouettes, but the intricate detailing and weaving is very beautiful, as his his minimal use of color."
If you could raid anyone's closet who would it be and why? "Probably Miley Cyrus, not gonna lie. Some of her outfits are insanely weird, but I love it. And she's super hot."
Elements of Allison's Outfit
1. Deconstructed Sweater + Velvet Dress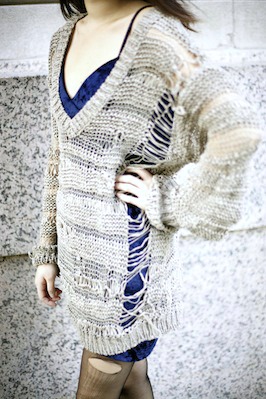 Allison is really rocking the layered look. She tactfully paired up a skintight navy velvet dress with a loosely-fitting sweater from Urban Outfitters, then added on some ripped tights.
The loose, large, and uneven stitches in the sweater give you glimpses of her dress underneath, which keeps Allison from losing her lovely figure under a large, bulky sweater.
2. Combat Boots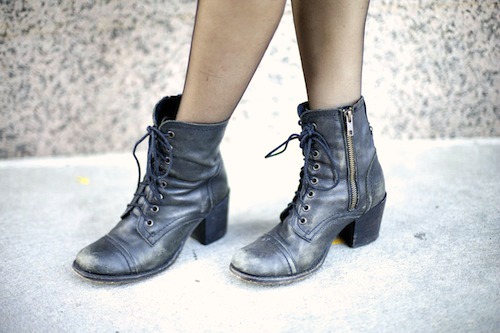 Allison's Steve Madden shoes fit perfectly with New England style. These on-trend combat boots add a boost of height, but are still comfy enough to walk in all day. Plus, the chunky heel adds a feminine yet tough element to the outfit.
3. Frayed Tights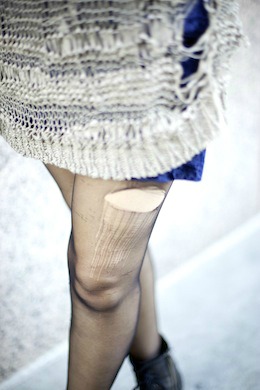 If you love wearing looser tops and dresses, I recommend pairing your outfit with leggings, stockings, or tights for fall. Ripped tights are trending right now, and Allison shows us how to rock this look. The deconstruction of her outfit looks easy and unintentional, yet super-cool.
4. Purple Hair Wrap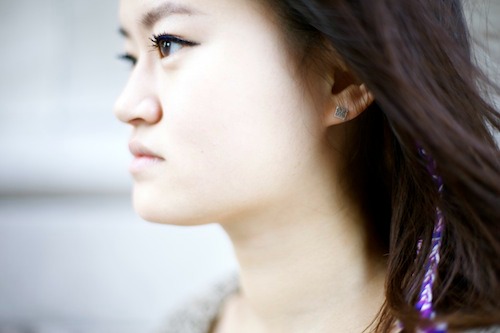 It was hard to ignore the little details of Allison's outfit. Her hair was accentuated by this purple braided wrap, which struck me as a simple touch that was difficult to miss. With her effortlessly flowing hair, a little pop of color to catch the eye was a fantastic choice on her part.
5. Little Bit of Bling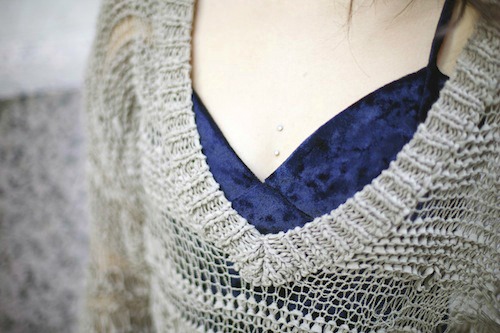 Allison accessorized her ensemble with understated pieces, like dainty silver earrings and this unique take on jewelry. She placed small studs on her chest, which is a very subtle yet eye-catching way to add some intrigue. The look is one-of-a-kind, just like Allison's fashion aesthetic!
What do you think of Allison's deconstructed look?
Are you a fan of her grunge-meets-classy layered outfit? How about those gorgeous stud jewelry pieces? Have you ever worn intentionally frayed or torn tights? Let us know in the comments below!