Going monochrome with an outfit can be tricky… especially when you opt for a dark color. But with the right pieces and accessories, a dark monochrome outfit can look sophisticated and edgy all at once.
I've had several classes with Allison, so I wasn't surprised when I spotted her looking pretty and polished in a simple skater dress, edgy boots, and tights. The more we spoke, the more I realized that this girl can talk fashion! I introduce you to Allison, a fashion-forward and super chic future M.D..
Allison 101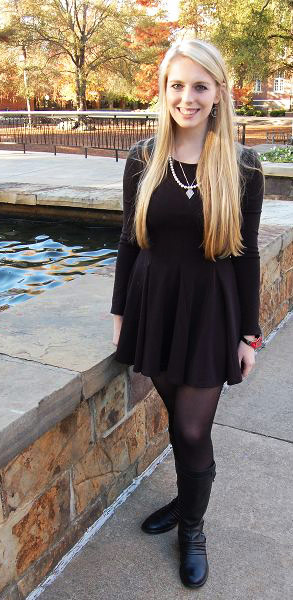 Name: Allison
School: Hendrix College
Hometown: Hot Springs, AR
Major: Psychology, Pre-Med
Hobbies and Interests: Shopping, furniture restoration, ballet, and antiquing.
Year: Senior, class of 2013
Let's Talk Fashion
Who or what inspires your style? "I look through fashion magazines and websites for style inspiration. I read Vogue, and I do a lot of Internet shopping. Also, I love to browse NET-A-PORTER's magazine for inspiration."
If you could switch wardrobes with anyone, who would it be and why? "Does it have to be a real person? Because if not, Blair Waldorf from Gossip Girl. She does a lot of different things with her style. Sometimes, she's prim and proper and other times she is more daring. She's always pretty traditional, but occasionally, her look has a bit of an edge. I really admire her style."
Where do you like to shop? "I like to go to small boutiques throughout the state [Arkansas], and I do a lot of shopping when I travel to other cities. I buy things online from different places – recently I've been liking Anthropologie. I also like Neiman Marcus and, of course, Target. I have found quite a few things from the collaborations that Target has been doing with designers."
If you had to pick a favorite item of clothing, what would it be? "I really like dresses— especially shift dresses. Right now, I have three green dresses with long sleeves on rotation, so I must really like long-sleeved, green dresses. And I also prefer winter clothing to summer – I love sweater dresses, boots, tights, and long-sleeved things."
How would you describe your style? "I think it changes a lot. Normally, I dress pretty prim and proper (like Blair) and my clothes are usually quite traditional. Today was a little more gothic glam. My style is eclectic in that it changes from day to day, but I wouldn't say the outfits in themselves are very eclectic. I try to look for clothes that are timeless and classic. I don't usually go for trends, but this year a lot of the trends happen to be things that I like."
What are your favorite trends of the moment? "I like the leather look. I have a leather skirt that I have been wearing a lot lately. Also, I like the current Baroque influences and the oxblood trend."
Who do you go to for fashion advice? "My mother! She's a pretty fashionable lady. I borrow her clothes sometimes, and she always gives me an honest opinion."
Elements of Allison's Outfit
1. Pretty, Polished Jewelry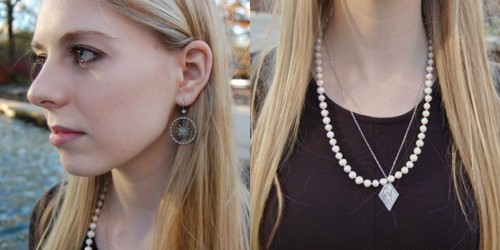 Allison's classic jewelry transforms her all-black outfit from muted to polished and fashion-forward. Her pearls are from an antique shop and her silver necklace is from Erica Weiner, a young, jewelry-designing entrepreneur who re-purposes antique jewelry pieces into new items.
2. Lip Bracelet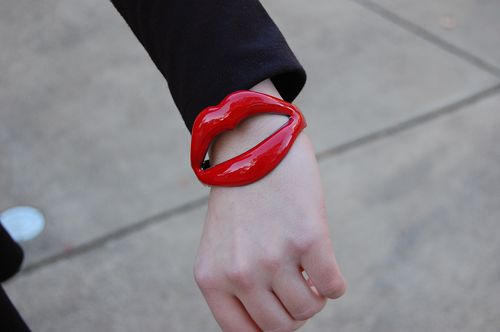 Allison's lip bracelet, from the Kirna Zabête for Target collaboration, is cute and quirky. A bold piece of jewelry like this provides the perfect pop of color for an otherwise neutral ensemble.
3. Black Motorcycle Boots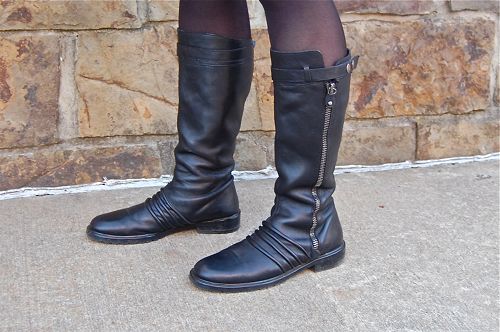 Allison's Sigerson Morrison boots are perfect for the cooler weather that has (finally) reached Arkansas. Flat, neutral boots and simple black tights are total staples for any winter wardrobe.
Your Thoughts?
What do you think of Allison's look? Have you worn a monochrome outfit before? Do you love Allison's lip bracelet as much as we do? Have you ever shopped in an antique store for jewelry before? Let us know with a comment!