One particularly dreary day last week, I trudged to class, grimacing at the gloomy weather. The sky was dismal and gray, and everyone I passed seemed to be in a funk. Girls sporting limp ponytails and Nike Tempo shorts littered the streets; clearly, it was not a great day for style spotting.
Then, against the bleak background of rain clouds and sweatpants, Alison's cheerful, cozy outfit popped. I knew at once that Alison's unique style made her the perfect candidate for Looks on Campus!
Alison 101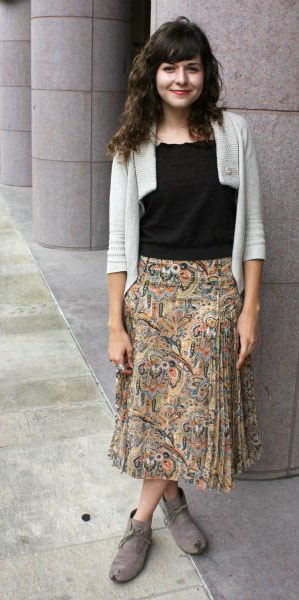 Name: Alison
College: University of Texas at Austin
Class Standing: Freshman
Majors: Plan II and Geography with an Environmental Resource Management concentration
Let's Talk Fashion
Who or what inspires your style? "My outfits are largely inspired by my mood. I try not to pigeonhole my look to one particular style; I feel like showcasing a different aspect of myself every day."
Where do you like to shop? "Aside from [shopping] my mom's closet, I really love to thrift. My favorite store is Treasure City Thrift here in Austin. They have set prices on all their items (shirts for two dollars, jackets for three), but everything is really great quality. It can be dangerous shopping there!"
How would you describe your sense of style? "I think my style is a meeting point of all my interests. I try to articulate how I feel and what I like, and I include at least one meaningful piece in every outfit."
Why did you choose this particular outfit? "I wanted to feel comfortable (which this sweater is perfect for), and I love the flow of the skirt. I also like how the texture of my shirt mimics the pattern in my skirt. Then, of course, I have my grandmother's rings and earrings for the sentimental touch."
What fashion advice would you give to other students looking to improve their style? "Why wear something you're not confident in? When you're uncomfortable, you're not appearing as your true self. Always dress to reflect the person you really are."
What are your favorite trends right now? "I'm very happy clogs are coming back. I also love mixed prints and long skirts."
What do you do for fun? Do you have any unique hobbies or interests? "I love to be outside. I enjoy backpacking and yoga, but, probably most of all, I love eating good food, spending time with good friends, and hanging out on my picnic blanket."
If you could raid anyone's closet, who would it be and why? "I know this sounds weird, but I would probably raid my great-grandma's closet. She wore lace and plain white cotton — very honest fabrics. Her clothes were well-worn and loved, and I like to wear things that have their own stories, too."
Do you find regional differences in style, or is fashion more universal? (Alison mentioned her family travels a lot.) "The gaps in style are more of an abyss. You can always tell Europeans from Americans, but, with international store chains like H&M, style is becoming a bit more unified. I find that good boots and sweaters are universally stylish, but many other aspects of fashion are unique to each region."
Elements of Alison's Outfit
1. Sweet Skirt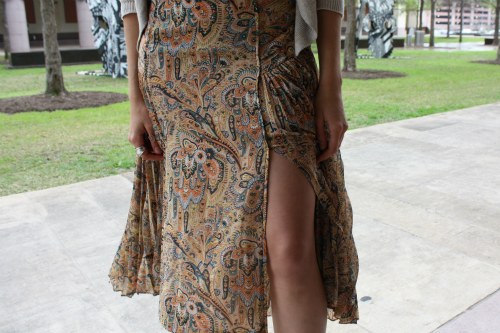 Alison's skirt was what first caught my eye about her look. The fun paisley print stood out, while the trendy pleating and slits added interest. Though it was windy outside, the skirt's modest length kept Alison covered even in the strongest gusts. Alison's statement skirt turned her outfit from "fine" to "fabulous."
2. A Range of Rings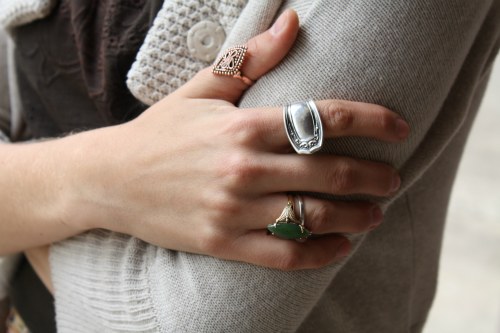 Okay, so, let's get one thing straight: I love mismatched things (and, if they're asymmetrical, even better!). So I really love Alison's collection of rings. The mix of styles, metals and textures urges you to take another look at her subtle fashion ingenuity, encouraging you to actively seek out the understated elements of her look.
3. Ethereal Earrings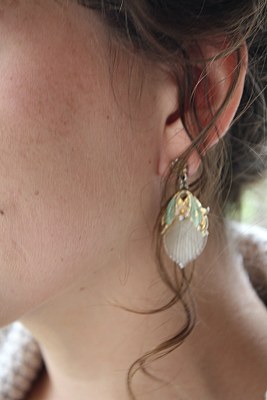 Alison's earring add class. Dating back to the 1930s when her grandmother first wore them, the earrings give Alison's outfit some elegance without seeming overbearing or out-of-place. In combination with the rest of her pieces, Alison's earrings make her outfit feel timeless and classic.
4. Boho Bag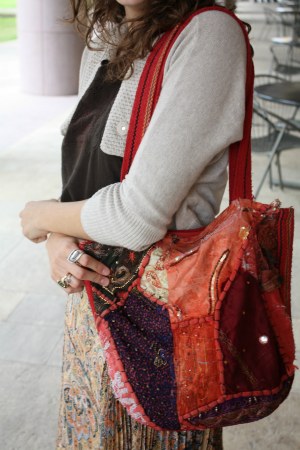 Last but not least, I adore Alison's boho chic tote bag (which she set aside for the full body shot). The patchwork pattern of various materials makes for a whimsical way to carry your books to class. While it's no Hermes Birkin, Alison's bag is playful, vibrant and totally perfect for the college fashionista.
What do you think?
Do you like Allison's outfit? Do you agree with her thoughtful answers in the interview? Will you wear long skirts this spring? Do you like her earrings and rings? Let us know with a comment!